Disclosure:
This content, except as otherwise indicated or stated on this site, is the property of TransUnion Rental Screening Solutions, Inc. This content is for educational purposes and for convenience only. Trademarks used are the property of their respective owners, and no endorsement or affiliation is implied. The information presented in this content is "as is" without warranties of any kind, and specifically is not represented to be complete and does not constitute legal advice, and is subject to change without notice. You are encouraged to check these terms from time to time for changes, and by accessing this site you agree to these terms and all terms listed. Laws and regulations may vary by state and locality. Consult your own counsel if you have legal questions related to your rental property practices and processes.
As a landlord, there are two essential payments to accept from tenants when they rent your property: move-in fees and a security deposit. But what's the difference between move-in fees vs. security deposits Move-in fees offset some of the expenses they may incur when a tenant moves in and are non-refundable. These fees are often used for expenses like processing a rental application, allowing a pet on the property, or for setting up a utility connection. On the other hand, a security deposit is refundable, and is a one-time payment collected at the beginning of the lease to cover any damage caused by the tenant. Any leftover funds must be returned once the lease is over and the tenant moves out. Learn more about move-in fees and security deposits in our guide below.
They say that it's better to give than to receive. For independent landlords, that can be true: when renting out property, there is some relief in being able to give back a tenant's security deposit because they treated your property well.
Giving hundreds or thousands of dollars to your renter might seem counter-productive for your business. In reality, returning a deposit suggests that your renter left your property in the same great, move-in ready condition in which they found it. You can rest easy, knowing that you don't have to deal with expensive damages, evictions, or repair-based vacancies—what could be better than that
Unfortunately, not every applicant out there is going to be a great renter. Some tenants can cause property damage, pay rent late or not at all or skip town before the lease is over. Tenant turnover costs average of $1,750 per month and can leave you holding the bag for costly repairs. It's essential to protect your financial investment through charging security deposits and move-in fees.
Although both are collected at the beginning of the lease, there are several key differences between move-in fees and security deposits. They differ in charge limits, purposes, and legal requirements. All of these differences—and the various rules for each—are discussed below.
Expertly managing move-in fees and security deposits aside, the best way to protect your business is to find excellent renters from the start. Using a comprehensive tenant screening service like SmartMove® gives you the opportunity to vet your renter applicants in order to feel more confident in selecting your choice of renters.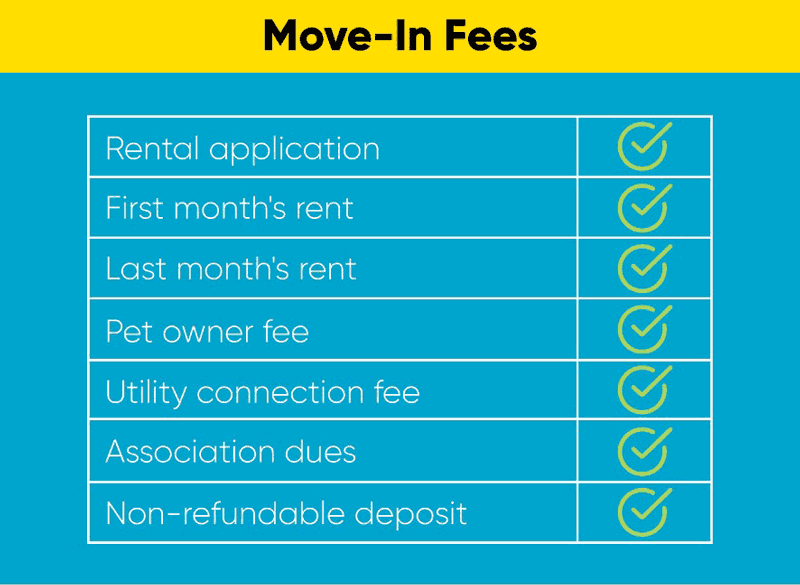 Application Fee
Most states allow landlords to charge their rental applicants with an application fee. The average application fee is between $30 and $50. In some cases, it can cost $100. This fee is designed to cover the cost of a tenant credit check in addition to the time and trouble it takes landlords to run one.
Note: Some states restrict how much you can charge for credit check fees during the application process. For example, California sets a maximum screening fee of approximately $35. This fee can only be used for "actual out-of-pocket expenses" plus "the reasonable value of time spent" by a landlord obtaining:
A consumer credit report
Background information
Personal references
Landlords in California who use the application fee to cover the cost of a credit check must provide rental applicants with an itemized receipt.
It's important for landlords to research their state-specific and federal laws when establishing a real estate business. There are also established best practices to follow when charging a move-in fees. Understanding the general dos and don'ts of rental application fees can help you cover yourself when bringing new tenants into your space. In general, it's a good idea to:
Notify the applicant up front that the fee is non-refundable, unless the applicant is denied prior to running a credit report
Include the exact move-in fee amount on the rental application
Save a signed copy of the completed application for your records
Follow all local laws and regulations pertaining to move-in fees
In hot rental markets, you may end up renting a property to an applicant while other applications and fees are still pending. If you do not run a credit check on a prospective tenant, their money must be returned.
Additionally, landlords should only charge credit check fees on applicants who pass your pre-qualification questions. If an applicant is unqualified and does not meet the income requirements, it's better to save your time and the applicant's money by not collecting a credit check fee. One way to speed up the application process is to ask for income verification. The industry standard on the rent-to-income ratio is three times the cost of rent earned in monthly income, but this may vary based on location. If the applicant does not meet your screening criteria for income, then it may be time to move on to another applicant.
Once you have the applicant's credit check in-hand, there are additional legal considerations to keep in mind. If you deny an applicant based on poor credit after performing a tenant check, or if you charge higher rent due to poor credit, you must comply with regulations under the Fair Credit Reporting Act (FCRA).
SmartMove provides tenant screening checks that are FCRA-complaint, which can give you one less thing to worry about. Also, when you screen with SmartMove, you have the option to cover the cost of the credit check yourself or pass this expense onto the tenant as part of your application fee. This gives landlords the flexibility to structure their move-in fees as they see fit for their business.
First and Last Month's Rent
In addition to collecting the first month's rent or prorated rent, some landlords request the last month's rent as a part of the move-in fee.
Collecting the last month's rent upfront provides a measure of protection in the event your tenant moves out before the lease agreement is complete.
Pro Tip: If you decide to protect yourself by charging the last month's rent within your move-in fee, it's wise to keep these funds clearly labeled and separate from the tenant's security deposit.
This practice is less common in short-term rental agreements because landlords typically charge month-to-month rent premiums, ranging from an extra $100 to $300 per month—or an additional percentage of the cost of the rent. Such a financial boost helps protect landlords against impending tenant turnover costs, as short-term leases pose a higher risk of tenants moving out with untimely notice.
Pet Owner Fee
According to Apartments.com, over 70% of renters own pets. In order to attract a larger pool of rental applicants, many landlords decide to advertise their rental listing as "pet-friendly."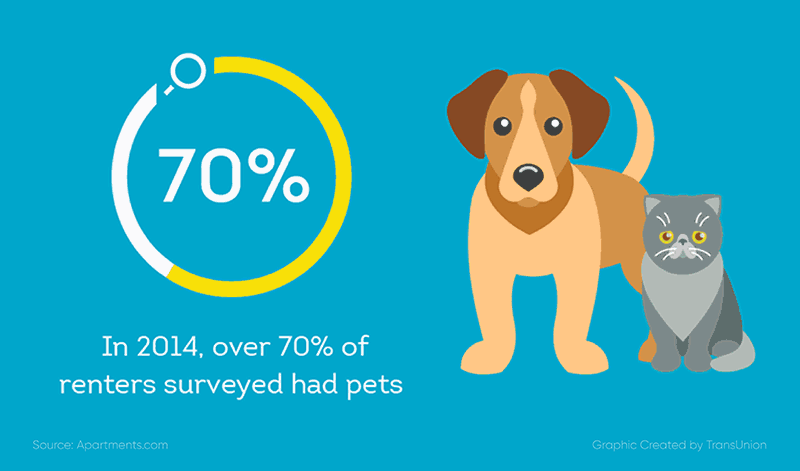 There are many pros and cons of allowing pets in rental properties. Benefits may include:
Higher rent price
Longer tenancies
More responsible tenants
If you choose to allow your tenants to live with their furry friends, then you might consider adding a pet owner fee to your move-in costs. The reasoning behind this charge is because pets increase the normal wear and tear on an apartment, regardless of whether or not they do obvious damage.
If you decide to impose a pet owner fee, then keep it to a reasonable amount of $200 to $300 per year. You might also consider the type of pet your tenant owns and adjust accordingly. A small cat is not likely to cause as much wear and tear as a large dog.
However you decide to structure your pet fee, be sure to articulate it within your lease's Pet Policy.
Note: Pet fees are not considered legal in every state. Research state specific laws prior to adding a pet fee to your lease terms.
Utility Connection Fee
Who pays for utilities in your rental property—you or your tenant Covering the cost of utilities could allow you to justify having a higher rent price and attract Gen Z renters who would rather not deal with monthly utility bills. However, managing utilities for your tenants also comes with additional responsibilities and oversight.
Which utilities you cover (if any) likely depends on the type of rental property you lease and what you can reasonably afford. In multi-family units, apartment complexes, or townhouses, it may make more sense for landlords to pay for:
These utilities are assessed to the complex as a whole. Landlords may opt to cover the bills themselves, pass the cost through to the tenant, or charge for water beyond "normal usage."
Tenants are typically required to set up their own accounts and pay bills in their name for utilities such as:
Gas
Electric
Cable
Internet
Independent landlords who lease single-family rental properties might prefer the tenant to take over all the utilities in full, considering that the average annual energy bill for a single-family home costs $2,060.
During vacancies, some landlords disconnect utilities in an effort to minimize holding costs incurred mid turnover. In that case, once you find a tenant to fill the lease, you might consider re-establishing the utility service in your name—at least temporarily. Doing so might reduce vacancy by encouraging the tenant to move in quicker, knowing that the home is ready to be lived in.
Note: By law, landlords are required to provide livable conditions under the implied warranty of habitability, so be sure at least heat and water are available before the tenant moves in. If you incur a utility connection charge when re-establishing service, you may pass this onto the renter as part of your move-in fee.
Association Dues
Landlords who own rental properties within a Homeowners Association (HOA) likely pay dues or fees to maintain the common areas and cover the cost of landscaping. According to Realtor.com, the HOA fees for a typical, single-family home can cost $200 to $300 per month, depending on the size of the unit and the amenities.
The property owner may, in turn, pass these expenses to tenants either directly or indirectly by charging a higher rent price. However, if a tenant fails to pay the dues, then the HOA may foreclose on the property.
According to a SmartMove survey, 84% of landlords list payment problems as their top tenant concern. So, you might consider charging for association dues as part of the move-in fee upfront.
Non-Refundable Deposit
Sometimes, landlords may charge a non-refundable deposit included within the assessed move-in fee. This money may be applied to cover tenant turnover and property maintenance costs such as:
A fresh coat of paint
A change of locks
A new key fob for pool entry
A non-refundable deposit is at the landlord's discretion, meaning you're allowed to set the price of this move-in fee. However, in order to attract rental applicants and fill vacancies, landlords are encouraged to set fair fees. You don't want to lose money or give profits away, but you also don't want to request too large of a move-in fee that could deter prospective tenants.
What is a Security Deposit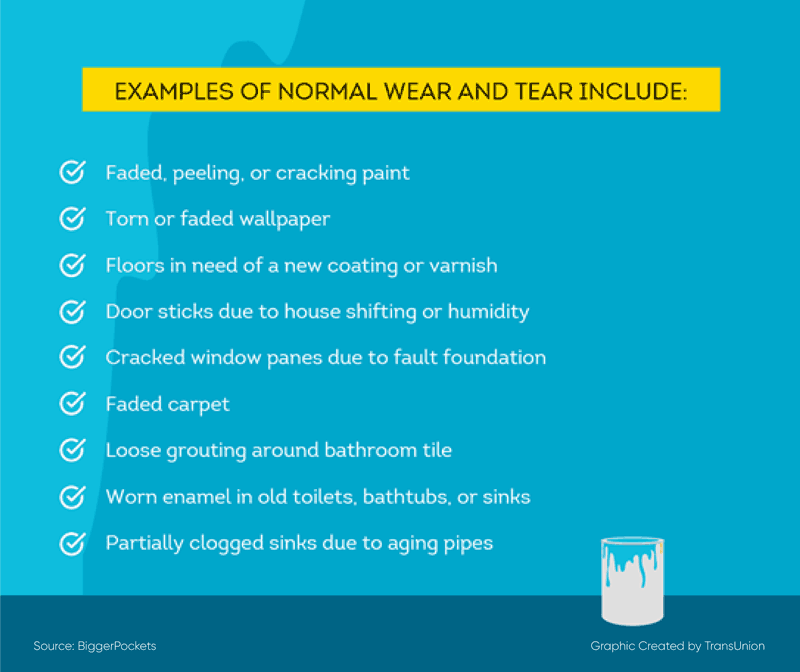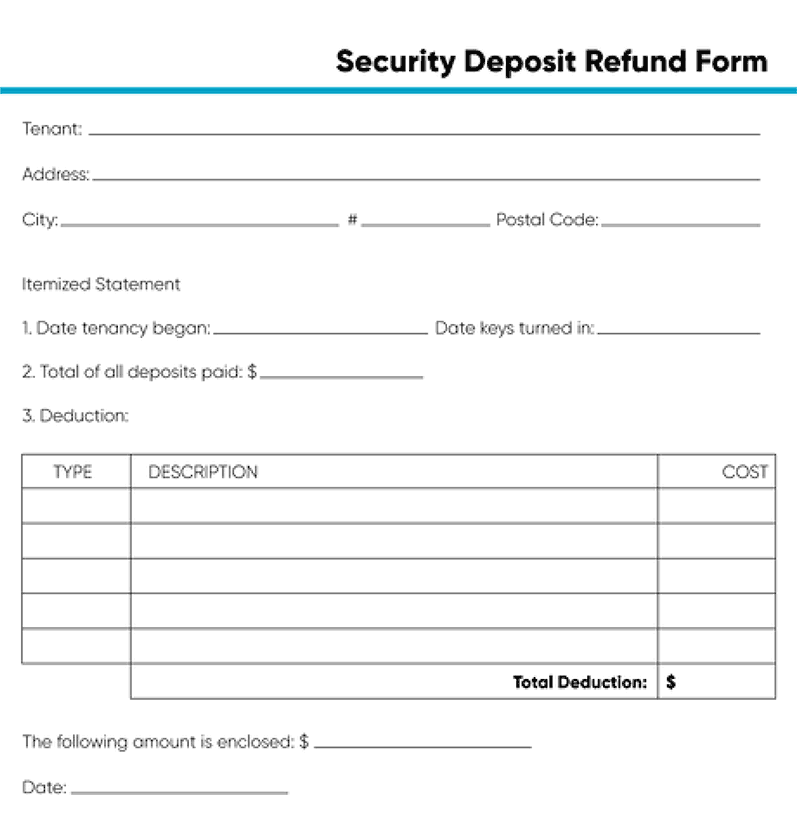 What is considered "normal wear and tear" should be discussed when a tenant signs a lease agreement with you. Cover all your bases by creating an air-tight policy that clearly defines your expectations for how your property should be maintained as well as which repairs you are responsible for and which fall on your tenant following a move-out inspection.
Landlords should take photos of any damage that the tenant may have caused during their tenancy. This provides documented evidence in case the tenant disputes your security deposit withholding.
Example Security Deposit Refund Form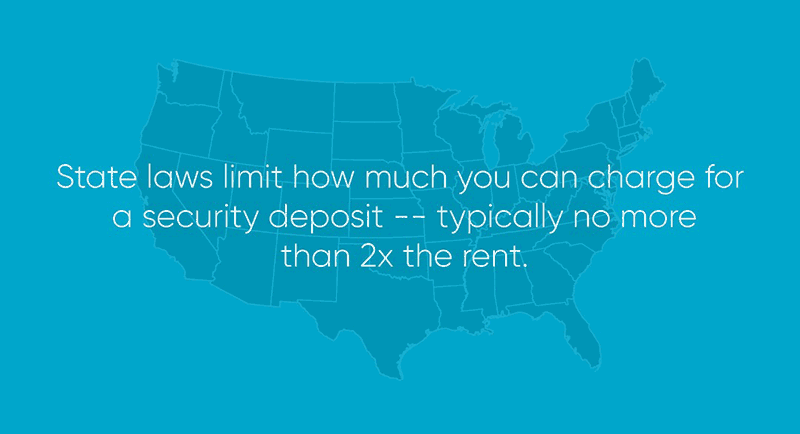 Additionally, you and your tenant should conduct a walk-through at the beginning of the lease. Use a move-in checklist and document any existing damage. Having a list of issues before tenant move-in protects both parties; the tenant will not be held accountable from damage they didn't cause, and you can see any damage you may have missed and repair it before it becomes a bigger problem.
How much can I charge for a security deposit
Landlords can set their own move-in fees, but security deposits are regulated by law. Each state has their own limit on how much you can charge for a security deposit, but it's typically no more than two times the cost of the rent.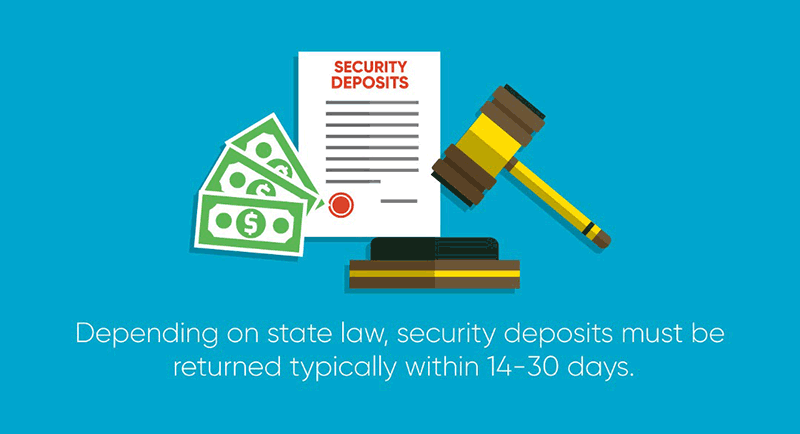 Some states split the deposit into separate tiers depending on whether the unit is furnished or unfurnished, or may base their legal limit on the age of the renter. In roughly 20 states, there is no legal limit on the amount a landlord can charge for a security deposit—but that doesn't mean you should be overzealous with the price you set. Doing so could deter renters and increase your vacancy rate, which can devastate your business.
Pro-tip: Verify that there are no local rent regulation rules which could affect your security deposit limit. If you accidentally overcharge or refund the deposit incorrectly, you could end up with a costly lawsuit that might be settled in the tenant's favor.
No matter what amount you charge for a security deposit, make sure you follow all state-specific regulations regarding how you may store the funds. According to the IRS, you may not include a security deposit as part of your income because you may be required to return it at the end of the lease.
Depending on state law, security deposits must be returned typically within 14-30 days of the lease end date. Make sure to keep up with all bookkeeping and maintain accounting records of all business funds that flow both in and out. Not only does this help you follow the law in terms of security deposits, but it also may benefit you come tax season if you choose to deduct repair expenses from your rental income.
Note: States also have unique laws pertaining to how a security deposit can be used and which expenses may be deducted from the tenant's payment. For example, landlords in Wisconsin are not allowed to retain a tenant's deposit funds to cover carpet cleaning. Do your research and consult legal counsel before withholding any funds from a departing tenant.
Protect Your Investment with Proper Fees and Thorough Tenant Screening
Even if you fairly assess move-in fees and security deposits, dealing with the aftermath of a destructive tenant can be an expensive headache. Sub-par renters can leave you with costly repairs, messes to clean up, and bills to pay. Sometimes, even robust move-in fees and a full security deposit won't even cover a fraction of the damage, which leaves you with trying to track down an old renter to pay an expensive bill.
The best way to avoid dealing with such ugly financial disputes is by placing great tenants in the first place. With SmartMove, you can run quick, in-depth reports that can make you feel more confident when it comes to selecting your next great tenant. A criminal record check and eviction report can help you spot red flags in an applicant's past.
With unique screening tools, SmartMove helps landlords make confident leasing decisions. ResidentScore®, our proprietary credit score for the rental industry, is proven to reduce eviction risk better than a generic credit score.
Having an analysis or report of your tenant's financial obligations can also help you feel more confident about accepting them as a renter. Income Insights™ , a report that helps to analyze applicant self-reported income, helps to reduce renter payment risk and can be used to determine if the applicant could afford the rent.
Within minutes you can confidently screen your applicant. Establishing trust quickly is possible with reports delivered lightning-fast and which include data from TransUnion, a trusted credit reporting agency for 40+ years. With critical information at your fingertips, you can make a more informed leasing decision on the spot which enables the applicant to lock in that dream rental unit that they've always wanted and potentially move in same-day.
Try SmartMove today and increase your odds of finding a great tenant AND giving back the full deposit—all while giving yourself peace of mind.
Additional Disclosure:
Remember that this material is intended to provide you with helpful information and is not to be relied upon to make decisions, nor is this material intended to be or construed as legal advice. You are encouraged to consult your legal counsel for advice on your specific business operations and responsibilities under applicable law. Trademarks used in this material are the property of their respective owners and no affiliation or endorsement is implied.