Disclosure:
This content, except as otherwise indicated or stated on this site, is the property of TransUnion Rental Screening Solutions, Inc. This content is for educational purposes and for convenience only. Trademarks used are the property of their respective owners, and no endorsement or affiliation is implied. The information presented in this content is "as is" without warranties of any kind, and specifically is not represented to be complete and does not constitute legal advice, and is subject to change without notice. You are encouraged to check these terms from time to time for changes, and by accessing this site you agree to these terms and all terms listed. Laws and regulations may vary by state and locality. Consult your own counsel if you have legal questions related to your rental property practices and processes.
A big expense for many landlords is tenant turnover. Lost rent (especially significant when you rely on rental income to pay the mortgage), maintenance and repairs, cleaning costs, and advertising can all add up the longer the unit is vacant. By reducing vacancies you can help increase profitability, which is the end goal of almost all landlords.
On the other hand, you don't want to lower your standards just to move someone in quickly, because accepting the wrong tenant could mean non-payment of rent or a costly eviction. The goal then is to come up with ways to avoid vacancies while still attracting high-caliber tenants and performing a thorough tenant screening before signing a lease and handing over keys.
We've curated a list of some strategies that will help you rent your unit quickly, without skipping important steps like tenant screening, meeting the tenant in person, and checking their references.
1. Be proactive with your current tenant
Ask your tenant 90 days ahead of the lease expiration whether they plan to stay another year. Consider offering them a small (or no) rent increase if they respond within 30 days of your notice. This gives you 60 days out from the end of the lease to search for a new tenant if your current tenant decides not to renew.
The benefits of this strategy are:
1) Gives your tenants an incentive to stay longer because of the lower rent increase (eliminating turnover costs altogether).
2) If your tenants decide to move out, you will have more advanced notice and be able to begin advertising your unit sooner. That way, you may even have a new tenant lined up as soon as your current tenant moves out, preventing you from losing rental income.
You'll also want to routinely perform property inspections and stay on top of maintenance. This is all part of being a great landlord for your renter, which can pay dividends in the long run. By staying on top of maintenance and addressing issues quickly, you'll spend less time on repairs while turning over the unit. This is especially true for cases like leaky faucets, which can escalate into much larger (and more expensive) water damage repairs. The last thing you want when trying to turn over property quickly is a major construction project or having to lower the rent because the property is in a state of disrepair.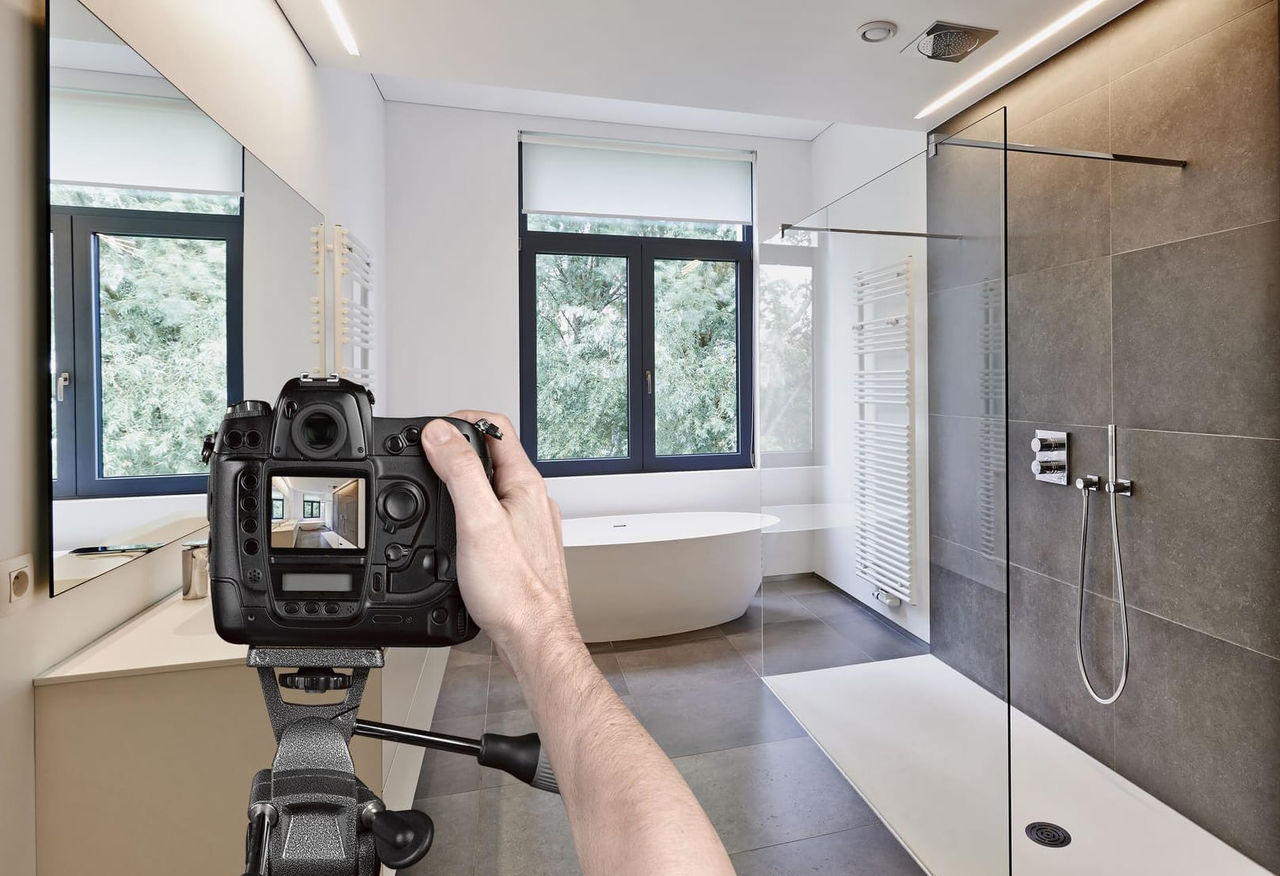 2. Optimize your advertising strategy
You want to cast a wide net when advertising. This is because the greater the pool of prospective tenants, the better the chances you'll have of finding a good tenant in a reasonable amount of time. Reach out to friends and family to let them know your property is coming up for rent, and ask your existing tenants for recommendations. After all, good tenants are likely to know other good tenants. Publish your listing on multiple websites for maximum exposure.
Attractive advertisements go a long way to increase your chances of attracting a larger pool of renters, and therefore, renting an apartment quickly. When your property is empty, spend the time to take professional photos that can be re-used every time there is tenant turnover. Professional photos are much more appealing for renters, and being prepared ahead of time prevents you from having to enter the unit when tenants are living there. After all, the unit might not be in the best condition and the current tenant's belongings can be distracting.
Know what features tenants want in a property and be sure to advertise those features in your ads. Make sure to point out both the positive and less desirable aspects to the apartment, so you don't waste your time or that of prospective tenants by showing them a property that isn't right for their needs because, say, the closets are too small.
Disclose all necessary information about the unit in the advertisement, and set expectations upfront about your income and credit requirements. Be sure to include your pet policy, and list other relevant deal breakers if you have them. Make sure details of the property and your rental criteria are clearly outlined in the advertisement. This will prevent you from wasting time on showing the property to applicants who are looking for more bedrooms, storage space, etc., or who don't fit your rental criteria.
3. Understand the market
The rent prices of comparable properties will give you a good idea of how much you will be able to charge your own tenants. It's important to set the right rent price, one that is in line with the going rate in the neighborhood. If you're asking for rent that is too high, you'll soon find you don't have many applicants, leading to longer vacancies and more money out the door.
The good news for landlords is that it is currently appears to be a landlord's market. There is strong demand for rental homes, low vacancy rates, and an ability to increase rent prices. According to the U.S. Census Bureau Housing, vacancies are currently at the lowest levels since at least 2005 with a national average of 7.3%. However, you'll want to familiarize yourself with vacancy rates at the local level, which may not be the same as the national average. For instance, the National Association of Realtors reports that in 2014, San Jose, CA had a low vacancy rate of 4.0%, while Ocean City, NJ had a high vacancy rate of 58.4%.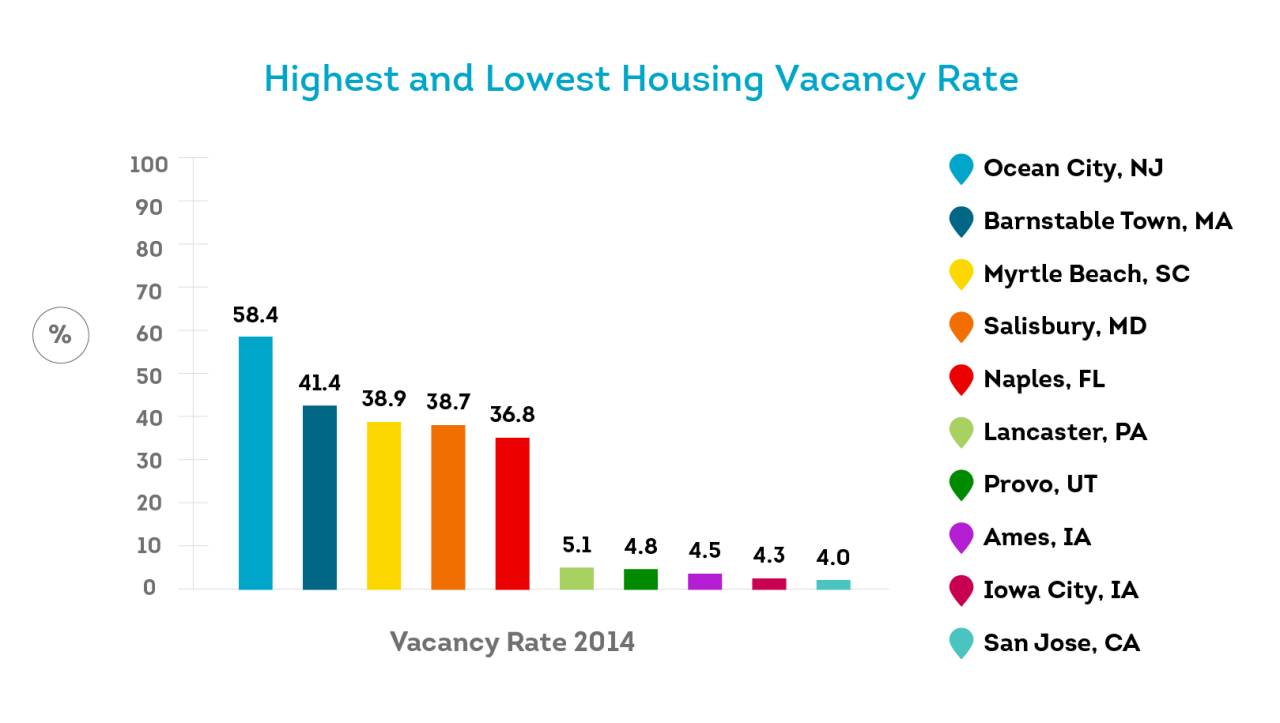 The national vacancy rate is 7.3%, but local vacancy rates can vary dramatically
Once you have a good idea of the vacancy rate, demographics, and market in your neighborhood, you can better understand how picky you can be with choosing new tenants.
4. Identify your ideal tenant with online tenant screening
Even if you're in a rush to fill a vacancy, tenant screening is a step you should never skip. By screening rental applicants upfront, you'll know:
Was the applicant upfront about any criminal or eviction history?
Does this applicant have relevant criminal convictions that make him/her a risk to my property or the neighborhood?
Do they have a history of making payments on time?
Having the rental applicant's credit, criminal, and eviction information is the best way to know immediately whether or not they meet your screening criteria. This information can help you identify your ideal tenant more quickly and avoid costly evictions down the road. And when you use a tenant screening service like SmartMove, the process is quick and easy since it's completed entirely online.
This brings us back to understanding market conditions. Smaller landlords have the option to be more nimble in terms of who they choose, and this kind of flexibility can give you a leg up on big apartment complexes in a highly competitive rental market. If a low credit score is giving you pause, there are other factors to consider before disqualifying a potentially good tenant.
Even criminal records may not be a deal breaker. New HUD guidelines recommend that landlords look at criminal history on a case-by-case basis to determine whether or not that applicant may still be a reliable tenant.
As long as you do a thorough tenant screening that includes a credit report, criminal report, eviction report, and you check pay stubs and references, it's in your hands to make a fully informed decision about an applicant.
Conclusion
Extended vacancies are expensive for landlords. By taking some simple steps you can reduce the length of vacancies and become more profitable. If you are proactive, execute an effective advertising strategy, and identify tenant screening warning signs by using an online screening service like SmartMove which can provide you with accurate, detailed reports in a matter of minutes, you'll be able to strike a perfect balance between renting your property quickly yet still attracting good tenants.
Additional Disclosure:
Remember that this material is intended to provide you with helpful information and is not to be relied upon to make decisions, nor is this material intended to be or construed as legal advice. You are encouraged to consult your legal counsel for advice on your specific business operations and responsibilities under applicable law. Trademarks used in this material are the property of their respective owners and no affiliation or endorsement is implied.