Disclosure:
This content, except as otherwise indicated or stated on this site, is the property of TransUnion Rental Screening Solutions, Inc. This content is for educational purposes and for convenience only. Trademarks used are the property of their respective owners, and no endorsement or affiliation is implied. The information presented in this content is "as is" without warranties of any kind, and specifically is not represented to be complete and does not constitute legal advice, and is subject to change without notice. You are encouraged to check these terms from time to time for changes, and by accessing this site you agree to these terms and all terms listed. Laws and regulations may vary by state and locality. Consult your own counsel if you have legal questions related to your rental property practices and processes.
As an independent landlord, it's essential to make the right tenant decision before signing a rental agreement. According to a 2016 SmartMove survey, the top two concerns of landlords are payment problems and eviction history. Which is no surprise when evicting a tenant can take up to 3-4 weeks and costs an average of $3,500. While it's not always easy to identify a good from a lousy tenant, it's crucial that you give it your best shot from the start to help avoid a bad turnout such as eviction, loss of rent payment, or property damage.
Qualifying a new applicant means putting them through your standard tenant screening process. The screening process starts with your rental advertisement and first contact and ends when you sign the lease and hand over the keys.
During the tenant screening process, there are things to look for that can help to put your mind at ease (good credit history, high income, etc.) and warning signs that should give you pause. If you follow a thorough and consistent tenant screening process, you can help yourself to feel more confident about your decision to qualify or deny a prospective tenant.
For those who don't cut, you'll immediately want to let them know so that they can continue on their search for a place to live. There is a lot of time and thought that goes into qualifying a new applicant, and sometimes the hardest step can be declining a tenant who doesn't qualify. Not only can it be awkward, but it can also be challenging. You always want to be sure you're following best practices and any applicable laws you're subject to such as the Fair Housing Act and local housing laws.
Let's start by looking at how to qualify a prospective tenant, and then review how to gently and appropriately decline them if they aren't a good fit.

Qualifying Criteria
Here are the seven criteria that an ideal tenant should have:
1. Healthy Credit History and ResidentScore
According to a 2014 SmartMove user survey, landlords' number one concern about new tenants is non-payment of rent. Many landlords use a rent payment to cover the rental property mortgage. If the tenant doesn't pay rent on time or at all, this could leave the landlord paying the bill out of their pocket.
If an applicant has no significant warning signs such as apartment related collections, judgments on their credit report, or a high credit score, it generally shows they have a history of making payments on time and are likely to continue to do so in the future.
Exclusive to SmartMove is ResidentScore, which is our proprietary credit scoring model designed for the rental industry. Instead of using a generic credit score, TransUnion analyzed over 2 million rental outcomes and built a credit model that is designed to call risk specifically for the landlord use case.
According to TransUnion research, ResidentScore predicts eviction 15% more often in comparison to a typical credit score in the bottom 20% score range where risk is highest. With that in mind, it's important to note that TransUnion research shows that prior eviction history is more likely to lead to future evictions. A recent TransUnion analysis found that a tenant's history of prior evictions and rental-related collections records is highly predictive of the likelihood of future behavior. Also, evicted residents have nearly three times as many prior evictions and rental-related collection records as non-evicted residents. Because those with a previous eviction history are more likely to be evicted again, we encourage landlords to pull an eviction report every time they screen.
2. Clean background check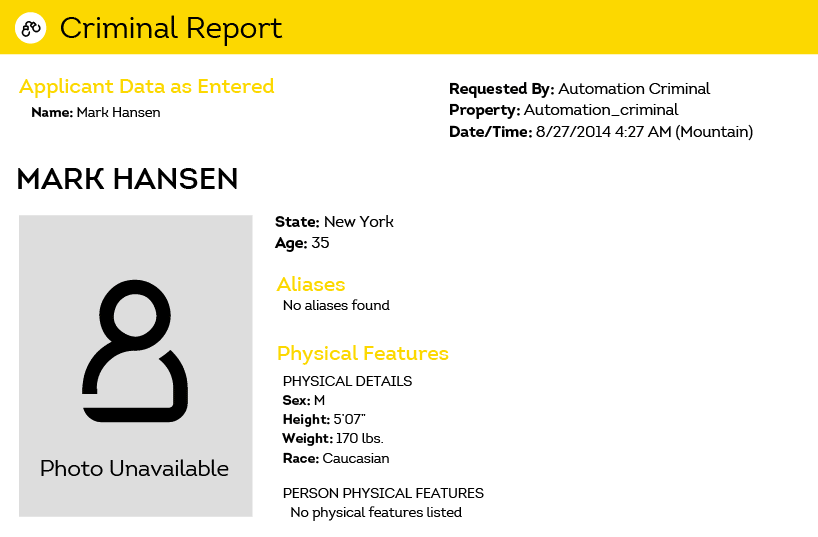 As a landlord, you should always have the safety of your neighborhood, yourself, and your rental property in mind. In this regard, it's best to know whether a prospective tenant has any relevant criminal offenses on their record. An applicant with a clean criminal check could be a good indicator that you can trust them with your property and the neighborhood. You'll want to be sure to perform a criminal check that includes FBI Most Wanted and Sex Offender Public Registries, which are all offered by TransUnion SmartMove. When you consider that nearly 1 in 5 people screened by SmartMove had an illegal hit on their record in 2015, you can see how important it is to conduct a background check as part of your tenant selection process to identify relevant criminal records.
3. Clean Eviction History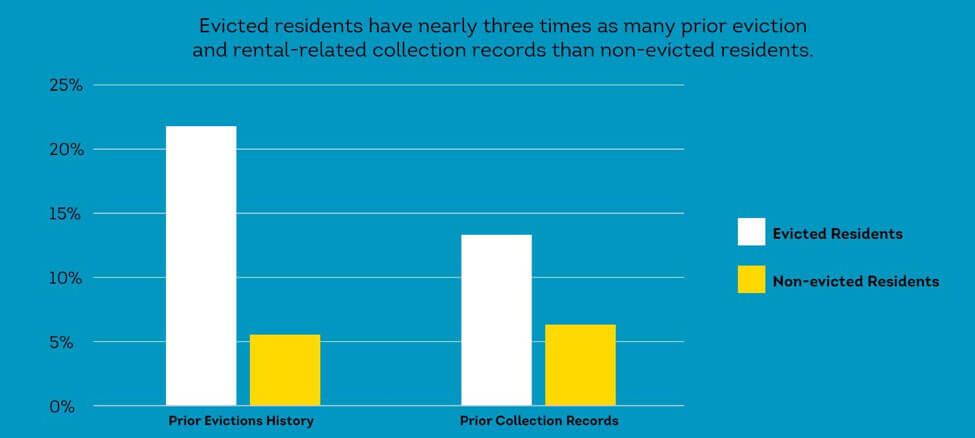 A TransUnion analysis examined the records of individuals from nearly 200 properties, comparing those who have been through an eviction in the past to those who were not.
Their findings included:
In the "not evicted" group, 5.5% of residents had prior evictions on their records.
Residents who have been evicted, the number rose to 21.7% of residents with a previous eviction.
Previously evicted residents have twice as many prior rental related collection records as non-evicted residents.
TransUnion research shows that evicted residents have nearly three times as many prior eviction and rental-related collection records when compared to non-evicted residents. Since prior evictions are predictive of future evictions, an eviction record should be a warning sign that landlords take seriously.
Although a blank eviction check is a good indicator that the applicant has a positive rental history, you'll still want to conduct a landlord reference check to make sure the prospective tenant's behavior at prior residences was up to par.
4. Stable Employment History
To help increase the chances of being paid on time, you'll want to look for stable employment history. A person who has held the same job for several years and does not have significant gaps in employment could demonstrate that they have a steady job and income. Not only is this a good sign that the tenant will likely pay rent on time, but there's also a good chance they will renew their lease since they don't have a history of changing jobs frequently (requiring multiple moves).
5. Sufficient Income
While a credit report is an excellent measure of a prospective renter's financial credit history, it is crucial to verify employment and income for assurance that the prospective tenant has means to pay the rent. A ratio of three times the income to rent is the industry standard, which typically shows that if any unforeseen expenses come up for the applicant, they are more likely to have enough money to pay their rent.

SmartMove offers an Income Insights report, which helps determine if further income verification is recommended, and you'll get a better view of their ability to pay rent on time.
6. Positive Landlord and Employer Reference Checks
A positive landlord, personal, and employer reference checks go hand-in-hand with your tenant screening reports. Reference checks should verify that the applicant was a good tenant who paid rent on time and left the unit in good condition and that they provided accurate information about their employment status. You will also want to have an actual conversation with their employer, on a company line.

Denying an Applicant
Keep in mind that specific state and local laws limit the criteria you can use to screen applicants. You may want to consult with an attorney to determine whether you are subject to any fair housing laws.
However, here are five reasons why you may choose to deny a rental applicant (and are legally within your right):
1. The Tenant Doesn't n Meet Your Screening Criteria
As long as your criteria comply with all relevant fair housing laws and state-related landlord-tenant laws, it is okay to decline an applicant if they don't meet your standards. For instance:
If a tenant has a recreational pet when you don't allow pets
If they are a smoker and you have a non-smoking unit
If they have too many people for the space
Again, it's a good idea to mention your criteria in the rental advertisement, so you don't spend your time screening a tenant who doesn't meet your requirements from the start.
2. Poor credit check
Every landlord has their criteria when it comes to credit history. While a low credit score may not be a deal breaker, warning signs such as past bankruptcies, collections for unpaid rent, and tenant judgments all can indicate potential problems in the future.
If you screen with SmartMove, you'll receive a credit-based ResidentScore that is designed to predict the likelihood of a bad rental outcome on a lease. According to a SmartMove 2016 user survey, three out of four landlords prefer ResidentScore to a general credit score. Because a ResidentScore is built specifically for the tenant screening industry and evictions are predicted 15% more accurately than a general credit score.
3. Relevant Criminal History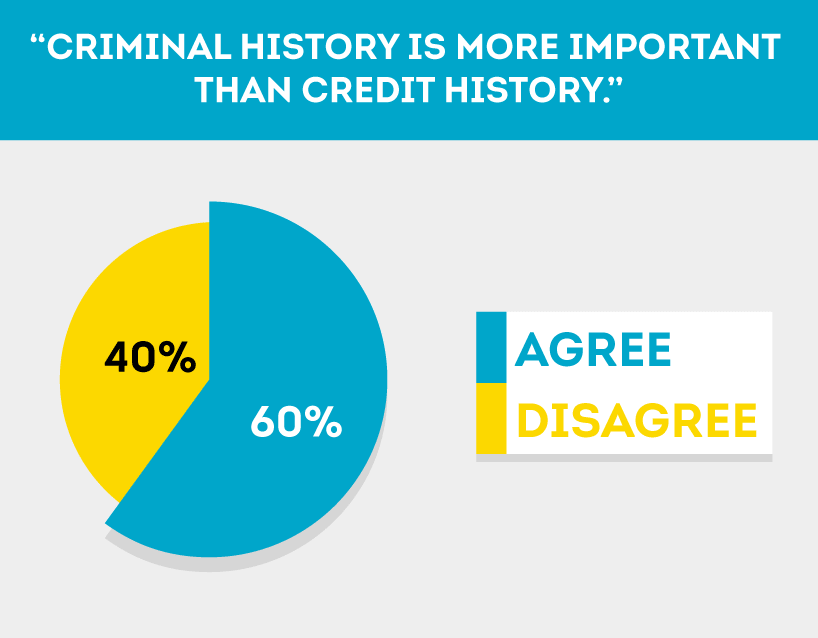 SmartMove data shows that 60% of landlords believe criminal history is more important than credit history, and with good reason. An applicant with a lengthy relevant criminal history could potentially put your property and the neighborhood at risk.
The U.S. Department of Housing and Urban Development recently provided new guidelines on how to handle criminal records. They recommend making decisions on a case-by-case basis, keeping mind the severity and length of time that has passed since the offense. However, if you have an applicant with a lengthy criminal history, it can be acceptable to decline an applicant based on relevant criminal history.
4. Eviction History Record
No landlord wants to put themselves in the position of having to evict a tenant. Prior evictions are predictive of future evictions, so it's important to order an eviction report along with a credit and criminal history. Evictions cost $3500 on average (based on SmartMove user experiences), which is an expense that many independent landlords cannot easily absorb. When you receive a SmartMove eviction report, you can see whether your applicant has been evicted in the past, which can help you to determine their level of risk.
5. Poor Reference Checks
If you contact prior landlords only to find out that the tenant has been a chronic late-payer or has left the unit damaged, you may decide that the tenant is not a good fit for your rental property.
Notification
When notifying an applicant of any denial or other action concerning their application, you should be sure to follow all relevant laws. For example, the Consumer Financial Protection Bureau publishes a Notice of Users of Consumer Reports and identifies a user's notice obligations when taking adverse action against the subject of the report, like an applicant.
Check with an attorney if you're unsure of how to handle declining an applicant.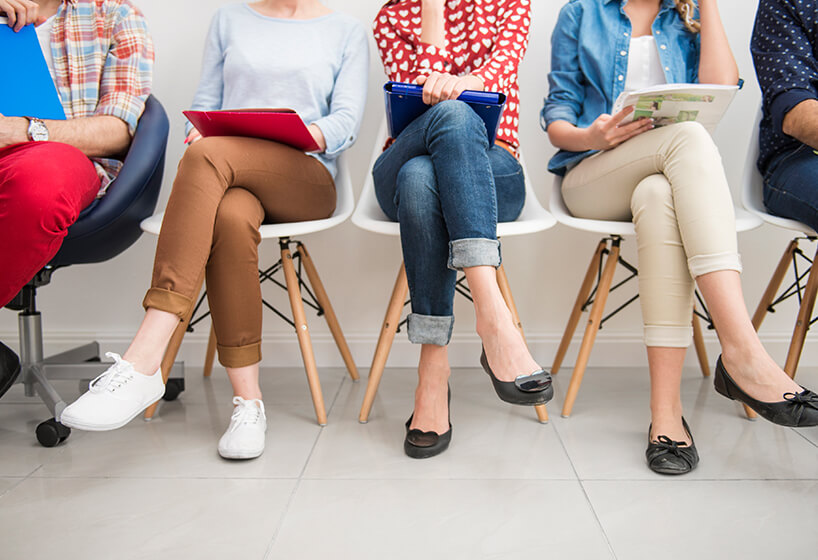 Summary of the Screening Process
A full tenant screening is one of the most crucial steps in finding a good tenant. There are several ways you can pre-screen so that you don't waste yours or the applicant's time conducting a full tenant screening, such as incorporating your policies and expectation within the rental advertisement.
A rental advertisement that outlines all your policies will help to let an applicant know right off the bat whether or not they will qualify for your rental property. Policies may include:
Number of persons permitted in the rental
Payment due date
Late fees
Pets
Smoking
Renter's insurance requirements
Be sure to incorporate these policies into your lease agreement as well to help prevent misunderstandings down the line. If they're still interested after learning the policies, meet them in person at the property. Talking to them and getting a sense of their behavior will give you an indicator as to how respectfully they will treat your property.
However, first-impressions alone doesn't tell the whole story. Checking their credit, criminal, Income Insights and eviction history can help to give you a well-rounded view of who they are, their ability to pay, and suggests whether renting to them is a risky move. Finally, you'll want to conduct a landlord reference check to confirm that they are a respectful and trustworthy tenant.
Note: Exclusive to SmartMove; Income Insights allows you to analyze your tenant's income to help determine if additional income verification is needed. If the Income Insights estimate shows the applicant's income is close to, or higher than the amount they self-reported to SmartMove, the landlord can feel more confident in skipping additional income verification.
Conclusion
Whether you choose to qualify or deny an applicant, it's always good to have clear, prompt communication with all of your prospective tenants. Once you have found an applicant that is the right fit for your property, reach out to them as soon as possible to let them know that they are approved. Hold off on rejecting your second choice applicants until you have confirmation that your first choice is still interested. In many cases, you can tell the remaining applicants that you've decided to go with a different applicant.
SmartMove combines the compelling data and analytics of TransUnion to provide you with a quick and reliable tenant screening service which includes a full credit, criminal, eviction, Income Insights report and a ResidentScore. Performing a full and thorough tenant screening is a crucial step of the tenant screening process and with SmartMove this task can be completed in a matter of minutes. SmartMove tenant screening can help you make more informed screening decisions in less time and find the right fit for your rental property.
Additional Disclosure:
Remember that this material is intended to provide you with helpful information and is not to be relied upon to make decisions, nor is this material intended to be or construed as legal advice. You are encouraged to consult your legal counsel for advice on your specific business operations and responsibilities under applicable law. Trademarks used in this material are the property of their respective owners and no affiliation or endorsement is implied.