Disclosure:
This content, except as otherwise indicated or stated on this site, is the property of TransUnion Rental Screening Solutions, Inc. This content is for educational purposes and for convenience only. Trademarks used are the property of their respective owners, and no endorsement or affiliation is implied. The information presented in this content is "as is" without warranties of any kind, and specifically is not represented to be complete and does not constitute legal advice, and is subject to change without notice. You are encouraged to check these terms from time to time for changes, and by accessing this site you agree to these terms and all terms listed. Laws and regulations may vary by state and locality. Consult your own counsel if you have legal questions related to your rental property practices and processes.
Landlords are faced with all sorts of choices. One important decision that could affect their rental business is determining the length of the lease. Most standard lease agreements are for 12 or 18 months, though six-month and two-year leases are also possible.
Another option is something called a month-to-month rental agreement, which offers flexibility for both the landlord and tenant. There are advantages and disadvantages to implementing this sort of lease. First, let's discuss the nuts and bolts of a month-to-month rental agreement.
What is a month-to-month rental agreement and how does it work?
A lease is a lease is a lease, right? For the most part, yes. Some professionals reserve the term "lease agreement" for tenancies that are 12 months or longer. Meanwhile, a "rental agreement" refers to short-term or month-to-month leases. It's really a matter of semantics, as both month-to-month and longer-term leases will include many similar clauses, such as:
Security deposit requirements
Penalties for late rental payments
Insurance requirements
Pet policy
A month-to-month rental agreement typically lasts, as the name implies, for 30 days. Unlike a long-term lease, it typically involves an automatic renewal unless the tenant or landlord provides notice of nonrenewal, according to Rocket Lawyer. Most month-to-month rental agreements require 30-day notice by either the landlord or tenant, although this may vary based on local law.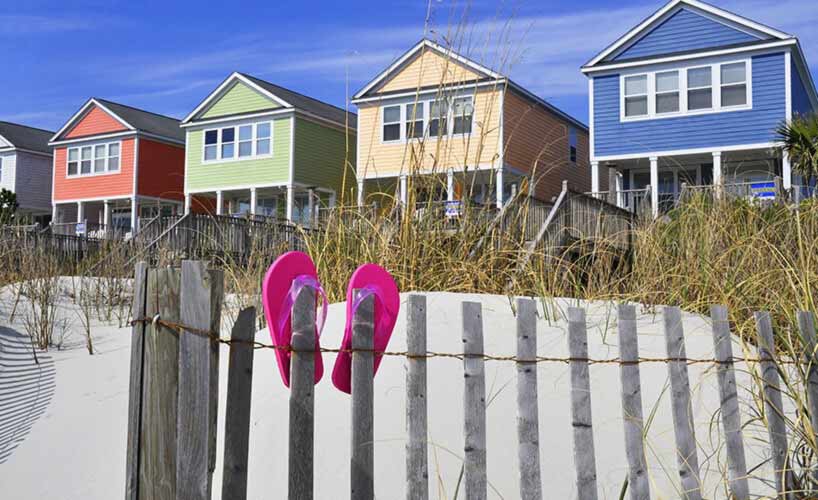 When would you use a month-to-month rental agreement?
A month-to-month rental agreement could apply in a number of scenarios. Some long-term leases include a month-to-month option after the original agreement ends. This usually comes into play when a tenant opts not sign a new lease but does not plan to immediately leave the rental. The existing lease typically spells out how the month-to-month arrangement will work, such as whether the tenant will be required to pay a premium above the rent amount in the original lease. Local law may also have an impact on the terms of a month-to-month lease.
In other cases, a landlord may decide to implement a month-to-month rental agreement because of high rental potential in a given neighborhood, treat the property as a vacation rental, or to accommodate the student population in a university town.
While landlords will need to decide what approach works best for them, there are some common pros and cons to consider.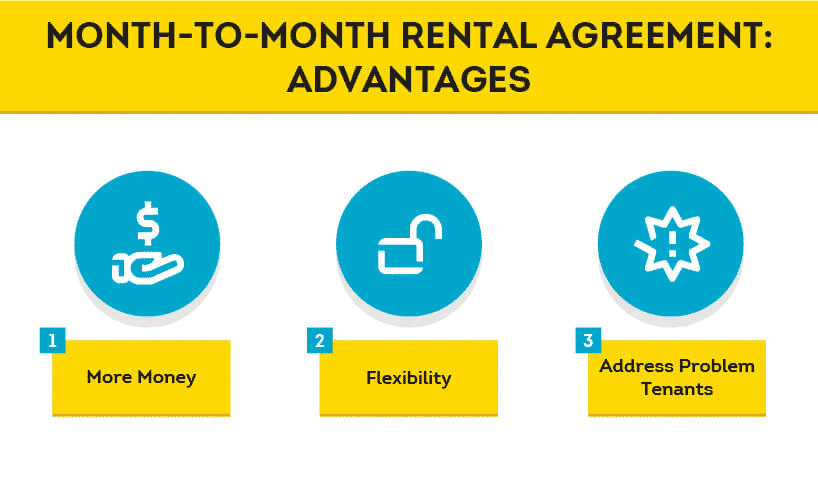 Advantages of a month-to-month rental agreement
More money
One of the biggest potential advantages to choosing month-to-month rental agreements is additional earning potential. Month-to-month leases can potentially enable you to charge more for rent each month, according to Rocket Lawyer. That's because shorter term leases carry more risk for the landlord, as tenants can move out any time with proper notice.
Elizabeth Colegrove, who writes the blog The Reluctant Landlord, says she charges a month-to-month premium of $300. On the real estate website BiggerPockets, landlords discussing this very topic, said they also charged a month-to-month premium, ranging from $100 to $300 per month, or a percentage of the monthly rate, such as 8 percent.
Not everyone advocates for hiking rental prices for month-to-month renters. On the BiggerPockets forum, Marcia Maynard, who owns nearly 20 residential units (houses and duplexes) with her husband in Vancouver, Washington, says they charge the same rate regardless of the length of the lease. They do charge a move-in fee to cover costs of tenant turnover.
"Most of our tenants stay long term regardless," she writes. "Those who stay short term usually don't plan to stay short term, it's just that circumstances change for them and they move. They would move on their own time frame whether or not we had a lease, so the [month-to-month lease] just makes it easier for all us."
Flexibility
Maynard alludes to another advantage of month-to-month leases: flexibility. By not being locked into a long-term lease, landlords have more options in terms of what they can do with the property and for changing the terms of the rental, usually by providing proper notice.
Rocket Lawyer notes that in hot markets where rents are rapidly increasing and tenants are plentiful, a shorter lease agreement allows landlords to keep rents comparable to others in the neighborhood or area. Recent Zillow research showed that households paid 47% more in rent in 2015 (an average of nearly $4,000 annually) than renters who renewed leases for at least five years.
For landlords renting a primary residence, a month-to-month lease allows them to move back into their home much easier over a long-term lease. Some landlords may want the flexibility of having an empty unit available, or the ability to lease it as a vacation home or executive rental, usually fully furnished.
Address Problem Tenants
A month-to-month rental offers an additional layer of flexibility that some landlords might find particularly appealing. It provides a way to get rid of a late-paying tenant or a tenant that does not respect the property more quickly than a long-term lease. "You ... have the option of terminating a lease whenever you choose once you have given a 30-day notice to the tenant," according to Rocket Lawyer.
Conversely, a month-to-month rental agreement may be a good way to test whether a tenant will be a good long-term fit for a property. If the renter turns out to be a good tenant, it's always possible to sign a long-term lease later.
Whatever your approach, make sure that you find the best tenants for your rental. TransUnion SmartMove can help with its comprehensive screening process which offers a tenant credit report, tenant criminal background check and eviction check.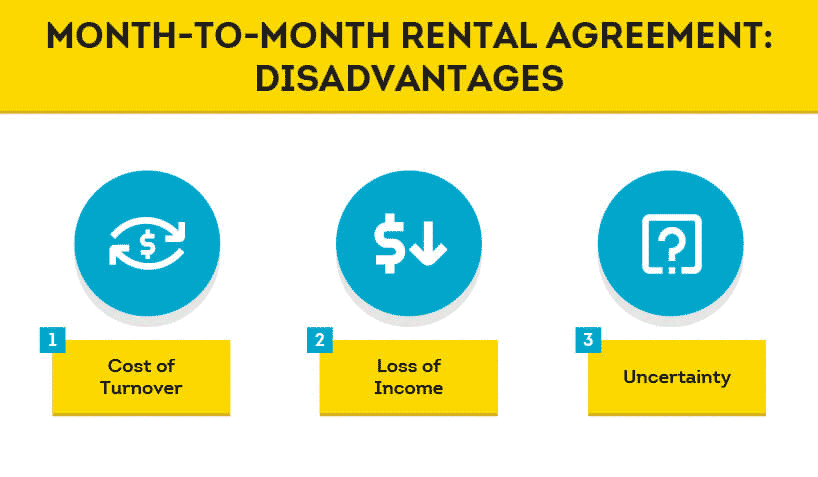 Disadvantages of a month-to-month rental agreement
Cost of Turnover
Tenant turnover can be expensive. Units must be cleaned, at the very least. They may also require a fresh coat of paint, new carpet or even significant repairs, depending on how the prior tenants left the property. It also takes time and money to advertise, show and fill a vacancy. And, of course, there is the cost of screening tenants, potentially several times each year.
Loss of Income
An empty unit means loss of income. As Rocket Lawyer notes, "In a rental market with lower occupancy rates, the potentially high turnover associated with shorter lease agreements may prove problematic, as new tenants may not be at the ready. An apartment without a lease equals loss of rental income."
Colegrove, the Reluctant Landlord, says rentals in some areas fluctuate according to season. There are times of the year when demand is higher and others when it is lower. "Therefore it is really important to watch the market or you might have to get less than normal simply because of the time of year you have a vacancy," she writes.
Uncertainty
A month-to-month rental agreement means that a landlord is always 30 days away from having an empty unit. That may hinder a landlord's ability to plan for the long term, both professionally and personally. Colegrove says she tries to plan rental availability around her schedule whenever possible. She advises, "Put your leases on long time periods when it's going to be a stressful time period to prevent this from being an additional stressor."
Conclusion
Month-to-month rental agreements offer great flexibility for both landlords and tenants, but there are a number of factors to consider before signing on the dotted line. Landlords may want to weigh the potential for higher income and other positives against the possibility that a unit could remain empty for weeks or disrupt personal plans. Market conditions and individual preferences regarding security of income may be the biggest factors to deciding between month-to-month rental agreements and long-term leases.
Additional Disclosure:
Remember that this material is intended to provide you with helpful information and is not to be relied upon to make decisions, nor is this material intended to be or construed as legal advice. You are encouraged to consult your legal counsel for advice on your specific business operations and responsibilities under applicable law. Trademarks used in this material are the property of their respective owners and no affiliation or endorsement is implied.