Disclosure:
Remember that this material is intended to provide you with helpful information and is not to be relied upon to make decisions, nor is this material intended to be or construed as legal advice. You are encouraged to consult your legal counsel for advice on your specific business operations and responsibilities under applicable law. Trademarks used in this material are the property of their respective owners and no affiliation or endorsement is implied.
Independent landlords have their work cut out for them. Owning and operating a rental unit is no small task; from finding tenants to collecting rent payments to staying on top of property maintenance, there's plenty to do.
No matter what, protecting your rental income should be your top priority. Landlords know that turning a profit and running a successful business hinges on getting paid regularly and on time. A SmartMove user survey in 2014 found that 84% of landlords say that payment problems are their biggest concern. A renter who doesn't pay rent on time can interrupt the business cash flow, making it difficult for landlords to afford their own financial obligations such as mortgage payments or property management bills.
Ultimately, leasing to the wrong tenant may lead to a number of issues, such as late or nonpayment of rent, safety hazards, property damage, and neighbor complaints. In the end, these issues can result in an expensive eviction.
To help mitigate these risks, landlords should seriously consider taking precautionary steps and conducting a thorough background check on all of their prospective tenants before signing a rental agreement. A tenant background check typically includes information such as criminal records, rental history, eviction history, and insight into payment ability, all of which can help landlords to make an informed leasing decision.
Ultimately, background checks can help landlords narrow down their pool of candidates by identifying potentially risky renters. Not only can a background check help save time, but also can also help to avoid financial stress down the road.
Placing the right person in a rental property is important because tenant turnover can cost up to $1,750 per month. Yet another reason to make sure you get the best possible tenant in your unit right from the start.
In this article, we'll explain the various components of a rental background check and describe how each facet benefits landlords. If you learn what a background check consists of and how easy it is to add a pre-screening policy to your rental business, then you will be better able to make informed leasing decisions.
As a reminder, you should always consult the laws applicable to your business and consider consulting an attorney to help you with confirming your responsibilities under applicable law – since this material is not legal advice and should not be construed as legal advice.
What types of information are included in a rental background check?
Let's dive into the various components of a rental background check:
1. Credit Report
Credit checks can be quite helpful when vetting an applicant. The information contained within a credit report may provide insight into your applicants' financial history and provide insight into their ability to make payments to you in the future.
It's important to know how to read a credit report. The main question is whether a new tenant will pay their rent on time and the report can give you a lot of information to help you understand that. While some landlords might be inclined to believe that an applicant with a well-documented, high-earning income will have no problem making monthly rent payments, that's an assumption a typical landlord can't afford to make.
There are 5 basic components to a credit report. You'll want to know what they are and how you can use this data to make a more informed leasing decision.
Basic information – Name, current address, recent employment history
Fraud Indicators – Alerts regarding the potential for fraud (i.e. SSN reported as a deceased person)
Tradeline Summary – Snapshot of active accounts such as credit cards, auto loans, student debt
Credit Score – SmartMove® uses ResidentScore, our proprietary credit score used for the rental industry
Inquires – Displays which companies have viewed the consumer's credit during the past 2 years
Below is a mock credit report: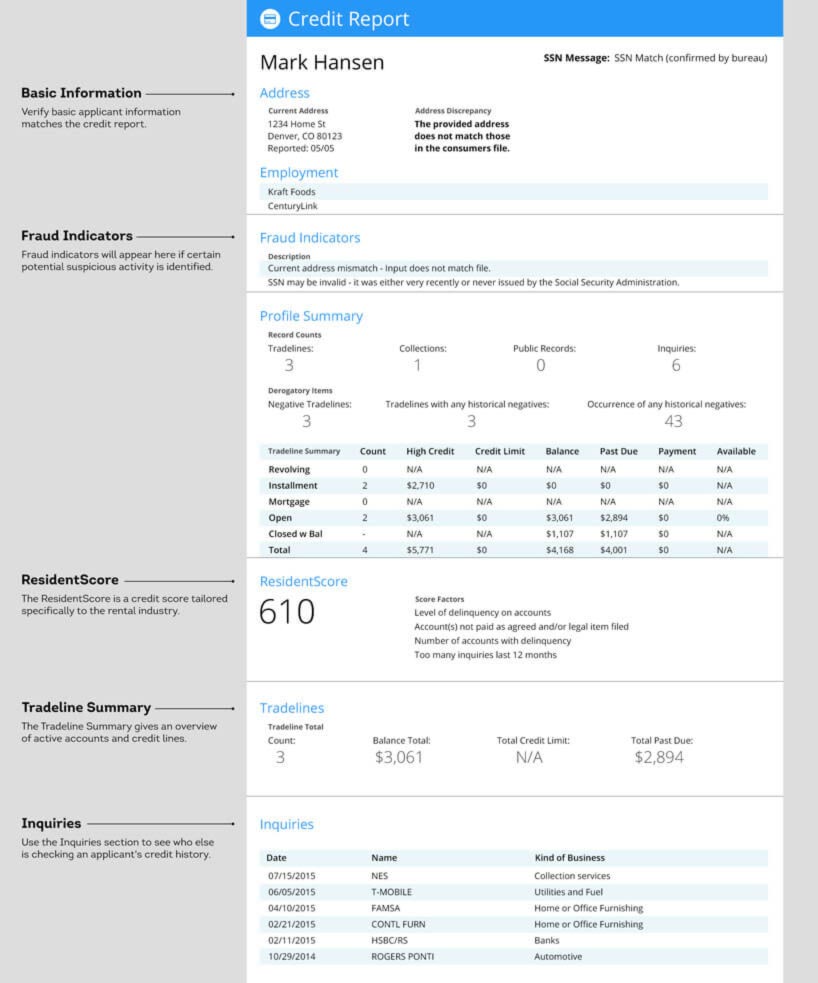 In brief, a credit score is a numerical score that is intended to describe an individual's financial responsibility and creditworthiness. It is scored on a scale from 350-850. The higher the number, the more creditworthy the consumer is considered to be while a score in the lower range could indicate that a consumer has not kept up with certain financial obligations. That's why credit scores in rental background reports are useful: they help to show the applicant's financial behavior.
However, a 2016 SmartMove survey of independent landlords shows that the majority look at more than just the score - they want a full credit report and to understand the whole story.
When reviewing your applicant's credit report, ask yourself:


Does the applicant have a large amount of debt?
Is there a history of late or missed payments?
Have they recently applied for a large number of new credit cards?
With SmartMove, you'll receive a full credit report included within your tenant background check. We provide details such as:
Verification of name and address
A summary of active accounts and credit lines
Any debts incurred, including credit card debt, mortgage or car payments, and student loans
Payment history
Employment history to provide proof of income*
* Not all employment history may be available or contained within a credit report.
Rental applicants may offer to provide their own copy of their credit report, but landlords can't be certain that the information is authentic, up-to-date, or as comprehensive as the reports provided by SmartMove.
Learn more about how to read and check a tenant's credit score.
2. ResidentScore
In the previous section, we covered the important aspects of a tenant credit report. Part of the report is the credit score. SmartMove uses its own unique credit score called ResidentScore®.
ResidentScore is built to look at the outcome of a lease, using compelling data and analytics of TransUnion. TransUnion collected rental results of nearly 4 million individuals and identified crucial pieces of credit data that are most indicative of adverse outcomes.
ResidentScore is tailored to the unique needs of landlords and built to predict evictions more accurately than a typical credit score. The chart below depicts at a high-level the kinds of inputs ResidentScore leverages.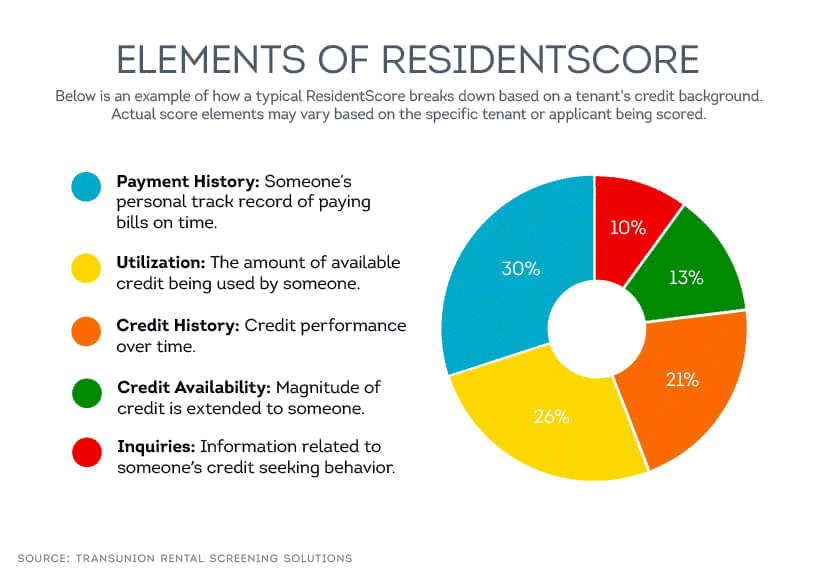 There are many credit scores on the market, but ResidentScore is engineered for rental screening and designed to help independent landlords make more informed leasing decisions.
Below are the benefits of ResidentScore over a standard credit score:
Identifies 15% more evictions and 19% more skips than other typical credit scores
Scores more applicants who have thin files (can score all applicants with at least one account on their credit report)
Built specifically to identify the likelihood of eviction
Using a scoring range that is common in typical credit scores, prospective tenants are awarded a rating from 350-850, with 850 being the best possible score. The score is also designed to be delivered with a rental recommendation†, using a specific analytic scoring model that assesses the reliability and level of risk a tenant may bring. Any such rental recommendation† is just that (a recommendation), is based on specifications from the landlord, and landlords retain the responsibility for the decision of whether to lease a particular property to a particular tenant.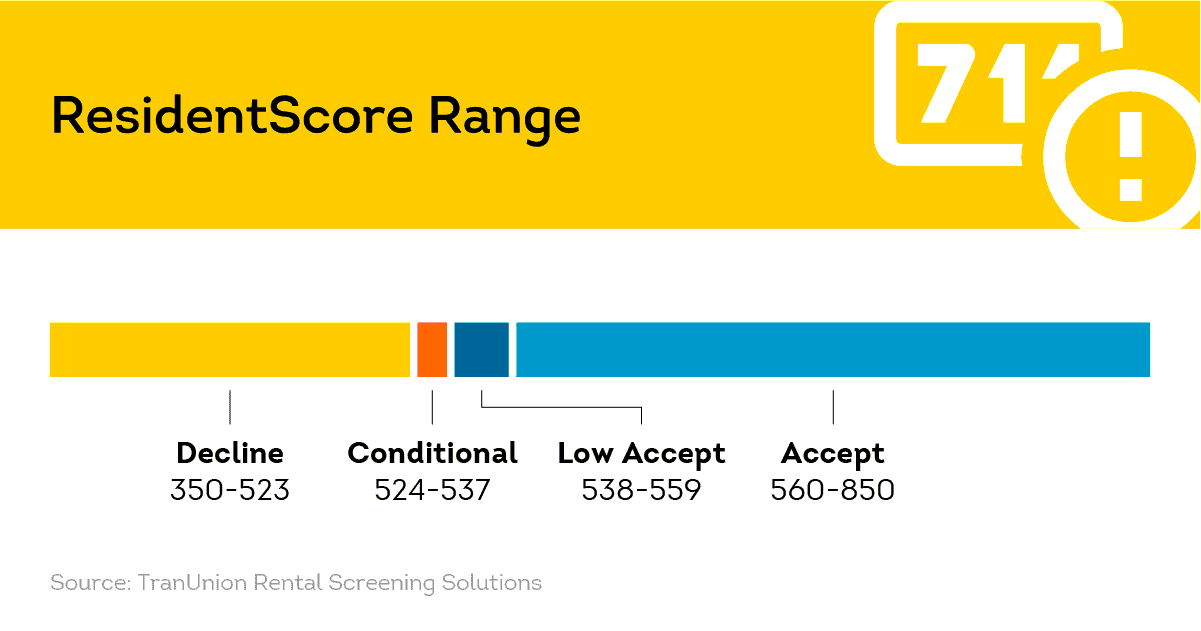 Sometimes, an applicant may have a thin credit profile which makes it difficult to obtain robust information on their financial behavior. With ResidentScore's algorithm, it's now possible to reliably score all applicants who have at least one account on their credit report.
In sum, ResidentScore is one of SmartMove's most unique and valuable features. It is proven to be a more effective credit score for calling eviction risk for the rental industry. And it can help you avoid skips and late payments. Plus it helps you score more applicants, thus widening your pool of potential new renters.
Learn more about TransUnion ResidentScore from SmartMove.
3. Income Checks
Credit reports show if the applicant has a history of paying their financial obligations on time, which can help landlords predict if they might pay the rent on time in the future.
However, credit reports do not show an applicant's income. This is an important factor to determine if the applicant can actually afford the monthly rent, let alone pay it on time.
When applying for a tenancy, landlords typically require candidates to provide proof of their ability to pay rent. There are a number of ways to do this.
Before reviewing an applicant's income level, a landlord should have an idea of how much income is needed to afford the rental unit. Landlords should consider using a rent-to-income ratio, which measures the gross income a tenant must earn in order to afford the rent each month. The general rule of thumb suggests that an applicant should earn a monthly income equivalent to at least three times the price of rent. Of course, this varies by location. With an income that is at least 3 times the cost of rent, the applicant should be able to afford the cost of rent while also keeping up with the additional costs of living.
Credit history doesn't necessarily indicate your tenant won't pay rent, but insufficient income can be a bigger problem. If your tenant doesn't make enough income, they may find themselves unable to afford monthly rent payments—this is more common than you might think. According to 2017 data, 16% of renters who earn less than $30,000 were unable to pay rent in full for one month or more. Keep this number in mind when assessing an applicant's income and determining whether or not they'd be a good fit.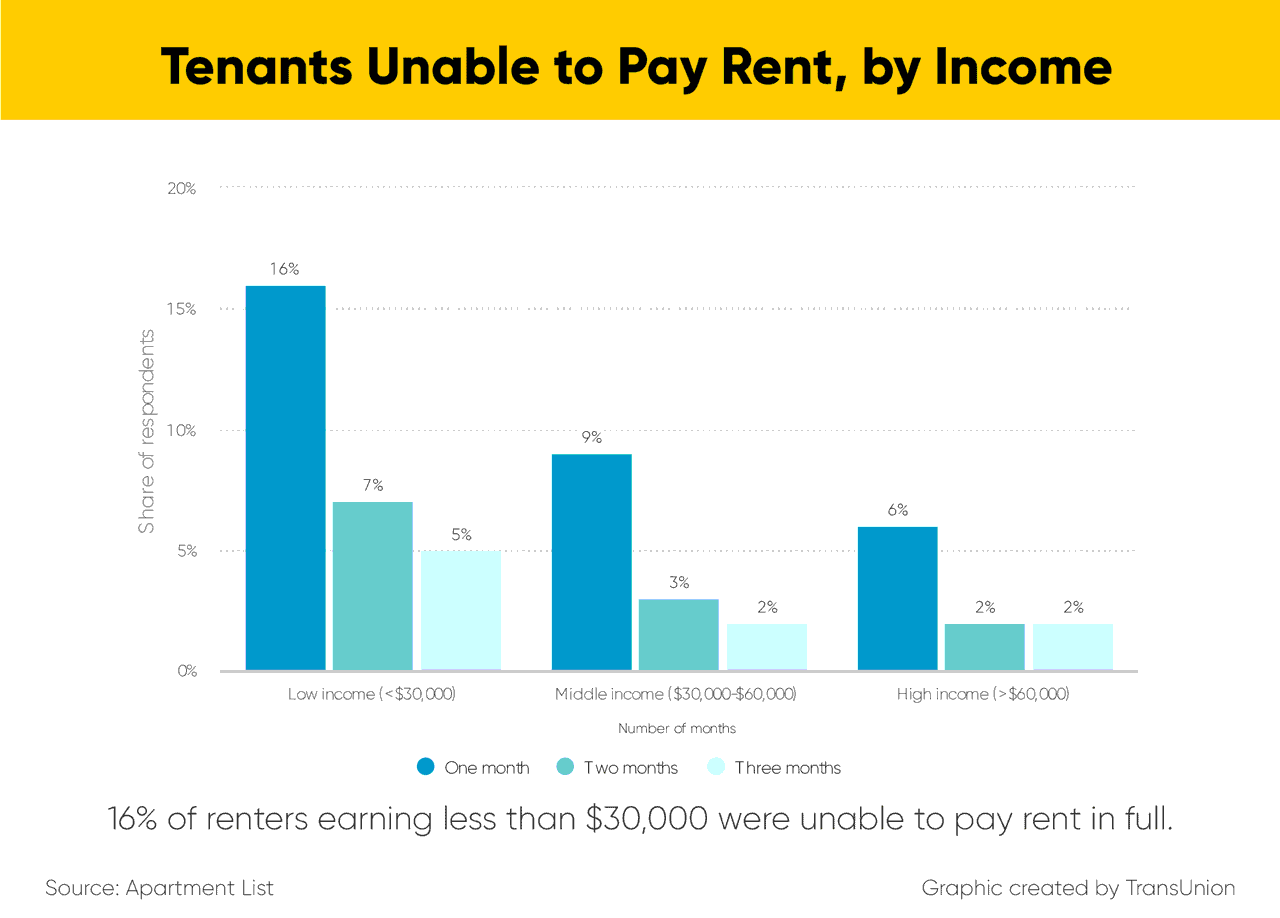 To help verify an applicant's income, most landlords ask to see a pay stub that displays their earned wages (it is best practice to request several months' worth of payment history to establish a stable income).
Pro tip: If a prospective tenant lacks the required income, landlords may choose to allow a co-signer who is jointly responsible for payment. This is particularly common amongst landlords who rent to college students or recent graduates who might not have a high income, strong credit, or rental history.
SmartMove Income Insights
Most rental background checks do not include an earnings statement, but SmartMove provides landlords with Income Insights. This tool estimates an applicant's income in a matter of minutes and can tell you if more income verification is recommended.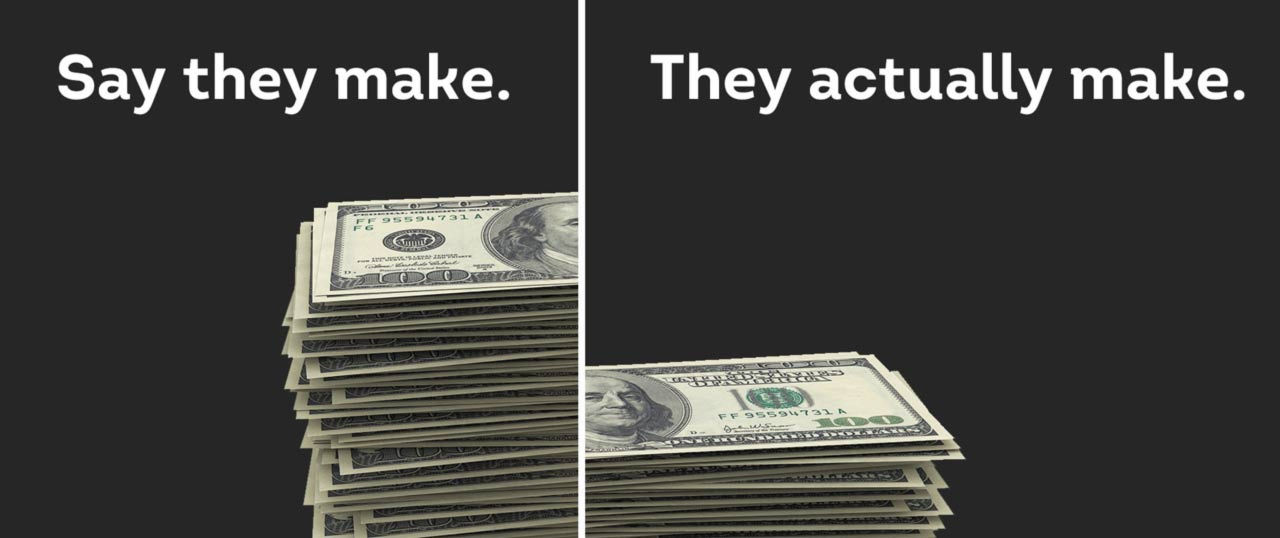 Income Insights report provides:
An estimate of whether the applicant's credit behavior aligns with self-reported income
An estimated variance between the applicant's self-reported income and the Income Insights estimate
A recommendation of whether or not to request additional proof of income
This feature helps landlords tell whether or not their rental applicant makes as much as they say they do, enabling them to make same-day approvals and fill vacancies faster. The tool is sophisticated and estimates both job and non-job related sources of income, such as child support or alimony payments.
Ultimately Income Insights helps landlords to:
Save time by avoiding manual income checks
Lower risk of renter payment problems
Determine if further income checks are recommended
4. Eviction History
A prospective tenant's rental history is a good indicator of the way they might behave in your property. A tenant who has broken their lease terms caused structural damage or failure to pay the rent on time at a previous rental might repeat the same behavior in your rental property.
In the worst-case scenario, a landlord might have no other alternative other than to go to court in order to settle eviction due to rent nonpayment. TransUnion SmartMove data found that total eviction-related expenses for property managers averages $3,500. Evictions are also expensive in terms of time, as the process can take as long as three to four weeks to run its course.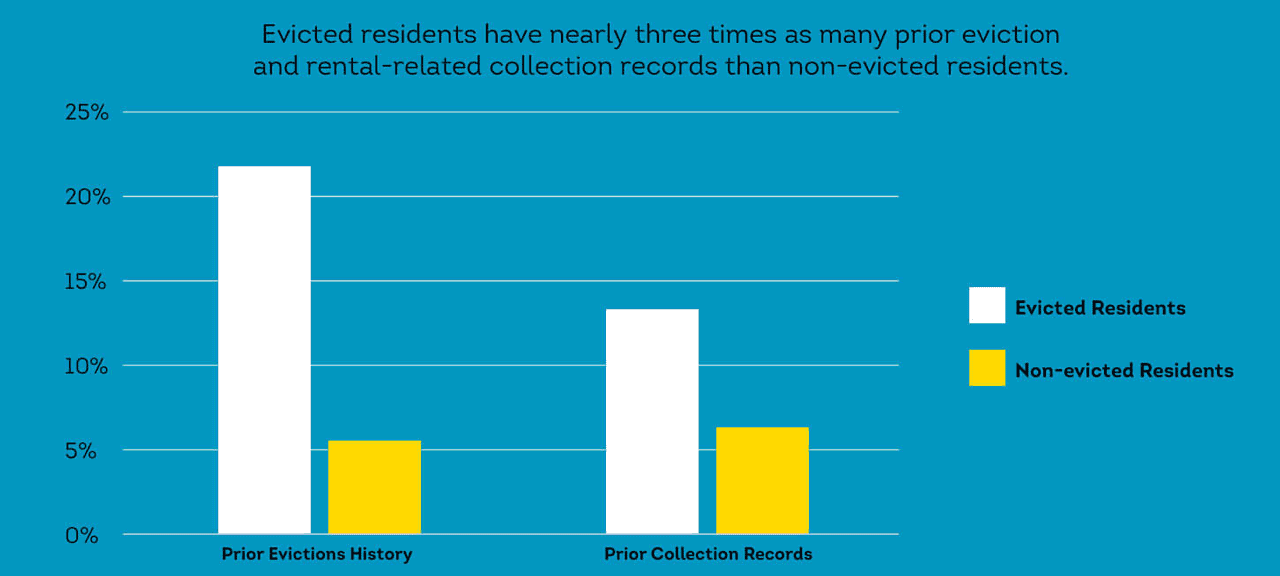 TransUnion research shows that evicted residents have nearly three times as many prior eviction and rental-related collection records as non-evicted residents. With SmartMove's comprehensive tenant screening, you can learn about blemishes in an applicant's rental history that are relevant to your leasing decision.
Eviction-related reports included within rental background checks typically contain information on:
Tenant judgment for possession and money
Unlawful detainers
Tenant judgments for rent
Failure to pay rent
Writs and warrants of eviction
These findings are insightful and assist landlords in making better leasing decisions.
While not part of a rental background check, it is recommended that you call an applicant's previous landlord(s) for a referral. In some cases, an applicant may not have a past history of eviction but may have still been a source of trouble for their previous property owner.
Perhaps they had a pattern of late rent payments, bothered their neighbors to the point of complaint, or caused significant property damage. Speaking to the past landlord could inform you of behaviors you'll want to know about before placing a tenant in your rental property.
Here are some sample questions you might want to ask a previous landlord:
Did they leave your rental property in good condition?
Did they pay rent on time?
Did they cause trouble with the neighbors?
What can I expect when communicating with this applicant?
This type of information can provide a bigger picture than what the on-paper records could provide alone.
5. Criminal History
The fifth and final component of a rental background check is a report on criminal history. No matter what your "gut instinct" is on a certain applicant, or how trustworthy they appear to be, you must do your due diligence and screen for relevant criminal history. To protect your real estate investment, you should run a criminal background check to better ensure the safety of your property, other tenants, and neighbors.
You might be surprised to learn how many people have a criminal record in their past. TransUnion SmartMove data shows that in 2016-2017, 28 percent of SmartMove applicants had a criminal hit on their record. However, multi-family properties only had a criminal hit rate of 21 percent. Independent landlords want to be especially certain they conduct a criminal background check since they could be more likely to get applicants with a criminal record than a large apartment complex.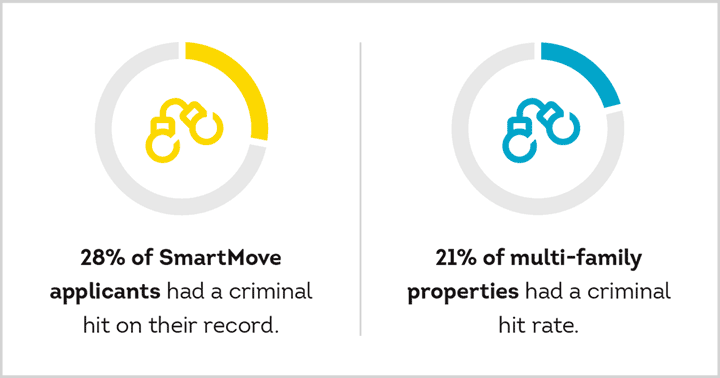 By that statistic, you might assume that at least one out of four prospective tenants has been involved with some sort of criminal activity.
Such crimes may be minor, or they could be very serious. It is important to have your criteria clear about what you will consider a deal-breaker. Not all activities will be relevant to making a decision. Criminal background checks may show criminal offenses at the county, state, and federal levels and display various offenses.
It's worth your while to search for an applicant's criminal report for the safety of your other tenants, the neighbors, and yourself. With SmartMove, you can run a rental background check that includes criminal history as part of our comprehensive screening solution.
Your background check will contain a criminal history report that includes search results from millions of criminal records including:
FBI's Most Wanted

Sex Offender Public Registries
Office of Foreign Assets Control (OFAC)
Our online screening service scours hundreds of millions of records and provides accurate results with fewer false matches. Depending on the state you live in, we may be able to provide criminal history within a matter of minutes so you can have the information necessary to feel safe and confident in your leasing decision.
Learn more about SmartMove's tenant criminal background checks for landlords.
How do I run a rental background check with SmartMove?
To recap, a rental background check includes a credit report, credit score, eviction-related report, and criminal history. Plus only SmartMove can offer you two unique features:
Income Insights, which quickly analyzes applicant self-reported income to help save time doing manual verifications and lower risk of non-payment
ResidentScore, our proprietary credit score that is proven to predict eviction risk 15% better than generic scores.
We make it easy to run background checks on tenants with our online screening solution. Traditional background checks can take days or even weeks to process, but SmartMove reports are received in a matter of minutes straight to the landlord's inbox.
Once you supply us with the applicant's email, we'll send them a request to run a background check—ensuring your report is always FCRA-compliant. As soon as they provide authorization, we'll run the report and deliver the online results right away.
Equipped with all the information from a rental background check, you'll be able to make a more informed decision and place high-quality tenants in your property sooner.
Final Notes
A rental background check is an essential component of running a profitable rental business.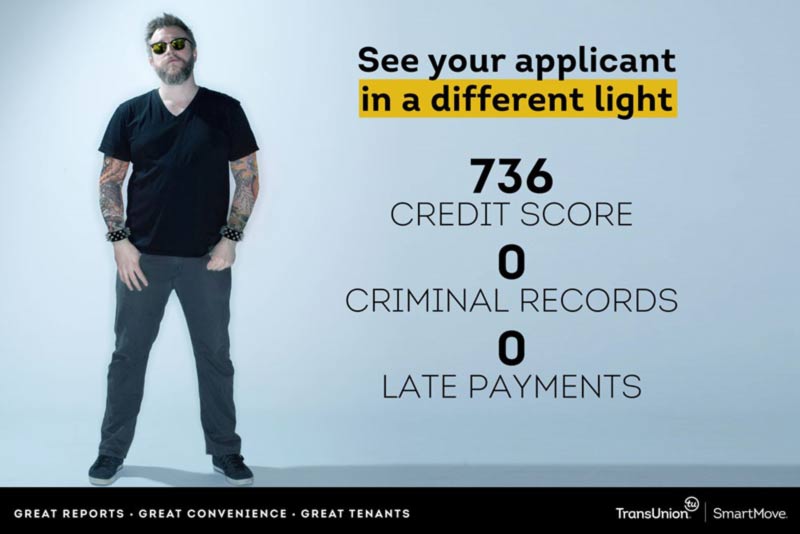 Don't judge a book (or tenant) by its cover.
It's best to get the data. Don't use your gut when you can use SmartMove and get comprehensive reports. SmartMove has helped millions of landlords all over the country to screen applicants and provide reports directly from TransUnion. Rental background checks can be done in minutes.
There's no price you can put on peace of mind, but the cost of upfront screening is small compared to the amount of money you could save by avoiding tenant problems down the road. Packages start at $25 and landlords have the option to pass the cost onto applicants too.
Create a free SmartMove account and start screening rental applicants today!
---
†The SmartMove recommendation service (a credit score based recommendation) may not be available in certain jurisdictions, and is subject to laws that may limit or otherwise prohibit your use in certain jurisdictions, including but not limited to Washington D.C.
Additional Disclosure:
Remember that this material is intended to provide you with helpful information and is not to be relied upon to make decisions, nor is this material intended to be or construed as legal advice. You are encouraged to consult your legal counsel for advice on your specific business operations and responsibilities under applicable law. Trademarks used in this material are the property of their respective owners and no affiliation or endorsement is implied.