Disclosure:
This content, except as otherwise indicated or stated on this site, is the property of TransUnion Rental Screening Solutions, Inc. This content is for educational purposes and for convenience only. Trademarks used are the property of their respective owners, and no endorsement or affiliation is implied. The information presented in this content is "as is" without warranties of any kind, and specifically is not represented to be complete and does not constitute legal advice, and is subject to change without notice. You are encouraged to check these terms from time to time for changes, and by accessing this site you agree to these terms and all terms listed. Laws and regulations may vary by state and locality. Consult your own counsel if you have legal questions related to your rental property practices and processes.
As a landlord or property manager, the decision of whether or not to rent to a potential tenant can bring up many questions. The main question is whether a new tenant will pay their rent on time, but you might also wonder whether they could pose a security threat. This is where tenant screening comes in.
The cost of screening tenants is small when compared to the cost of an eviction, which can average between $2500-$3500*. With online screening services like SmartMove, the landlord can decide to have applicants pay screening costs, which saves the landlord money and can also help weed out applicants who aren't really interested. Having knowledge of your applicants' credit histories, and understanding what risks they pose is key to selecting a reliable and responsible tenant.
TransUnion's SmartMove online tenant screening includes credit, criminal, and eviction reports from a trusted source. But how do you interpret all of this information? Public records such as criminal and eviction records may be easy to decipher. However, credit records take time to understand.
Let's take a look at five basic components of a TransUnion credit report, and how you can use this data to make an informed decision about a potential tenant.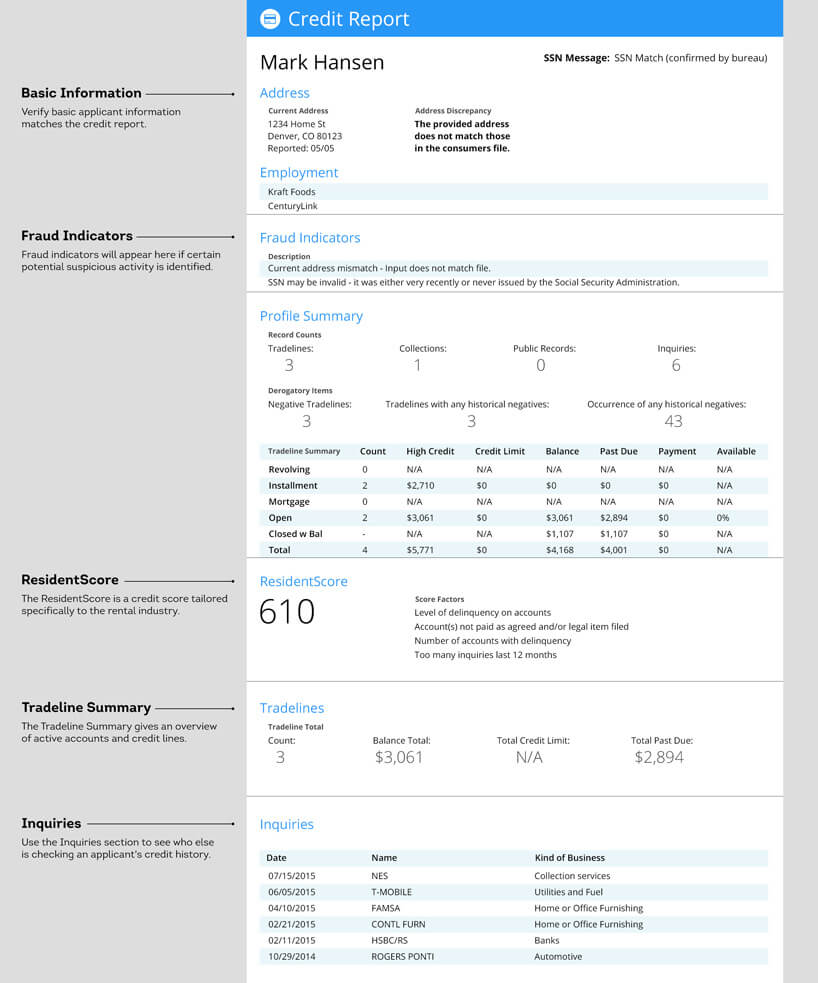 Located front and center, this section will alert you to any fraud indicators. These can appear if, for example, a social security number has been reported as a deceased person (or never issued) by the Social Security Administration, or if a phone number is invalid. Other reasons for alert messages might include the use of a commercial/institutional address, the use of a social security number or surname does not match what is on file, or a minimum of four inquiries that have been made against the file within the last 60 days. Of course, the reason for the alert might be something as simple as an invalid zip code, but to you as a landlord any fraud indicators require extra attention.


Determine at a glance whether the applicant information (name, current address, recent employment history) is the same information included on their application form. This section helps you validate that your applicant is who he (or she) says he is, so you can be confident that you know who you are renting to.

The tradeline summary provides a snapshot of active accounts such as credit cards, auto loans, and student loans. Comprehensive details are listed below, but in short, here you can get a good idea if a potential tenant meets his or her monthly payment commitments.
One significant concern for a landlord is whether or not the tenant will pay their rent in a timely manner. Paying close attention to a potential tenant's active tradelines will help you determine if they have enough income to comfortably cover rent. These tradelines help you determine whether an applicant has a history of late payments, whether the applicant carries a high debt load, and how leveraged an applicant is.


ResidentScore is similar to a general credit score, with the added benefit of being specific to the rental industry and tailored to the unique needs of landlords. The number is based on TransUnion's proprietary credit-based score model which was built using actual renter outcomes. The score also takes payment history into consideration. Using the powerful data and analytics of TransUnion, a ResidentScore analyzes pieces of an applicant's credit data that are most indicative of evictions.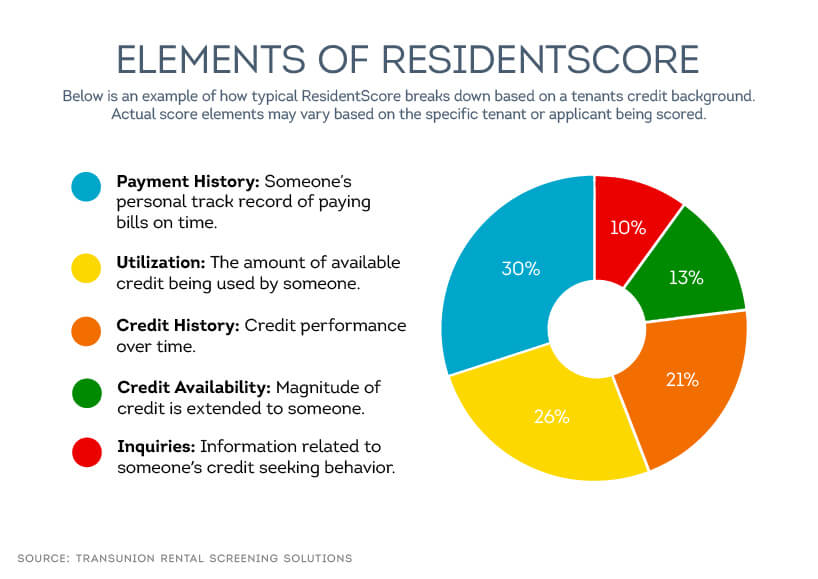 Of course, you'll want to consider all of the information included in an applicant's credit report (as well as other decision-making factors), but a ResidentScore assigns a numerical value to the risk you might be taking. The score is designed to score an applicant's credit using a specific analytic model geared toward lowering tenant risk factors: eviction, 3+ late payments, and/or insufficient funds.
Applicants are awarded a score from 350-850, with 850 being the best score possible, and fall into categories of decline, conditional, low accept or accept. Using this range, which is similar to other credit scores in the marketplace, it's easy to determine an applicant's risk level.


This section displays which companies have viewed the consumer's credit file during the last two years. This helps you get a sense of the applicant's credit activity and inquiries.
Credit reports are an important part of the tenant screening process, but don't forget that it's just a piece of the puzzle. When you use a full SmartMove tenant screening package, you can get an in-depth look at your applicant's background to help you reduce your risk. You still want to take important steps such as meeting the applicants in person and speaking with their references and employer to ensure that they are currently employed and have a solid rental track record.
We hope this review of how to read a credit report will enable you to make an informed judgment call, allowing you to find great tenants and minimize problems with your property.
*Based on 2015 TransUnion data
Additional Disclosure:
Remember that this material is intended to provide you with helpful information and is not to be relied upon to make decisions, nor is this material intended to be or construed as legal advice. You are encouraged to consult your legal counsel for advice on your specific business operations and responsibilities under applicable law. Trademarks used in this material are the property of their respective owners and no affiliation or endorsement is implied.