Disclosure:
This content, except as otherwise indicated or stated on this site, is the property of TransUnion Rental Screening Solutions, Inc. This content is for educational purposes and for convenience only. Trademarks used are the property of their respective owners, and no endorsement or affiliation is implied. The information presented in this content is "as is" without warranties of any kind, and specifically is not represented to be complete and does not constitute legal advice, and is subject to change without notice. You are encouraged to check these terms from time to time for changes, and by accessing this site you agree to these terms and all terms listed. Laws and regulations may vary by state and locality. Consult your own counsel if you have legal questions related to your rental property practices and processes.
If the property you own is located near a college campus, you may already be familiar with renting to college students. If you're considering in investing in rental property that is in close proximity to a college or university, read on to learn the ins and outs of renting property to students. There are many advantages to student renters. For example, there is a steady stream of new students every year, so there is less likelihood of vacancy. On the other hand, student renters are less likely to have a significant credit history and this may be their first experience living on their own.
Below we discuss the potential pros and cons associated with renting to students, amenities that students search for, and tips for cosigner screening.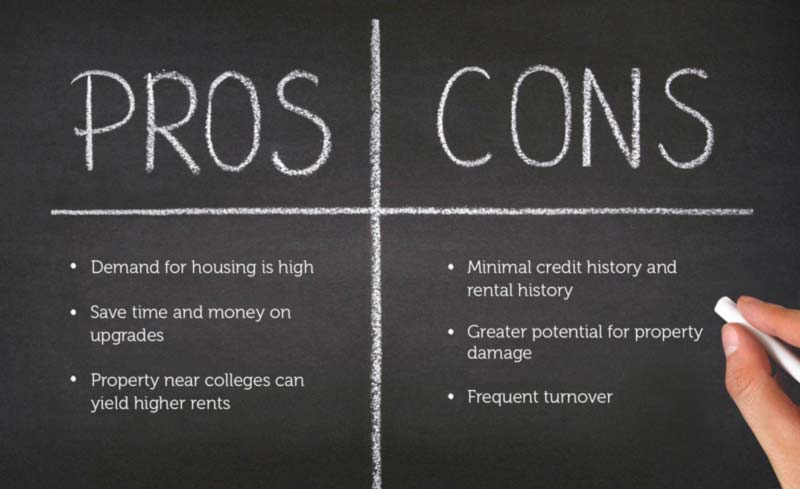 Benefits of renting to college students
Demand for housing is high
Owning a property near a university and accepting student renters can mean reduced vacancies and competitive rents. U.S. News reports that on average, 19 percent of freshmen live off campus. Certain schools report even higher numbers. For example, U.S. News also reported that 78 percent of freshmen attending Florida International University and 77 percent of the freshmen attending the University of Nevada—Las Vegas commute to school.
It's important to do the research in your area and numbers may fluctuate (just like anything in the housing market) but generally speaking, there tends to be more consistent demand for housing in a college town. Since homeownership is out of reach for many Americans due to higher home prices and stricter lending policies, even professors and staff may look for rentals during their tenure.
Yield higher rents
Property near colleges can yield higher rents. According to Fortune Builders, a property in a good location near a college can yield 30 to 40% higher rents than a comparable property further from the school. The Balance points out that you also spend less time marketing, as colleges by their nature add many attractive features to an area, such as cultural activities, public transportation, and a large number of restaurants and shops.
Save time and money on upgrades
While certain things are important to student renters (more on that later), they typically are just looking for a place to hang their hat. Since it will probably only be their home for a few semesters, you usually don't have to be as concerned about attracting renters with fancy upgrades such as kitchen backsplashes or stainless steel appliances.
The risks of renting to college students and how to minimize them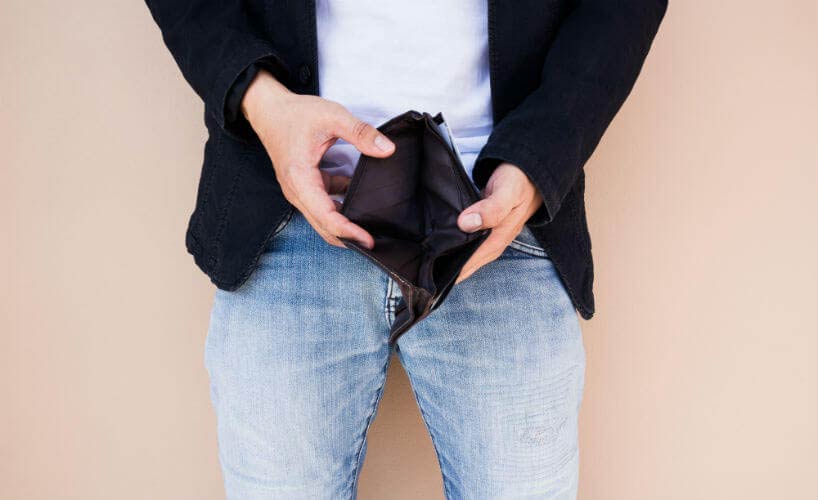 Limited credit or rental history
College students may not have had enough chance to build their credit history, and they are likely renting for the first time. This can pose a problem for landlords who may not have enough information to decide whether a student meets their standard screening criteria.
Property damage
Student renters may not have the experience or maturity to handle rental property maintenance issues or say no to friends who want to party at their new abode. This doesn't mean that every student throws loud parties, and there are ways to protect your property from students who may make immature choices.
Since the millennial generation is most comfortable with technology, it makes sense to have an online maintenance request system in place or let them know they can text you if the sink is leaking or the toilet gets backed up.
Frequent turnover
College renters tend to come and go with more frequency. They may be at the university for four years (or more), but that doesn't necessarily mean their housing plans will stay the same. Keep in mind that college renters aren't likely to sign leases longer than a year. College students have the option of living on-campus (in most cases) or off-campus, and they may explore different housing options. Depending on which is most cost efficient or what their friends/roommates are doing, they may change their housing plans each year. It may also be harder to find tenants during the summer months, when students either move home or travel.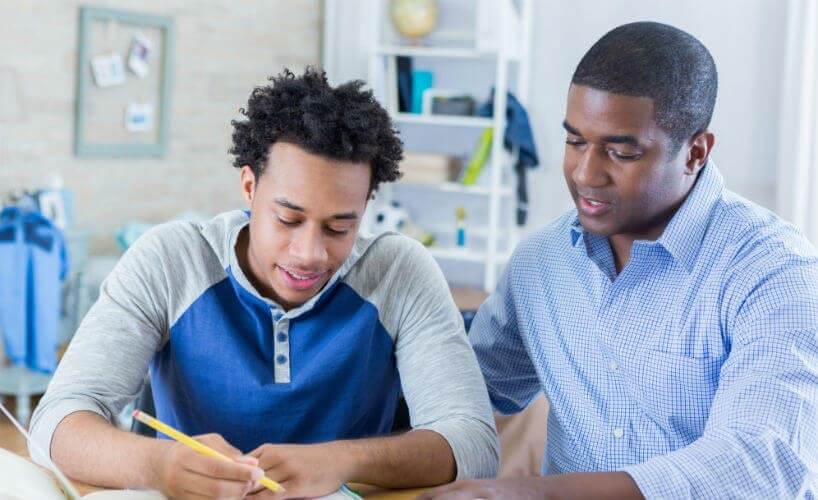 What you can do to mitigate risks
Consider a cosigner
Many of the risks associated with renting to students can be mitigated by accepting a cosigner on the lease. This especially makes sense for college students, who often have parents that plan to pay for rent. They may even want to pay for a semester or year in advance, so they don't have to worry about sending money directly to the students each month and hoping it goes towards rent.
While it's reassuring to know that someone is willing to be financially responsible for rent and possible damages, having them cosign the lease potentially provides you with additional options in case something goes wrong. Another benefit of having a parent or someone else cosign is that the student may act more responsibly knowing that you will reach out to their parents in the event of property damage or non-payment of rent.
Since a cosigner is jointly responsible for all the financial obligations of the tenant, you'll want to screen cosigners as well as the tenant. This way you can help ensure that the cosigner has the resources to take on financial responsibility if necessary.
Screen all roommates
Often, student renters need roommates to make the rent more affordable per person. If you have multiple tenants on the lease, it's a good idea to run a background check on all applicants who will be living on the property and have each of them sign the lease. Opting not to screen co-applicants could backfire if a co-applicant stops paying rent or moves out.
Since college students may want to travel or return home for the summer, you should address the issue of subletting in the lease.
Conduct move-in and periodic inspections
Periodic inspections allow you to respond quickly to tenant complaints or questions. It also allows you to keep an eye on your property and make necessary repairs before they become larger problems.
Many landlords conduct move-in inspections with all renters present, so the landlord has a clear and documented view of the property's condition before your tenants move in. That way, you can account for any deductions taken from their security deposit if they damage the property.
During a rental property inspection, landlords can assess the condition of the property with the tenant present, so that they can address any issues that would come out of their security deposit. Many landlords document these inspections on paper and have the tenant sign it. You'll need to give notice before conducting periodic inspections, although many landlords find these inspections helpful. You can also conduct drive-by inspections to view the property from the outside without giving any notice.
Have an appropriate lease
Whenever possible, use the lease to address how you will handle problems before they arise. For instance, having a quiet hours policy or establishing a noise clause regarding loud music will help students understand what is expected of them. You might also want to add a late payment clause to the lease. Nolo points out that late rent fees should be reasonable (such as a grace period of 3 days and keeping fees within a certain percentage of the rent) and need to adhere to local and state housing laws.
Go over these aspects of the lease during your move-in inspection, so everyone is on the same page and students are well aware what actions could result in an eviction. Since this may be their first time on their own, it doesn't hurt to spell things out.
What students want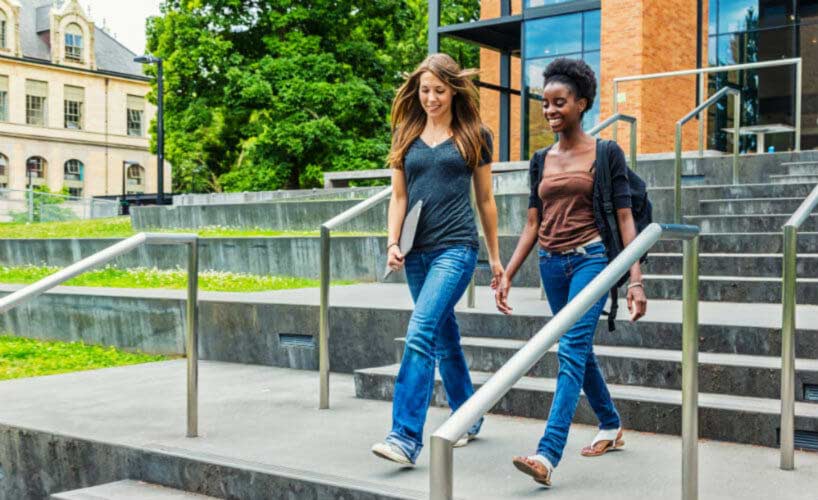 Now that you understand the benefits and risks to student renters, it's a good time to review what features are most important to students. When you consider that the alternative is living in a dorm, you can see why students are less picky about things that may be important to more long-term renters. They know certain upgrades drive up the price, and in general, they just need a place to be comfortable while they study and work.
That doesn't mean they aren't discriminating, however. Certain amenities are very important to student renters and we discuss which features impact their quality of life. Typically, students look for:
Proximity to school - This is probably the most important consideration, since students spend the vast majority of their time studying, working, and attending extracurricular activities on campus.
Walkability of the area - Not all students own cars, so walkability to campus, grocery stores, and social events is a key factor.
Affordability of rent per person - While you want to make sure you're in line with fair market rent, your rental property should be affordable for student renters. One of the best ways to determine whether your unit is priced appropriately is to look at the rent of similar units in the area.
Laundry - Spending free time at a laundromat or wearing dirty clothes until the next visit home isn't the way most students want to live. Not to mention that it's even more of a hassle if you don't own a car, which is often the case for college students. Having a washer and dryer for students to use offers an advantage over comparable properties with no onsite laundry.
Wifi - Free WiFi is an enticement to students because it's a major part of their life, from researching papers to social media and entertainment. Offering it for free can help you get a leg up on the competition, but even if you decide against using it as an incentive, it makes sense to include it in the rent price. That way, it's one less bill for them to worry about and if parents are paying bills, they can do it one lump sum each month.
If you are renting a house to college students, one of the best ways to protect your investment is to complete a thorough tenant screening on the student(s) and cosigner. You want to be rigorous each step of the way, following a process that includes meeting with the applicants in person, calling personal references and conducting credit, criminal, and eviction history checks.
TransUnion SmartMove landlord background check allows you to do this quickly and feel confident in your decision. TransUnion SmartMove is the landlord's solution for great reports, great convenience, and great tenants. Landlords receive a tenant credit report formatted exclusively for rental screening, a criminal report drawing from millions of criminal records, an eviction check, a ResidentScore, and a custom leasing recommendation†.
---
†The SmartMove recommendation service (a credit score based recommendation) may not be available in certain jurisdictions, and is subject to laws that may limit or otherwise prohibit your use in certain jurisdictions, including but not limited to Washington D.C.
Additional Disclosure:
Remember that this material is intended to provide you with helpful information and is not to be relied upon to make decisions, nor is this material intended to be or construed as legal advice. You are encouraged to consult your legal counsel for advice on your specific business operations and responsibilities under applicable law. Trademarks used in this material are the property of their respective owners and no affiliation or endorsement is implied.