Disclosure:
This content, except as otherwise indicated or stated on this site, is the property of TransUnion Rental Screening Solutions, Inc. This content is for educational purposes and for convenience only. Trademarks used are the property of their respective owners, and no endorsement or affiliation is implied. The information presented in this content is "as is" without warranties of any kind, and specifically is not represented to be complete and does not constitute legal advice, and is subject to change without notice. You are encouraged to check these terms from time to time for changes, and by accessing this site you agree to these terms and all terms listed. Laws and regulations may vary by state and locality. Consult your own counsel if you have legal questions related to your rental property practices and processes.
While 2022 is winding down, it's time to look ahead to the 2023 rental trends that are expected to impact property managers. As an independent landlord, it's wise to be prepared for the following shifts: the number of evictions and cost of rent continue to go up, more people are renewing leases instead of moving, the housing inflation rate is slowing down, and more people are working from home. All of these shifts can be maximized by independent landlords to set themselves up for a better chance of prosperity in the new year.
You wouldn't climb Mt. Everest in only a swimsuit. Similarly, it's best to be properly prepared when heading towards any uncertain futures. As an independent landlord, that means paying attention to current and potential rental trends to make the most out of your property business.
This past year brought many surprising changes to housing and rental markets. With fluctuating prices and interest rates, increased evictions, and aftershocks from post-pandemic changes, a lot has happened that will impact landlords going forward.
Some trends, like shag carpet, fall out of favor. Others, like the need for rigorous background screening with a trustworthy service like SmartMove®, only become more popular over time. As you prepare for 2023, it's helpful to know about upcoming trends––and how they might impact you as a landlord.
1. How Rising Evictions Impact Independent Landlords
According to NBC News, August and September 2022 brought some of the highest eviction rates ever seen in the U.S. Many of these proceedings came after a combination of record inflation, the end of pandemic housing relief, and the end of eviction moratoriums in local markets.
What This Means for Your Property Business
To be successful with a property business, it's essential to have tenants who pay the rent in full, on-time every month, do not pose a threat to other renters and neighbors, and take care of your property. One of the best ways to help predict how a potential tenant might behave in your property is to learn how they've behaved in past rental situations. You can do this through background screening that includes an eviction check.
When evictions are up, rigorous screening is even more important. After all, one of the best predictors of a future eviction is a past eviction. That said, everyone is different. The last few years have been exceptionally hard for many and people can have flukes in their past. Even so, it's better you know as much as possible about someone's history before making your decision.
In addition to background reports and checking for evictions, know how to conduct effective landlord reference checks to hear about your applicant in previous rental situations.
2. Rental Costs Will Continue to Rise in 2023––Can Your Renters Keep Up
This past year was a volatile year for housing costs. Top experts believe skyrocketing rental rates won't be coming down for several months. According to projections by the Federal Reserve Bank of Dallas, rental inflation is expected to until early summer 2023, at which point it should start to cool off.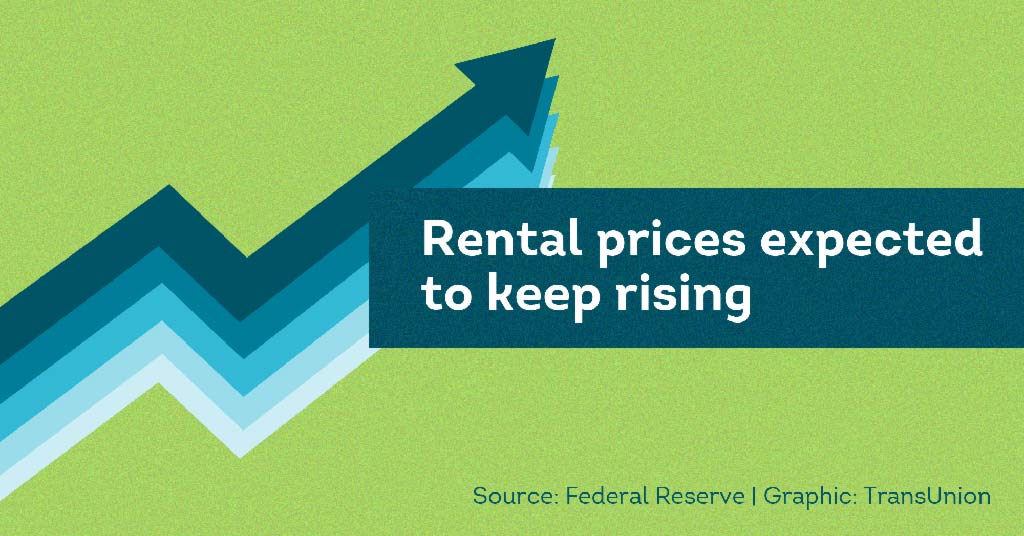 What This Means for Your Property Business
In a fluctuating market, it can be hard to know how to price your property. If it's too low, you might not get enough of a return to pay your own mortgage. But, if you set the rent too high, you might cause renters to look elsewhere, leading to costly vacancies.
In any economic climate, it's essential to know how to set fair market rent. That way, you can price your place in the sweet spot. On top of that, it's imperative to financially screen all rental applicants to make sure they can afford your rental rate.
Financial screening may include:
Income verification. Does your tenant make enough money to cover the rent Conduct employment and income verification to find out. You can even get IncomeInsights to help check that the income the applicant put on their rental application is accurate, or if you should request additional financial documentation.
ResidentScore. Included in every SmartMove tenant report, a ResidentScore is a numerical value that can help you assess a candidate. Made specifically for rental screening, a ResidentScore is better at predicting renter risk than a credit score alone.
3. Fewer Move-Outs Mean You Need Good Renters from The Start
Next year, more renters are likely to stay put. According to research firm Pew, more renters renewed their leases in 2022, with a national average of 9% fewer move-ins over the summer months. In the most competitive rental markets such as NYC, there were 14% fewer moves than the previous year.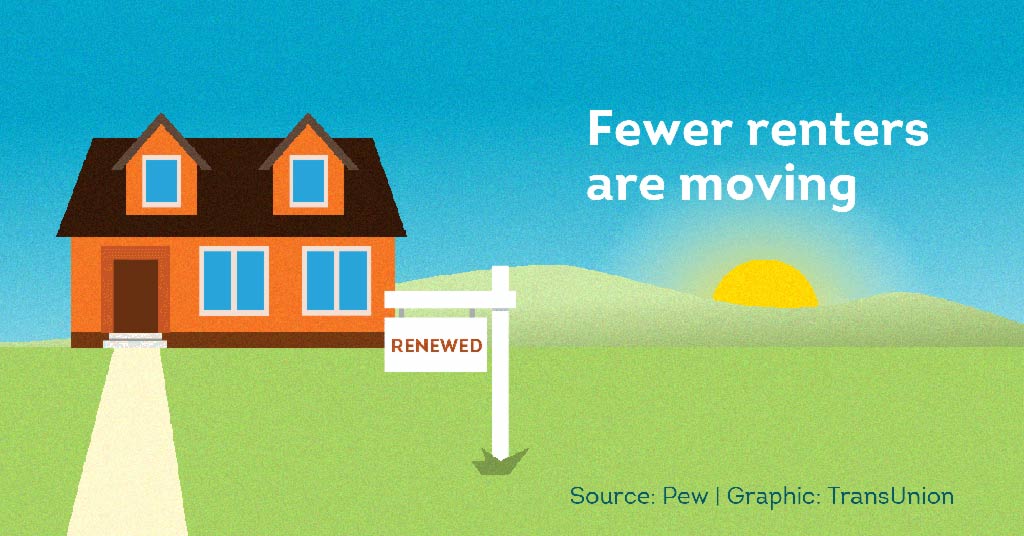 The research also shows that more renters feel locked-in to current leases due to rising mortgage rates and climbing rent prices. This trend of lease renewals and longer tenancy is expected to continue in 2023.
What This Means for Your Property Business
In a way, the trend of renewing leases seems good, great even. Fewer move-outs can mean less money lost to vacancy and fewer unknown elements with new renters. However, less turnover also means it's even more important to attract great renters from the start.
You need renters who will respect your property, follow lease terms, and pay their rent. Here are some tips to help place renters that will stay-great for the long-haul:
Know who you're getting with through rental screening, including:

Tenant Credit Check. Learn more about a potential tenant's financial track record and know what red flags to watch out for.
Criminal Background Check. See if your rental applicant has a history of dangerous, relevant crimes that could endanger other renters, neighbors, or your property.
Rental history. Asking for previous rental information on rental application questions helps you investigate how your potential tenant has behaved in previous properties and how they're likely to act in yours.

Know what terms to include in your lease to help protect yourself if things go south.
When it comes time to renew, know how to negotiate a lease renewal, so it works out well for both you and your tenant.
4. A 2023 Housing Inflation Plunge Brings New Challenges––and Opportunities
While much of 2022 saw home prices jumping up, the market is expected to slow in the coming year. According to Reuters, a massive reduction in housing inflation is on its way for 2023. This means that prices will continue to go up, but housing is predicted to rise at its lowest rates since 2012.This predicted stagnation is caused in part by a correction of the skyrocketing inflation that occurred in 2021 and 2022. Reducing the rate of price increases encourages the market to get closer to fairer market value.
However, while the inflation rate and home value slows, some current homeowners may be reluctant to sell, according to financial site NerdWallet. They want to keep lower mortgage rates and don't want to sell property at a loss. This could lead to a shortage of available real estate in some markets.
What This Means for Your Property Business
More affordable home pricing might encourage some tenants to buy instead of rent. If you do want renters to stick around, make sure you're doing the things that encourage good renters to stay. This includes not only keeping up on maintenance and communication, but also providing amenities such as parking and outdoor space.
Additionally, if you're looking to expand your property business,you might also want to keep an eye on local markets to see if you can lock in a lower interest rate for yourself. However, be careful, in the article above, NerdWallet advises that trying to time the market isn't always successful
5. More People are Working from Home––And Seeking Housing Accordingly
Popularized by the pandemic, remote work isn't going anywhere. In fact, according to Forbes, 25% of the entire U.S. workforce will be remote by the end of 2022. The trend will only continue in 2023. So many people are working remotely that professional services firm PWC predicts 10-20% of office properties will need to be permanently repurposed or removed.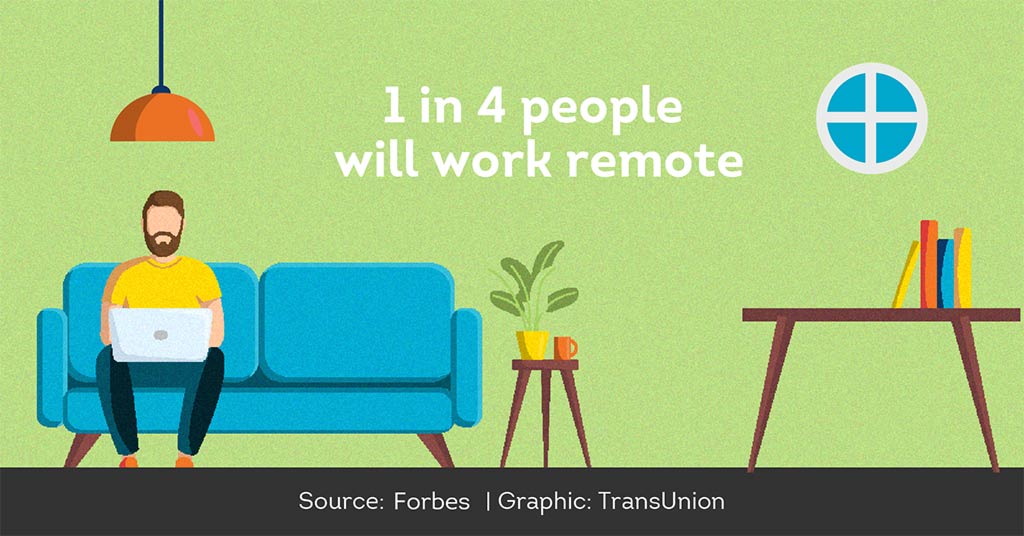 What This Means for Your Property Business
Is your rental ready for remote workers If not, potential renters may look elsewhere. Make it easy for people to imagine themselves working at your property by offering the types of amenities that renters want, such as:
High-speed internet
Soundproof walls
Areas that are ready to set-up with a desk or workspace
You can also show that you're supportive of the digital lifestyle with things like virtual property tours.
On the other hand, people being home all day can potentially mean more wear and tear on your property. Schedule regular property inspections and include details about maintenance, repairs, and damages while writing your lease.
Finally, use tenant screening to help find renters who will be respectful of the property and neighbors. No one wants to work next to someone blasting music or screaming at all hours at the day.
Help Prepare for 2023 with SmartMove Tenant Screening
Like trekking up a mountain, managing property is best when you're prepared. After all, property and rental trends can change like the weather. Help bolster your rental business no matter what the new year brings with affordable, online tenant screening through SmartMove.
Increased evictions are leaving more landlords on the hook. Will your property business be next Eviction reports scour key databases searching for past eviction-related judgments, notices, and detainers related to your rental applicant. Meanwhile criminal records checks compare their self-supplied data to nearly 400 million federal and state-level crime records. Knowing about any potentially risky history can help you make more confident hiring decisions.
When prices fluctuate and rental rates rise, it's more important than ever to ensure your tenants can pay the rent. Backed by TransUnion, a major credit agency, a tenant credit check illuminate's your potential tenants financial track record, while Income Insights reveal if the income your potential tenant reported on the rental application actually matches what they earn in real life.
Keep up with rental applicants, no matter what the market does. Created specifically for independent landlords with infrequent screening needs, SmartMove provides ultra-fast, online screening you can run from anywhere in just minutes. Pay only for what you need and only when you need it with no hassle, subscriptions, minimums, or other hidden fees.
Managing property has its ups and downs. Help lighten the load for the road ahead with lightning-fast, affordable screening through ShareAble for Hires.
SmartMove
Great Reports. Great Convenience. Great Tenants.
Additional Disclosure:
Remember that this material is intended to provide you with helpful information and is not to be relied upon to make decisions, nor is this material intended to be or construed as legal advice. You are encouraged to consult your legal counsel for advice on your specific business operations and responsibilities under applicable law. Trademarks used in this material are the property of their respective owners and no affiliation or endorsement is implied.