Disclosure:
Remember that this material is intended to provide you with helpful information and is not to be relied upon to make decisions, nor is this material intended to be or construed as legal advice. You are encouraged to consult your legal counsel for advice on your specific business operations and responsibilities under applicable law. Trademarks used in this material are the property of their respective owners and no affiliation or endorsement is implied.
Contacting you when there's an issue. Always paying on time. Respecting your property and the neighborhood. Finding great tenants that do all of these things isn't easy, but once you lease to renters who take care of your place as if it is their own, you never want to see them move out. This quick guide will show you how to convince great tenants to keep renting from you.
According to the National Center for Housing Management, each year, 54% of apartment's turnover to new tenants. For landlords, this period of time comes with expenses that range from cleaning costs to possible repairs. Lost rent (especially significant when you rely on rental income to pay your mortgage), utilities, and advertising fees can all add up the longer the unit is vacant.
Reducing or eliminating your turnover expenses by keeping good tenants longer could help you to be a more profitable landlord. There are many advantages, including:
Having consistent rental income
Spending less time and effort preparing the unit for rent (cleaning, property showings, advertising, etc.)
Avoiding the uncertainty of bringing in a new tenant
Before you worry about how to keep a great tenant, make sure you start by leasing to the right person. A comprehensive online renter background check from SmartMove gives you near-instant access to a tenant's credit report, criminal background and eviction history, so you can feel confident you have the best renter in your unit.
7 Tips on How to Keep Tenants Longer
It's worth it to find ways to increase your tenant's appeal of your property. In many cases, the incentives you offer will cost much less than the expense of a vacant unit. Even better, not all motivating factors will cost you money.
Here are seven tips on how to keep your best tenants longer:
1. Address Maintenance Concerns Quickly
Keeping your tenant happy is crucial, especially if you're going to ask the tenant to extend their lease. By being proactive with property maintenance and routinely performing property inspections, your tenant may be more likely to agree to your proposal.
Few things are more frustrating for a tenant than having unaddressed maintenance requests. You want to show them that you want to give them a nice place to live. This can be a big deciding factor when your tenant is considering a lease renewal. Incentives like carpet cleaning or deep cleaning by a professional cleaning service can be very attractive to long-term tenants and may make them feel appreciated, without breaking the bank.
Additionally, keeping up with maintenance and addressing issues quickly will help you spend less time on repairs when you do have to turn over the unit. Regularly inspecting the unit's condition will help you stay on top of maintenance items that need to be addressed (that the tenant may not have noticed) and can help keep smaller maintenance tasks from turning into larger issues.
2. Be a Good Landlord
Never underestimate the importance of the human factor when it comes to tenants. Your renters may be more likely to want to stay if you're a friendly and cooperative person. Obviously, that goes for all of life, but even more so when you want people to happily pay you every month.
Be timely with your responses and make it easy for the tenant to contact you. Maintain open communication to help reduce misunderstandings and create a better overall tenant-landlord relationship. Being courteous and respectful goes a long way to make a tenant feel comfortable in the unit.
For example, if you have to make repairs on the unit, consider having workers come while your tenants are at work so that you don't disturb their peace and quiet. After all, the more a place feels like home, the longer a good tenant is likely to stay. A cooperative attitude also sets the expectation of how you want to be treated in return, which makes it more likely that your tenants will respect you and your property.
Learn more about how to be a great landlord from a renter's perspective here.
3. Know What Amenities Tenants Want
High-speed internet. Open floor plans. A beautiful outdoor space. It's important to know what factors today's tenants are looking for in a rental property, so you can try to better meet market demand.
For many tenants, especially younger generations like Gen-Z and Millennials, lifestyle quality is a major factor in whether they decide to stay or go. You may own the property, but the tenant should be able to consider it their home. There are ways in which you can help promote a more tailored atmosphere, and in doing so, it may encourage your tenants to stay longer.
Consider offering features that tenants care about most may help you attract better long-term tenants and serve as an incentive for them to renew their lease. For example, if your rental property is located near a university, then your average tenant may be looking for amenities like secure bike racks or quite study rooms. In addition, there are other strategic upgrades like stainless steel appliances, hardwood flooring, and central air conditioning that can make a house feel like home. These upgrades can potentially be good investments if you want to attract new tenants or encourage current tenants to stay longer.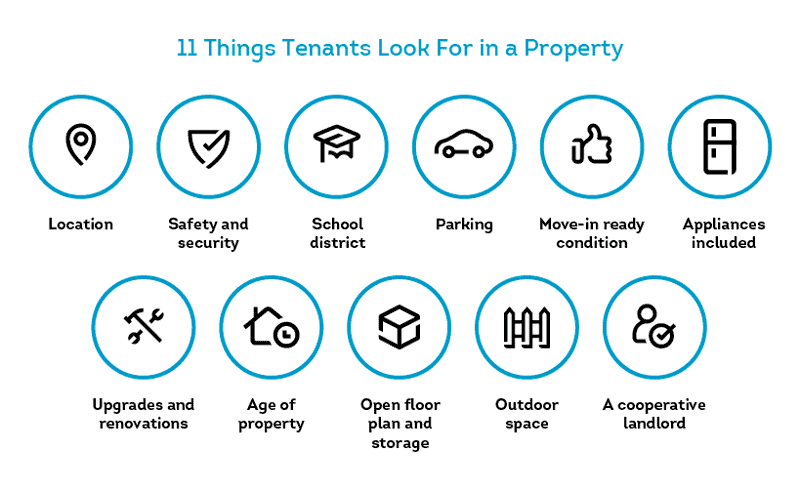 4. Be Proactive with Lease Renewals
It's important to let your tenant know well in advance that you're interested in renewing their lease with them.
Consider reaching out to your tenant 90 days before the lease expires to ask if they would be interested in renewing.
This early notice may help encourage them to start thinking about their plans early so they can give you more notice.
If the tenant decides to move, then at least you can get a jump on advertising your rental before they've officially moved out. If you get someone lined up, then you might not lose a month of rent.
There are other ways to encourage your current tenant to stay longer. You may consider to forgo a rent increase (or keep it lower-than-usual) for the upcoming year if they renew. If they seem hesitant, ask them what it would take to get them to stay. This is another reason to have a good landlord-tenant relationship. The better you communicate with a tenant, the more likely they are to open up and tell you what incentives are most meaningful to them.
They may request some home maintenance upgrades or a break on rent. See if you can negotiate a deal that makes sense for both of you. You may find that fulfilling a tenant's request may turn out to be less of an expense for you than turning over the unit and taking a risk on a new tenant.
5. Encourage a Longer Lease
Consider asking the tenant to sign a longer-term lease at a reduced rate. If they renew every six months, then extend the lease to a year. If they renew yearly, then consider extending the lease to two years at a reduced rate. While this method could mean you lose out on the profit from rent increases, it could be worth it to keep a reliable, rent-paying tenant. Make sure you calculate the differences in your rental revenue, so you know what option is financially best for you.
6. Treat Tenants Fairly
No tenant wants to feel targeted by their landlord, which is why all landlords must be familiar with and practice local and federal housing laws. So, no matter the race, religion, sexual orientation, or physical ability of your tenant, you must be consistent in how you treat the people who rent from you. This also means being responsive, addressing their concerns, and avoiding charging too much for rent. Sure, you can charge whatever you want, but if you end up raising it too high on specific, protected groups of people, you could be setting yourself up for discrimination litigation.
7. Enforce Rules without Going Overboard
Whether they relate to safety, pet security deposits, waterbeds, or clogged toilets, before the lease is signed, you need to put your property rules in writing. It pays to go a step further and indicate the consequences of failing to follow these rules. This helps your renter understand their responsibilities and your expectations.
If your long-term tenant starts to break rules or policies that you have set in place, then talk to them before taking action. You may be getting complaints from neighbors, but you'll want to hear from your renters to get their side of the story before jumping to conclusions.
Be sure to check local and federal housing regulations, but the fair application of landlord rules normally follows a few guidelines.
Must promote the safety and welfare of tenants
Must reasonably relate to the purpose for which it's adopted
Must be written clearly enough for the tenant to understand
Must apply to all tenants in a fair manner (important for multi-unit properties)
Must not be created in order to avoid a landlord's legal obligations
By fairly enforcing rules and having a clear policy of what happens when they are ignored, you can manage your renters' expectations, help them feel safer, and more easily get rid of non-paying, rule-breaking tenants.
Screen for Great Tenants, Retain Great Tenants
With the help of these tips, you may be better suited to attract and keep long-term tenants who respect your property and rules. But, before you can keep a great tenant, you have to choose a great tenant.
By running a quick and reliable tenant screening with SmartMove, you're able to make confident leasing decisions more quickly.
With SmartMove, screeners can get critical information and insights in a matter of minutes. Specific to SmartMove are these features:
ResidentScore is powered by analysis of more than a half million actual resident records and helps you score potential tenants with precision than a typical credit score and is proven to assess rental risk 15% better than a standard credit score.
SmartMove's Income Insights report helps you be more confident that your renter makes what they say they make. You'll be able to know when you can skip additional income verification. Ultimately, you can save time and effort and lower the risk of renter payment problems.
It's easy to use SmartMove. Simply ask your tenant to accept your invitation to be screened, and within minutes, trusted and comprehensive TransUnion tenant screening reports are delivered to your inbox, giving you greater insight into someone's rental history, credit behavior, criminal background, and income.
Screen today to find greater peace of mind in who will pay their rent on time and will respect your property. By adding a credit, criminal, eviction history, and Income Insights check to your landlord to-do list, you can greatly increase your chances of finding excellent tenants who help make your investment property profitable.
Additional Disclosure:
Remember that this material is intended to provide you with helpful information and is not to be relied upon to make decisions, nor is this material intended to be or construed as legal advice. You are encouraged to consult your legal counsel for advice on your specific business operations and responsibilities under applicable law. Trademarks used in this material are the property of their respective owners and no affiliation or endorsement is implied.