Disclosure:
This content, except as otherwise indicated or stated on this site, is the property of TransUnion Rental Screening Solutions, Inc. This content is for educational purposes and for convenience only. Trademarks used are the property of their respective owners, and no endorsement or affiliation is implied. The information presented in this content is "as is" without warranties of any kind, and specifically is not represented to be complete and does not constitute legal advice, and is subject to change without notice. You are encouraged to check these terms from time to time for changes, and by accessing this site you agree to these terms and all terms listed. Laws and regulations may vary by state and locality. Consult your own counsel if you have legal questions related to your rental property practices and processes.
Finding the right tenant is essential for your rental business success. Sometimes the process can start to feel like a gameshow. There are seemingly endless questions and elimination rounds to go through. Ultimately you need to arrive at a final renter decision: make the right tenant choice and you achieve a good stream of rental income or make the wrong choice and find yourself facing a less than desirable situation.
When it comes to picking a great renter, the stakes are extremely high. Subpar tenants can cause costly damage, be disruptive to neighbors or neglect to pay rent, which cause headaches and stress. If a tenant doesn't pay rent, then you're stuck trying to track them down while struggling to keep up with your own financial obligations. Nonpayment of rent could lead to a costly eviction, which can take weeks to complete and thousands of dollars in costs. All of these kinds of bad outcomes can eat away at your financial reserves and disrupt the success of your rental business.
Thankfully, if renting out your property is your game, then there are a few things you can do to help make the game go smoothly. The best way to prevent tenant issues is to use a thorough tenant screening process to properly vet your applicants.
A good tenant screening process starts at the early stages of renting out your property. You should be clear about your renter criteria, list those aspects in your rental advertisement, talk to potential applicants at a rental property showing, and cull the list candidates with effective tenant screening questions. Once you have a pool of strong hopefuls, you'll need them to fill out your rental application—and the questions on the application need to be just right.
You are more aware of the laws applicable to you and your business, but generally every prospective tenant should receive the same rental application. This helps ensure objectivity and compliance with Fair Housing Laws, so you need to think carefully about exactly what information to request. Asking the right questions on a rental application can help you quickly sort out good potential renters, as well as possibly leading to grounds to reject those who do meet your criteria.
Here are 10 questions to consider on your rental application (check with your legal counsel for requirements in your jurisdiction):
What is your personal information?
When do you want to move in?
Who will be living in the property?
Have you ever been evicted?
Are you employed?
Do you have any pets?
Do you smoke?
Can you provide good references?
Have you ever been convicted of any relevant crimes?
Are you willing to authorize a full background check?
Note: you should always check with your legal counsel to ensure you are in compliance with applicable laws. This blog is not legal advice and should not be construed as legal advice, nor is this blog represented to have complete or current information.
In addition to asking the following rental application questions, it is essential to complete your vetting process by verifying your applicant's information with a comprehensive tenant screening service like TransUnion SmartMove. Only then can you feel more confident that the information provided by your applicant is accurate.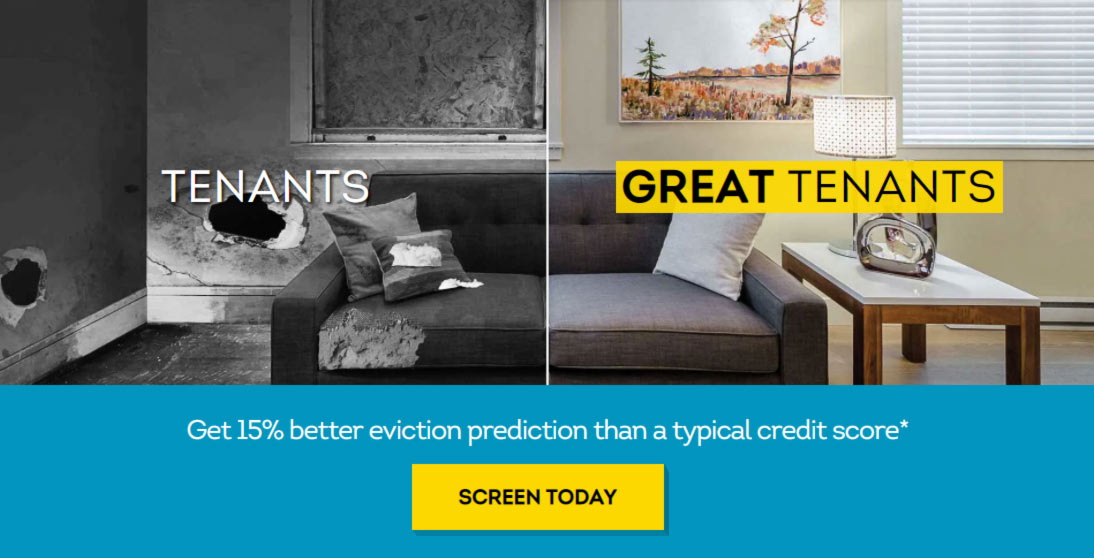 Rental Application Questions
1. Personal information
Within every rental application should be questions regarding the applicant's personal information. Every prospective tenant should at least provide the following details:
Full legal name
Email address
Phone number
Current address
This basic information can (and should) be confirmed later with a full background check, as invalid or fraudulent information is something that landlords should keep top of mind when reviewing rental applications. A recent survey commissioned by TransUnion, Misunderstanding, and Inconsistency: The State of Fraud in the Rental Housing Industry, revealed several shocking insights which can directly impact the success of your property investment:
83% of companies have experienced fraud up to 20 times in the last two years.
95% of property management companies experience difficulty identifying or preventing fraud.
73% of businesses identify fraud after a tenant has already moved in.
The results are staggering. With the majority of landlords encountering problems with fraud, it has become a widespread issue with debilitating consequences, including:
Damaged reputation
Increased evictions
Wasted time and money on vetting applications
You don't want to become the next victim of rental housing fraud, so make sure to run a thorough background check on the applicant's personal information to confirm that they are who they say they are.
2. Lease start date
Ask prospective tenants when they want to move in, as this can impact your bottom line and help you identify red flags. Believe it or not, there are more (and less) profitable times of year to list your rental property and start a new lease agreement. Rent prices tend to be at their lowest between December and March and the most favorable between May and October. According to SmartMove research, peak season typically run from May through August.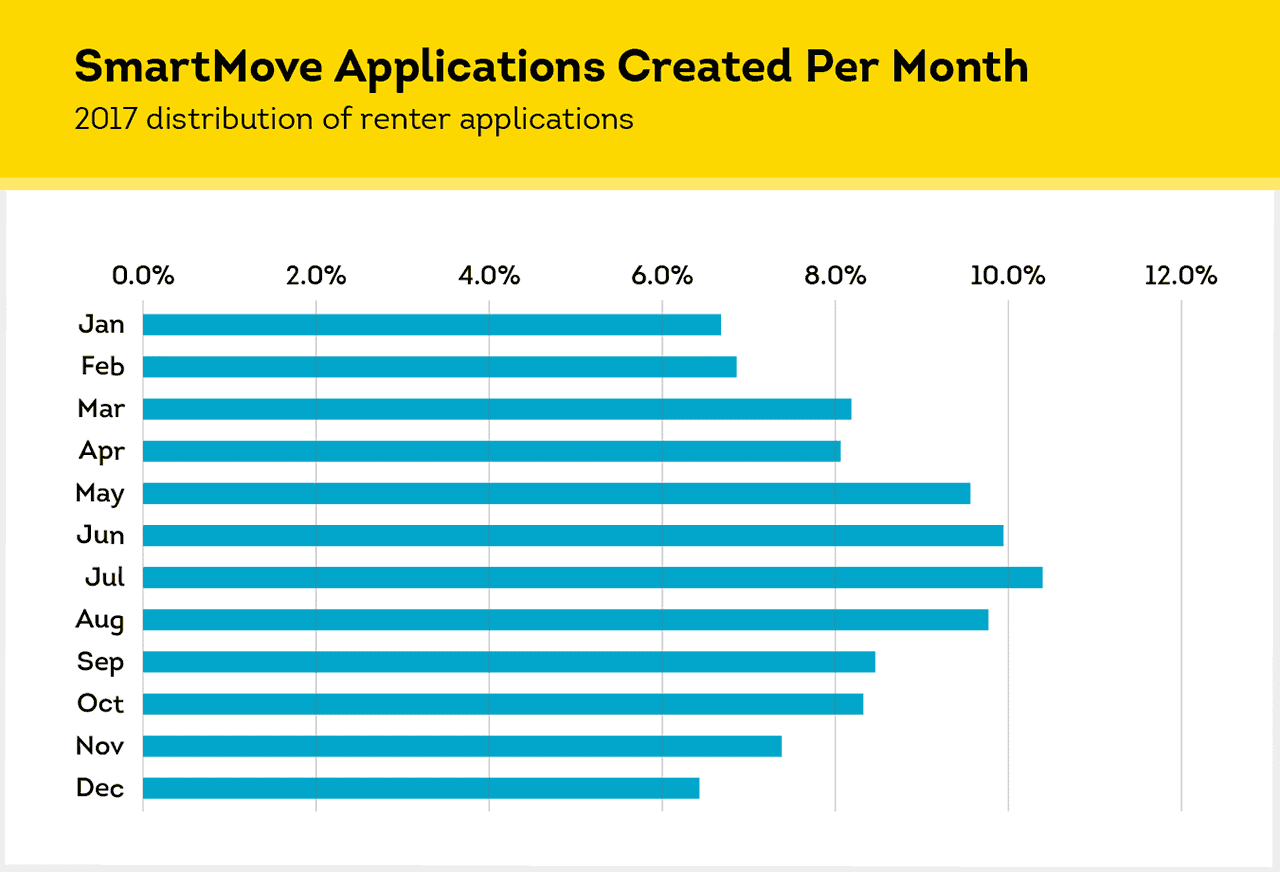 This is likely due to an increased demand for accommodations during warmer months. If possible, then you may want to time the beginning of new lease agreements with the more profitable time of year. Not only does this tactic benefit your wallet, but you may have a stronger pool of rental applicants to choose from. Renters who are willing to pay more may be more so inclined to respect your property (another benefit to your wallet).
In addition to rental questions regarding the lease start date, you should ask the applicant which type of lease they prefer and whether they're interested in a 1-year lease or month-to-month rental agreement.
There are differences between a lease and rental agreement that could impact your business. A lease is typically a 6 or 12-month contract, while rental agreements tend to be on a monthly basis. That said, leases are usually better for landlords looking for stable long-term renters, and month-to-month agreements are better for landlords looking for flexibility or short-term supplemental income.
3. Occupants in unit
Your rental application should include a question about who intends to live on the property. Provide space for your prospective tenant to answer with the names of the applicants and anyone else who plans to live in the apartment.
You should be aware of every person living on your property and have supporting documentation for each tenant. This is especially important in the case of non-related roommates, such as couples, friends, random roommates, and college renters.
First of all, knowing how many people will be residing in your rental home will help ensure. Secondly, each tenant should sign the lease agreement. If a person isn't listed on the lease agreement, then there may be questions about whether a legal obligation exists for whoever is not included in the agreement. This means, for instance, you may not be able to enforce rent payment or lease terms for anyone living there without a written lease.
Ultimately, it's critical to screen each and every prospective tenant that will reside in your rental unit. While it may seem sufficient to screen only the primary applicant, that is not always the case. It's important to verify that each renter is capable of meeting their share of the financial obligation. This also applies to rental cosigners who will take responsibility for rent payment if the tenant falls short.
4. History of eviction
According to a SmartMove survey, the top two landlord concerns are rent nonpayment and eviction history. This is no surprise given that a landlord's rental income hinges on tenants paying their rent on time. Another TransUnion analysis examined records of individuals from nearly 200 properties and compared those evicted to those not evicted. Results showed evicted residents have nearly three times as many prior evictions and rental-related collection records as non-evicted residents. This suggests that past evictions can be a good indicator of future behavior.
An average eviction costs between $3,500 and $10,000 and takes three to four weeks to complete. With such a hefty price tag, it's essential for you to do everything you can to avoid the situation. Ask about previous evictions directly on the rental application and verify the information with a thorough eviction check from SmartMove.
SmartMove's national eviction records check leverages TransUnion's vast information databases to provide more accurately matched search results. TransUnion's eviction database contains millions of records that include:
Tenant judgment for possession and money
Unlawful detainers
Tenant judgments for small claims
In addition to an eviction check, request that your tenant provides a list of former landlord references so you can perform a landlord reference check before signing the lease. While an eviction check will surface eviction history, it won't bring to light the other details about the tenant like a previous landlord can. Consider these questions:
Did the tenant respect the property?
How was their communication?
Did they ever miss a rent payment?
Was there ever noise or other complaints?
When verifying an applicant's rental history, consider asking for the address of the previous rental and how much they paid for rent. Cross-check these details with their former landlord to confirm the accuracy of the provided information.
Pro-tip: Only SmartMove landlords get ourResidentScore®, which is built specifically for rental screening and predicts evictions 15% better than a typical credit score in the bottom ranges where risk is greatest.
5. CURRENT INCOME AND EMPLOYMENT INFORMATION
It's understandable why landlords list payment problems as their number one concern. Tenants who can't pay the rent on-time or in-full can cause financial burden for the landlord, such as falling behind on your mortgage payments. According to the Joint Center for Housing Studies of Harvard University, the share of "cost-burdened" renters rose to 47.5% in 2020. Cost-burdened households pay more 30% of income on housing. With rental rates on the rise, income verification is more important now than ever. It's critical to ensure that a prospective tenant can afford your rent. A good rule of thumb to follow is the industry standard 3X income to rent amount. So, ideally your applicant pulls in three times the amount of monthly rent with their monthly income, but this rent-to-income ratio standard may vary based on your market.Your application should provide space for your applicant to indicate their annual income and proof of employment by providing the following information:
Employer name
Employer address
Employer phone number
Job Title
Name of supervisor
Annual income
You should consider contacting the employer reference listed on the rental application to verify the applicant's employment status. Note: if the applicant changes jobs often or has employment gaps, then it could be a sign of employment instability, which could present more risk.
Once you've got your prospective tenant's self-reported income and employment details, then you can begin to verify income accuracy and that their overall financial health is in good standing. To speed up income verifications, you can use SmartMove's proprietary Income Insights tool. It tells you in a matter of minutes if your applicant needs additional income checks. It works by comparing credit behavior to the applicant's self-reported income to determine whether additional income verification is recommended.
Income Insights enables you to:
Save time and effort verifying renter income
Lower your risk of renter payment problems
Approve your rental applicant quickly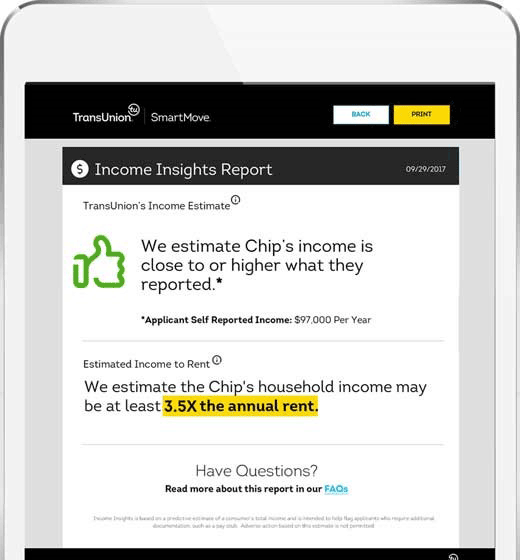 After you've done your diligence to confirm income, then review the applicant's credit history to uncover insights about their debt level, payment history or significant credit mistakes. Read the credit report to find out if they make payments on time. If they tend to miss payments, then this might be an indicator that they could be untimely with your rent payments. Similarly, if they have high debt load, then then they could be overstretched financially and struggle to afford the rent.
Note: you should always check with your legal counsel to ensure you are in compliance with applicable laws. This blog is not legal advice and should not be construed as legal advice, nor is this blog represented to have complete or current information.
6. APPLICANT PETS
Many apartment-hunters own pets, but according to BiggerPockets, only 27% of rental properties in the U.S. advertise with the label "Pets OK".
If you exclude pets in your rental, then that could reduce your renter pool notably. If you want to attract the estimated renters who have pets and decide to offer pet-friendly housing, then consider including questions on the lease application, such as:
Number of pets
Type of animal and breed
Pet weight and age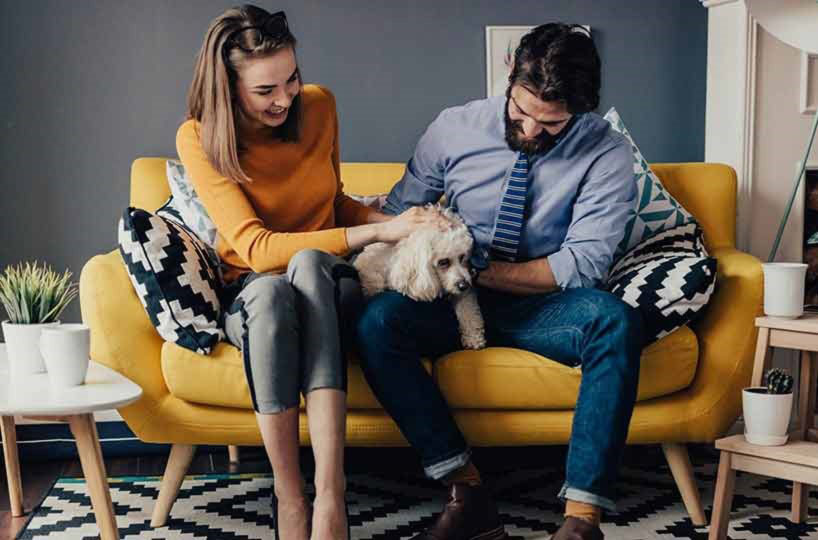 Applicants who do have pets should be aware of your pet policy upfront, which could have restrictions on the breed, weight, or number of pets your tenant may own. Some landlords opt to charge an up-front pet deposit to cover any potential damages caused by the pet. If this is something that you choose to do, then be sure to communicate the additional cost with your tenant prior to signing the lease.
If you don't allow pets in your unit, then be sure to address that in the initial rental listing. This could help weed out unqualified tenants.
7. APPLICANT SMOKING HABITS
When it comes to property maintenance, removing smoke odor and damage from a rental property can be difficult and very expensive. A several-thousand-dollar hit to remove smoke smell could cripple your business—especially when you factor in the vacancy expenses that occur while you're waiting to have the unit cleaned.
To avoid such expense, you might include a strict no-smoking policy in the rental ad and lease. In this case, you'll want to know upfront if an applicant smokes, so be sure to include this question on the rental application.
8. PREVIOUS LANDLORD REFERENCES
In addition to speaking to employers, you should speak with past landlords. Use these contacts to gain more insight into their behavior and patterns.
From their references you can learn:
How did they treat the landlord?
How did they treat the neighbors?
How did they treat the rental property? Was there any property damage?
Consider this popular SmartMove article for a list of landlord reference check questions: "Questions to Ask During a Landlord Reference Check".
It might seem like overkill to chase down every detail on an applicant, but it is necessary to protect your business. Placing the wrong tenant into your unit can lead to a bevy of bad outcomes such as late rent payments, costly evictions and unwanted high renter turnover.
9. RELEVANT CRIMINAL HISTORY
As a landlord, you have the responsibility of keeping your rental property, other tenants, and yourself safe. Knowing your prospective tenant's criminal history is crucial when choosing a new tenant to occupy your rental unit. When you consider that nearly 1 in 5 people screened by SmartMove had a criminal hit on their record, you can see how important it is to conduct a background check as part of your tenant selection process.
In general, there are four primary reasons why you shouldn't skip a criminal background check: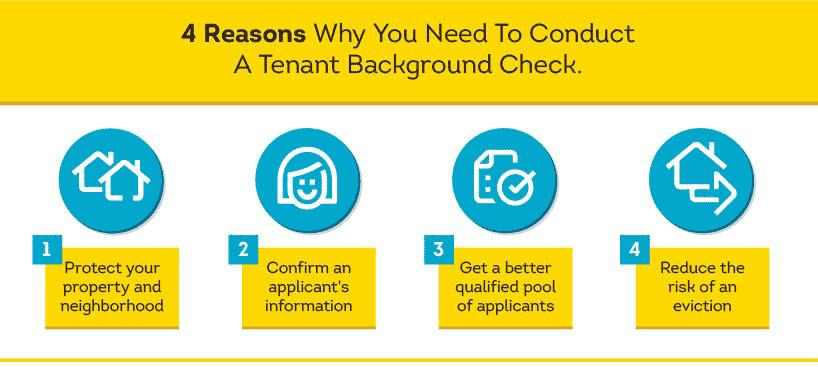 1. Protect Your Property and Neighborhood
A background check can help you answer questions like:
Does the person's record have a relevant felony conviction?
Is the person listed on a sex offender registry?
Does a prior relevant conviction indicate the applicant could put the neighborhood at risk?
Getting answers to these questions can give you peace of mind and help you protect your property, the neighborhood, and yourself.
2. Confirm an Applicant's Information
According to a SmartMove survey ,86% of landlords will verify an applicant's information, and with good reason. A background check will help you verify that the information the applicant gave during their initial screening is correct. If an applicant tells you that their background check is clear, then it's a good idea to verify this fact by ordering a background check on them.
3. Get a Better Qualified Pool of Candidates
In some cases, applicants with relevant criminal records will avoid applying if they know there is a background check involved in the screening process. Ultimately, being upfront about your expectations can save you time and help you fill your unit more quickly.
4. Reduce the Risk of an Eviction
In short, a criminal report can provide insight into applicants that could be a higher risk to your property or put the neighborhood in jeopardy. If you skip a background check, then you may find yourself in a bad situation where you could have to evict your tenant later on. Total eviction expenses cost $3,500 on average and can take weeks or months to complete. You want to be sure that you get the full picture of your applicant right from the start. SmartMove is a quick and efficient way for landlords to get access to the background results they need to make a good leasing decision.
SmartMove background checks offer access to:
FBI's Most Wanted
Sex Offender Public Registries
Office of Foreign Assets Control (OFAC)
10. Applicant Authorization for a Full Renter Background Check
You have a responsibility to protect your property, other tenants, and yourself. As such, you should always run a thorough background check on all serious rental candidates.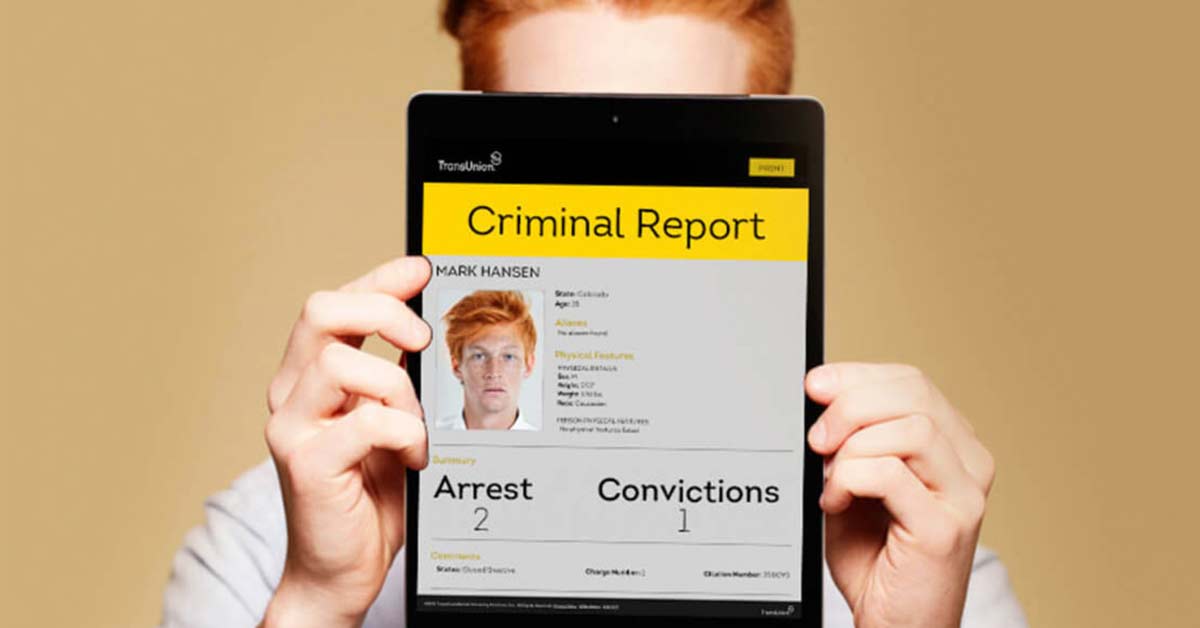 The background check should include:
Criminal Background Check, including data from multiple state background checks
Credit Check that is FCRA-compliant and comprehensive
Eviction Check that includes details of past rental behavior
On your application, ask potential renters if they are willing to consent to a background check. If they do not consent, then you can reject them, as they do not meet your renter criteria.
At the end of your rental application, you might include a question such as, "Is there anything else I should know?" This gives your prospective tenant the chance to explain any questionable records that may come up in your screening, for example:
Explain any eviction history
Explain a criminal hit on their record
Explain circumstances about subpar credit health
By asking these blanket questions prior to running a full background check, you may have the opportunity to see whether or not your prospective tenant is honest and upfront.
Note: you should always check with your legal counsel to ensure you are in compliance with applicable laws. This blog is not legal advice and should not be construed as legal advice, nor is this blog represented to have complete or current information.
Complete the process with SmartMove Tenant Screening
Asking essential questions for a rental application can give you a lot of data to sort through. It will help you to be in a better position to determine if what applicants you want to push forward in your screening process. But the information is only as good as the applicant's word. Be sure to verify applicant responses as best as you can and conduct comprehensive tenant screening.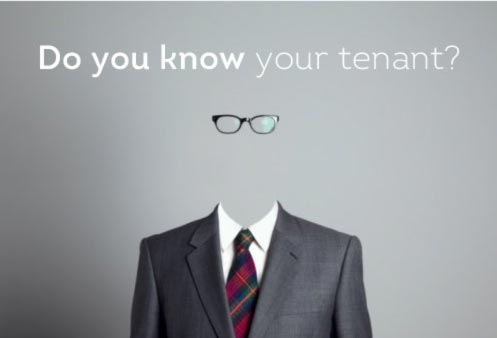 By using a full SmartMove tenant screening package, which includes criminal, eviction, credit, and Income Insights reports, you can get an in-depth look at your applicant's background and be able to make a more informed leasing decision.
Credit Report: Landlords get details of their prospective tenant's payment history, level of debt, and other factors. . In addition to the report, SmartMove landlords receive the applicant's ResidentScore, our proprietary credit scoring. It is proven to predict eviction risk 15% better than a generic credit score.
Criminal Report: Millions of criminal records are searched in a matter of minutes.
Eviction Report: Checking your applicant's eviction report is one of the best ways to avoid future evictions. Ordering a national eviction report from SmartMove can provide an in-depth view on information such as tenant judgment for possession and money, unlawful detainers and tenant judgments for small claims.
Income Insights: Making sure your tenant can afford the rent is important. Income Insights helps you determine within minutes whether additional proof of income should be collected on an applicant so you know which applicants to verify and which to skip.
Finding the best renters will always be a game involving some risk, but smart landlords know how to use the rules in their favor. With high-quality application questions and thorough tenant screening through SmartMove, you can increase your chances of hitting the renter jackpot.
Additional Disclosure:
Remember that this material is intended to provide you with helpful information and is not to be relied upon to make decisions, nor is this material intended to be or construed as legal advice. You are encouraged to consult your legal counsel for advice on your specific business operations and responsibilities under applicable law. Trademarks used in this material are the property of their respective owners and no affiliation or endorsement is implied.