Disclosure:
This content, except as otherwise indicated or stated on this site, is the property of TransUnion Rental Screening Solutions, Inc. This content is for educational purposes and for convenience only. Trademarks used are the property of their respective owners, and no endorsement or affiliation is implied. The information presented in this content is "as is" without warranties of any kind, and specifically is not represented to be complete and does not constitute legal advice, and is subject to change without notice. You are encouraged to check these terms from time to time for changes, and by accessing this site you agree to these terms and all terms listed. Laws and regulations may vary by state and locality. Consult your own counsel if you have legal questions related to your rental property practices and processes.
Renting out your property can be scary; you try your best to rent to a kind young person, only to hear from neighbors that she has snakes for hair and a bad habit of turning visitors into stone. Okay, sure. Maybe you won't be contending with Medusa as a renter, but there are several very real myths out there that just as easily can harm your business.
As a landlord, your top priority is placing high-quality tenants in your rental property. Poorly selected tenants can cost you thousands in property damage, back rent, and eviction fees. In contrast, the perfect tenant pays rent on time, communicates quickly, treats the property with respect, and follows your rental policies.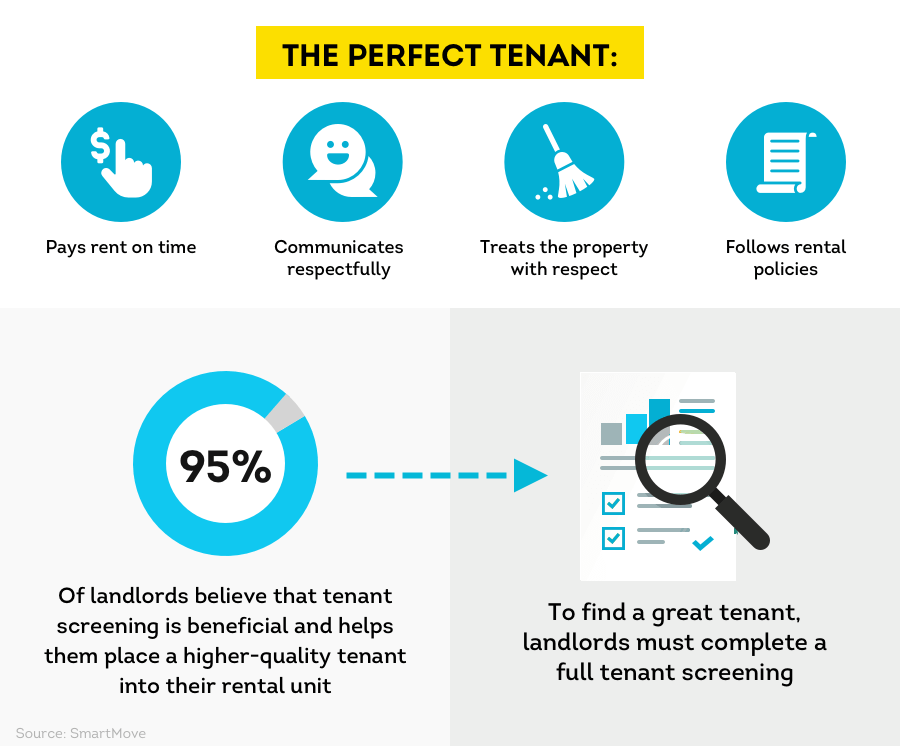 It's critical to not buy into common tenant screening myths and thoroughly vet all rental applicants before signing any lease agreements. In fact, *95% of landlords agree that using a comprehensive screening service like SmartMove helps them find a higher quality tenant. The better your tenant information is, the easier it can be to counteract these myths and reach great renters.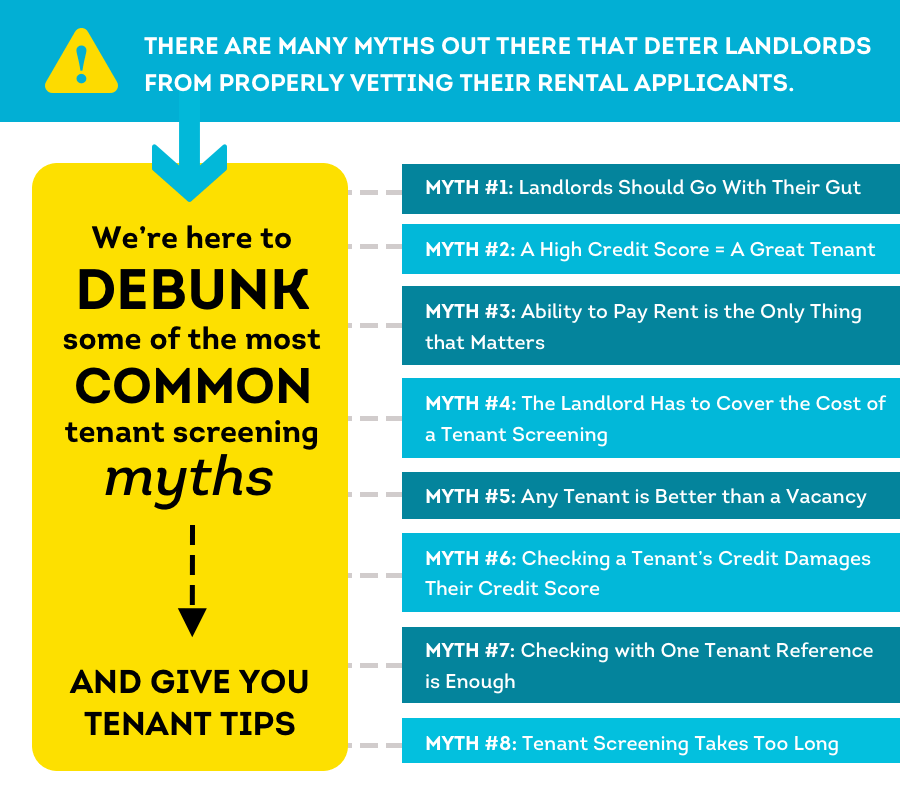 Myth #1: Landlords Should Just Go with Their Gut
Most landlords know that using their "gut intuition" to judge a person is not a wise financial decision—in fact, according to a *2016 SmartMove survey, 86% of landlords said they verify an applicant's information before signing a lease. Even still, thousands of landlords a year are taken in by rental scammers who deceive people just "trusting my intuition."
Your applicant might look perfectly harmless on paper, but are they really? No matter how strong your gut feeling may be, never assume that an applicant's self-provided information on a rental application is accurate and up to date. Why take the risk of "trusting your gut" when you're selecting someone to live in your property for an extended amount of time?
Rental applications are designed to collect information about a prospective tenant, but that information alone is not enough. To protect your property and rental business, you still need to verify that the information is accurate, compliant and that no relevant facts have been left out.
Tenant screening can be used to verify that "gut feeling" and save you money and frustration down the line. With the right provider, screening doesn't have to be expensive or especially time-consuming. However, it does need to be thorough. When screening your potential rental applicant, make sure to verify all of the following:
Income: Can they pay rent? Verify proof of employment and income. You need to know if they will have enough income to pay their rent on time and every month.
Financial history: Do they have a habit of paying their bills on time? Get a full credit report to help paint a holistic picture of your prospective tenant's financial health.
Eviction History: Have they been good tenants in the past? Were there any rent-nonpayment issues?
Criminal Record: Are there any relevant criminal red flags? Find out how they've behaved in the past before welcoming them into your space.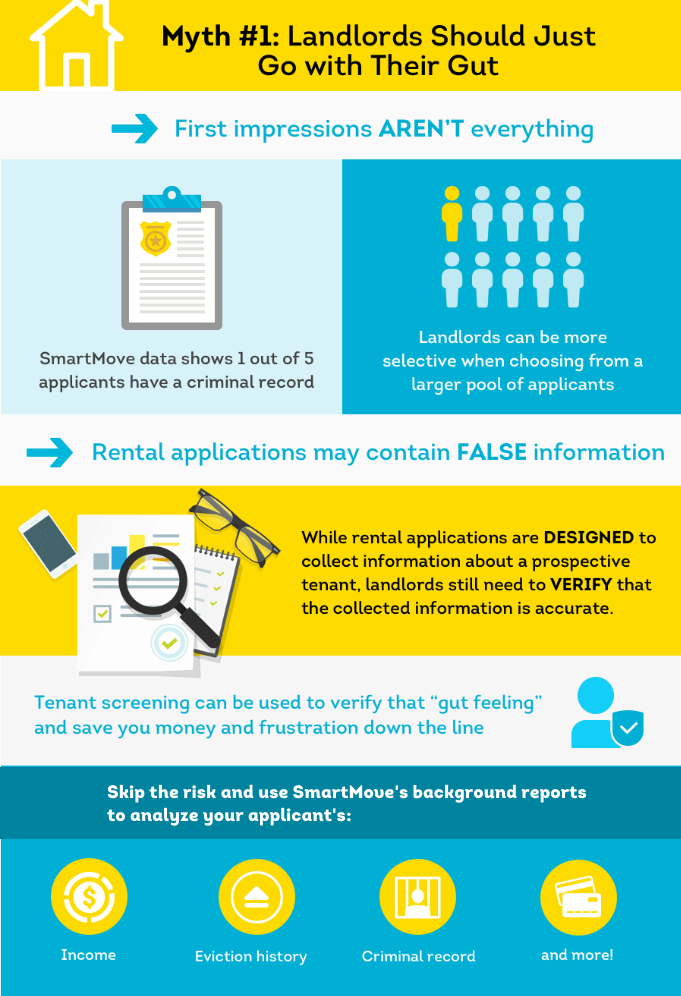 Myth #2: A High Credit Score = A Great Tenant
A single number doesn't tell the whole story. A high credit score doesn't necessarily mean an applicant will be a respectful, responsible tenant. Conversely, a bad credit score doesn't necessarily mean an applicant would be late on their rent payments.
Younger applicants—especially Millennials and Gen Z—may have little to no credit history. In fact, according to Lack of a high credit score doesn't mean you should choose to immediately disqualify a rental application.
After all, there is not a definitive "good" credit score when it comes to renting. Many factors determine creditworthiness. Recognizing this trend a *2016 SmartMove user survey concludes that 59% of respondents strongly and somewhat agreed that the majority of landlords place greater emphasis on a prospective tenant having a steady income rather than previous credit history.
To get a holistic view of your candidate's financial background, you should get a full credit report. This provides all kinds of helpful information, including:
Open trade lines
Payment timeliness
Credit inquiries
Mortgages
Student loans
All of this can help you judge if your applicant will be able to pay the rent on time every month.
Here's what landlords should look for in a credit report:
Credit history: An applicant's overall credit history could help you predict whether they have been paying past rent on time or at all.


Late payments: If your tenant often pays bills late, that could be a predictor of whether they will pay your rent late.


Significant amounts of debt: According to Go Banking Rates, Americans are deep in debt and 20% of Americans don't think they'll ever get out of it. Although debt is common in the United States, if your tenant gets sick or loses their job, too much debt may leave them unable to pay rent.
Derogatory credit marks: A derogatory item generally indicates serious delinquency or late payments. Examples of derogatory items:



Late payments
Bankruptcies
Judgments
Collection accounts
Charge-offs
Accounts settled for less than the full balance
Pro-tip: One rental scam to be aware of is for applicants to provide a copy of their own credit report, which could be outdated, heavily edited, or outright fake. A good practice is to run your own credit report with a reputable provider to verify what an applicant has provided.
You might also consider requesting a higher security deposit if an applicant has low income or poor credit in order to mitigate the risk of non-payment.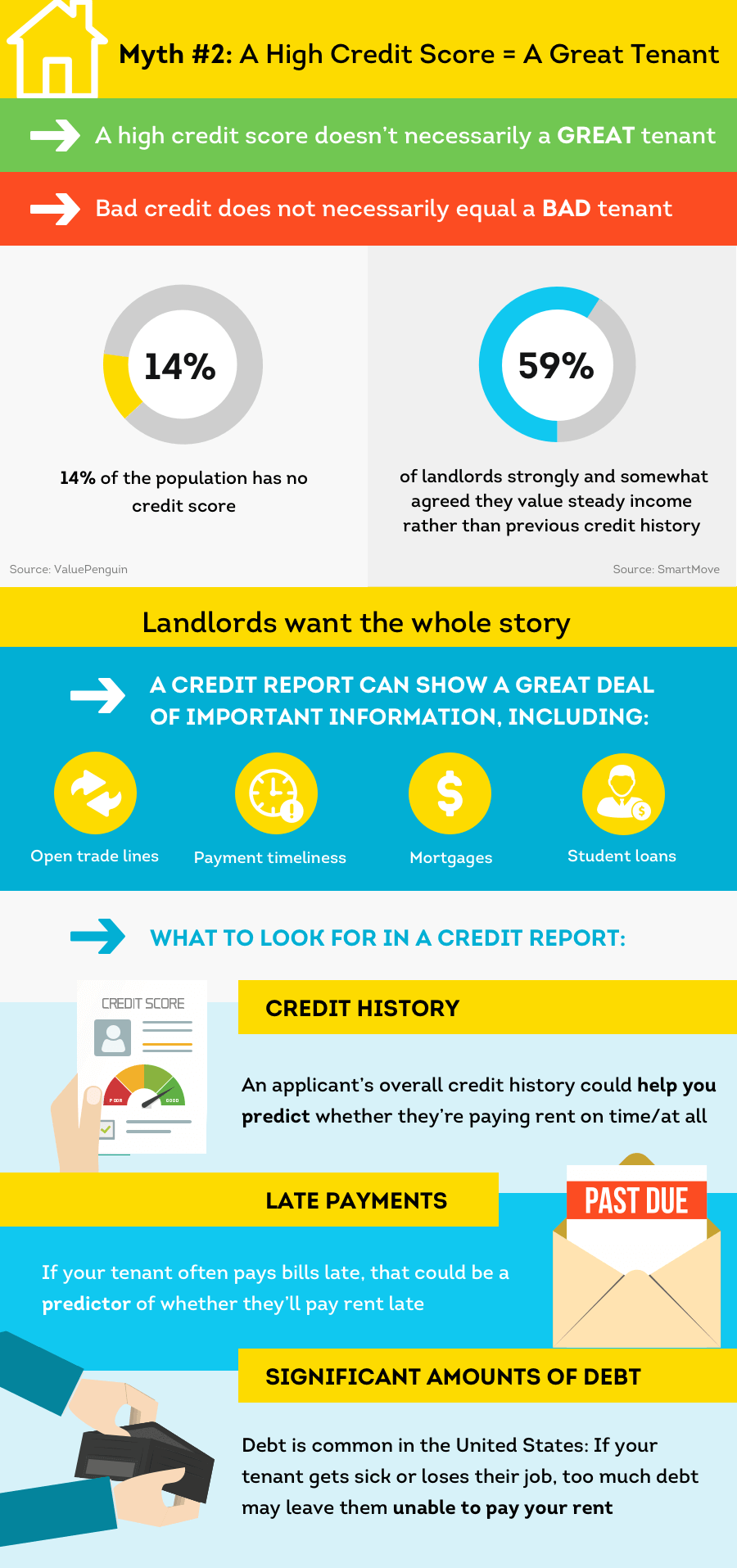 Myth #3: Ability to Pay Rent is the Only Thing that Matters
Rent non-payment is the number one concern for many landlords. It's no wonder; payment problems pose a serious threat to the livelihood of a rental business. If your tenant fails to pay rent, then you lose income and could fall behind on your own mortgage payment and other financial obligations.
According to a Statista survey, 16% of low-income renters reported being unable to pay rent for at least one month out of a three-month period.
With statistics like this, it's easy to see why landlords focus so intensely on an applicant's ability to pay rent. However, if you only focus on payment ability during tenant screening process, you could miss out on other important tenant red flags. Outside of a tenant's financial history, landlords need to take other considerations into account, such as eviction history and criminal history.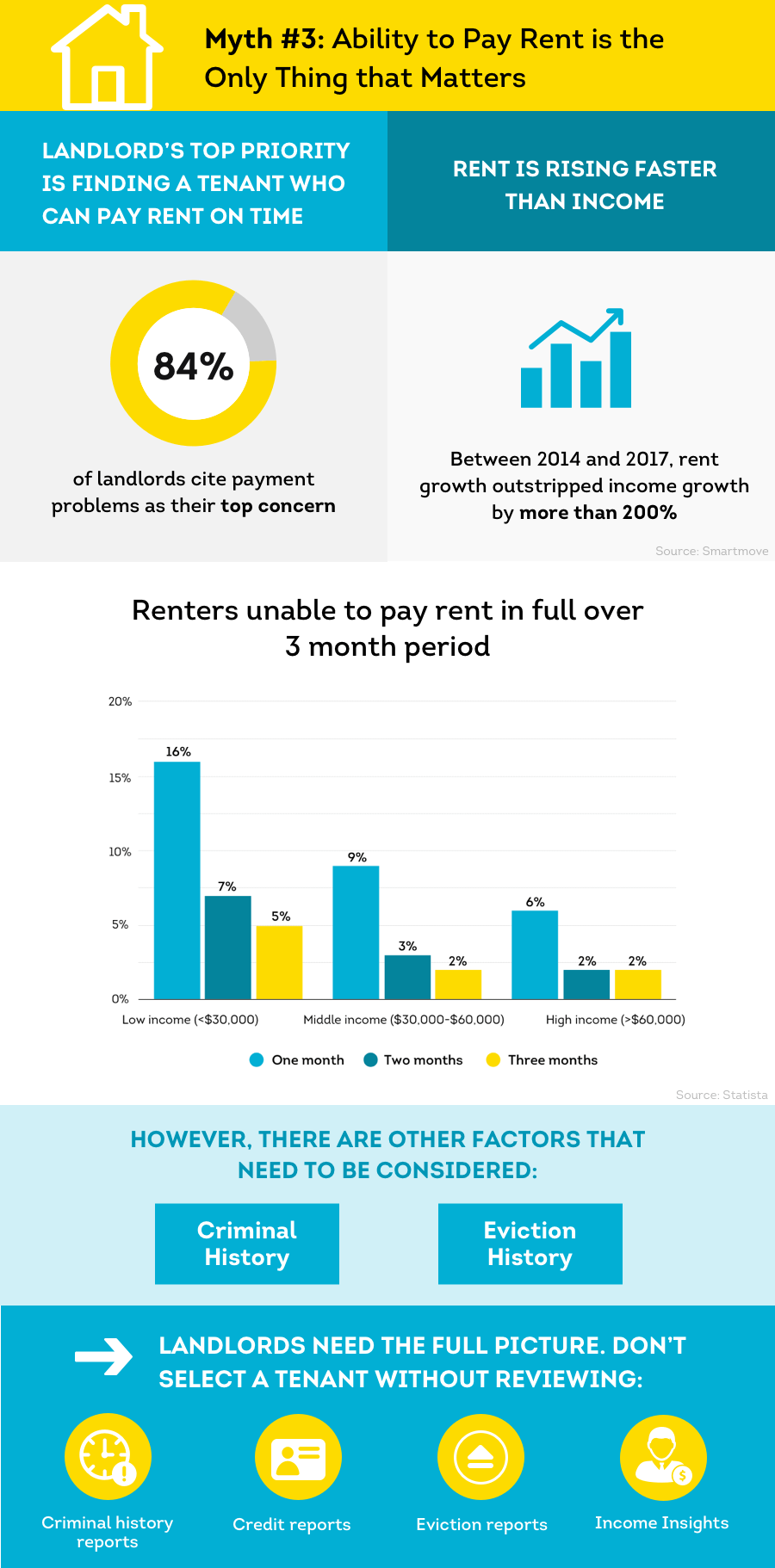 Myth #4: The Landlord Has to Cover the Cost of a Tenant Screening
Landlords can typically pass the cost of a tenant screening onto each rental applicant as part of the application fee. In the majority of states, it does appear that landlords are allowed to charge prospective applicants a fee to conduct a credit check. The average rental application fee ranges from $30 to $60.
This fee can cover both the cost of the check itself, and the time and energy spent completing the screening. However, you generally must return the fee if you reject the applicant before running a background check.
As a quick reminder, you should review all laws applicable to you and consult your legal counsel with questions (we're not providing legal advice in this blog).
Even if you do end up paying a screening fee out of your own pocket, it can still be worth the cost. When you consider the cost-benefit screening analysis of paying $25 upfront for a screening versus the average $3,500 cost of eviction, it becomes clear that this small investment provides large risk protection.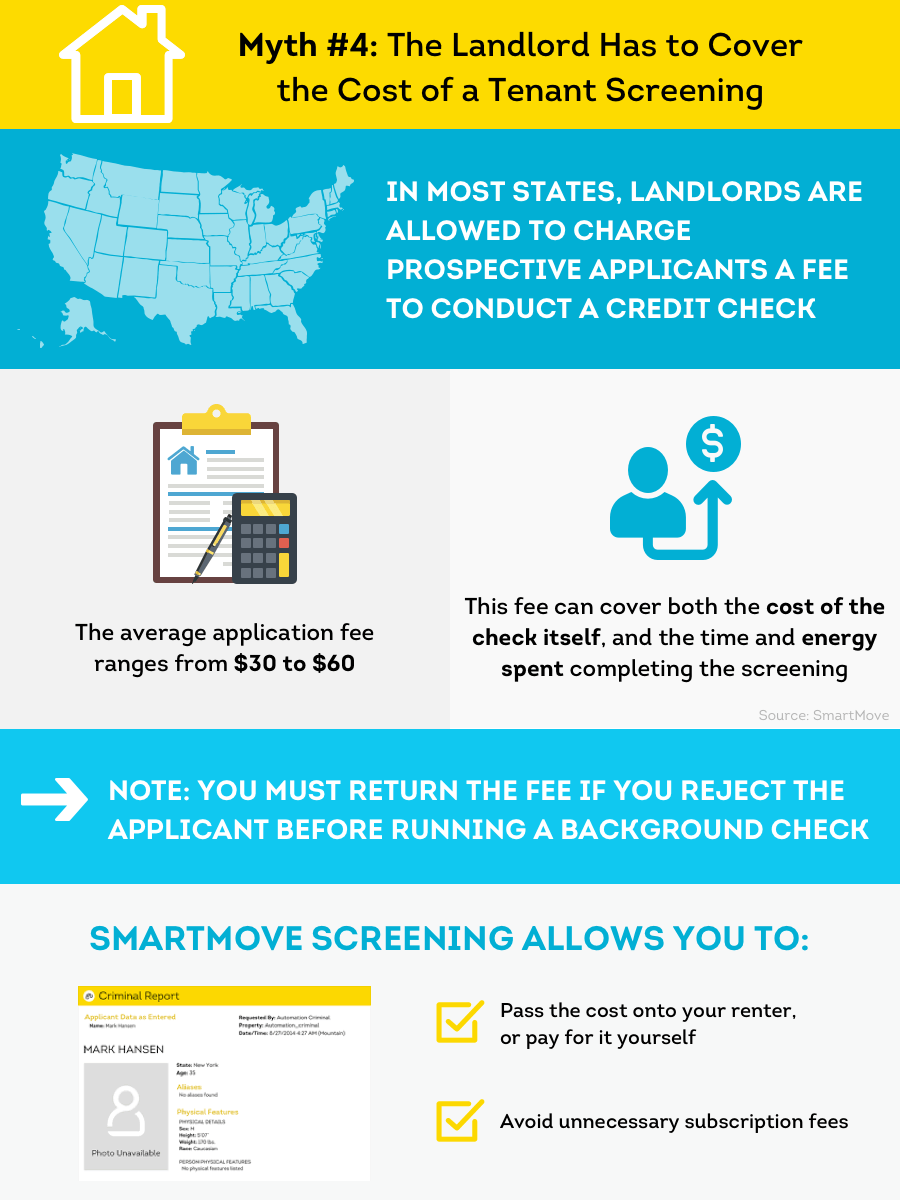 Myth #5: Any Tenant is Better than a Vacancy
If your applicant pool is thin, then you might be tempted to fill a vacancy with a subpar renter. After all, having any tenant is better than losing money on an empty apartment, right?
Wrong. Vacancies cost an average of $1,750 per month, but evictions cost $3,500 or more. Rushing to approve any old tenant can lead to serious consequences, including rent nonpayment, property damage, and neighbor disputes.
In the worst-case scenario, you could end up with a tenant that fails to pay rent and refuses to leave. Landlords are then forced to go through the eviction process in an effort to remove a squatter.
Eviction expenses may include:
Court costs
Filing fees
Lost rental income due to vacancy
Hold costs, such as utilities
Tenant turnover costs, such as damage repairs and marketing for the new rental listing
This list doesn't even include the hassle and time you'll spend dealing with evicting a tenant. Evictions are incredibly stressful—both on an emotional and financial level—and should be avoided at all costs.
Positive that it could never happen to you? Don't be so sure: evictions are more common than you might think. It's estimated, according to NPR, that there were 2.3 million evictions filed in the U.S. in 2016. They're a widespread problem for landlords across the United States.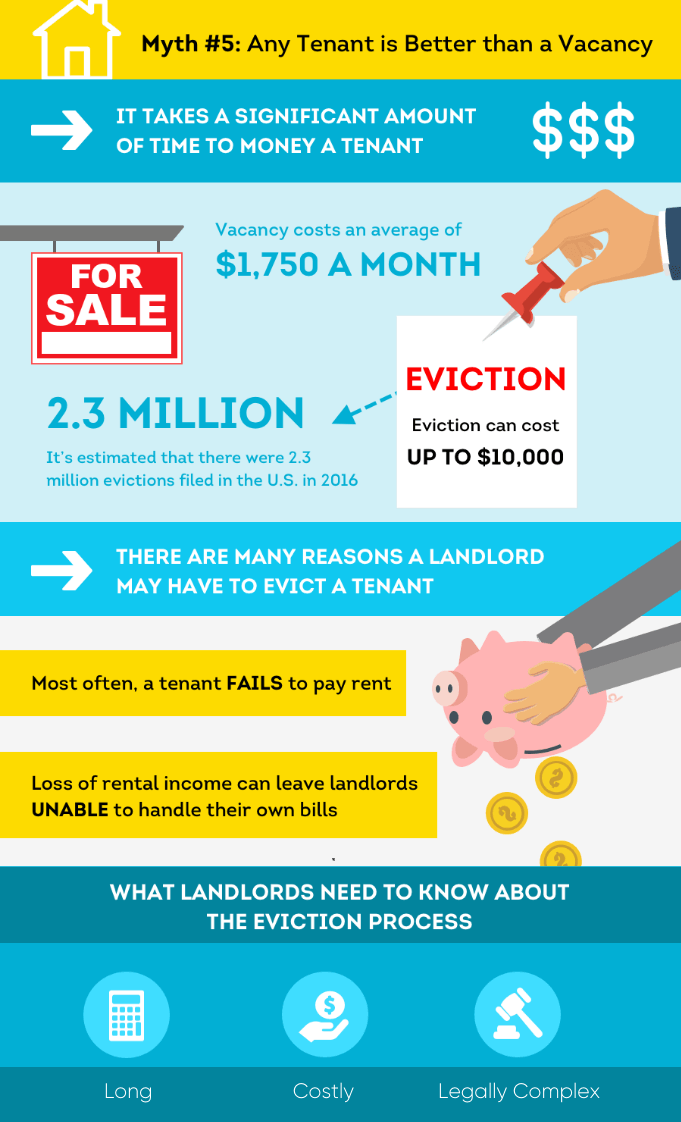 Myth #6: Checking a Tenant's Credit Damages Their Credit Score
Prospective tenants may be concerned that a credit check can negatively impact their score & and may even use it as an excuse to avoid a credit report—but this doesn't always have to be the case.
It's important to understand the difference between a soft inquiry and a hard inquiry. Traditional credit checks originate with an outside requestor and require a tenant's Social Security Number. This "hard check" or "hard inquiry" can cause an applicant's credit score to drop.
However, there are options to pull a "soft" credit check. With a soft credit check, through a service like SmartMove, an applicant requests the report on their own. This results in a "soft pull" that has no negative consequence on their credit score. If you do a "soft pull", then make sure to go through a trusted credit reporting agency, so you can feel confident knowing that your findings are accurate and comprehensive.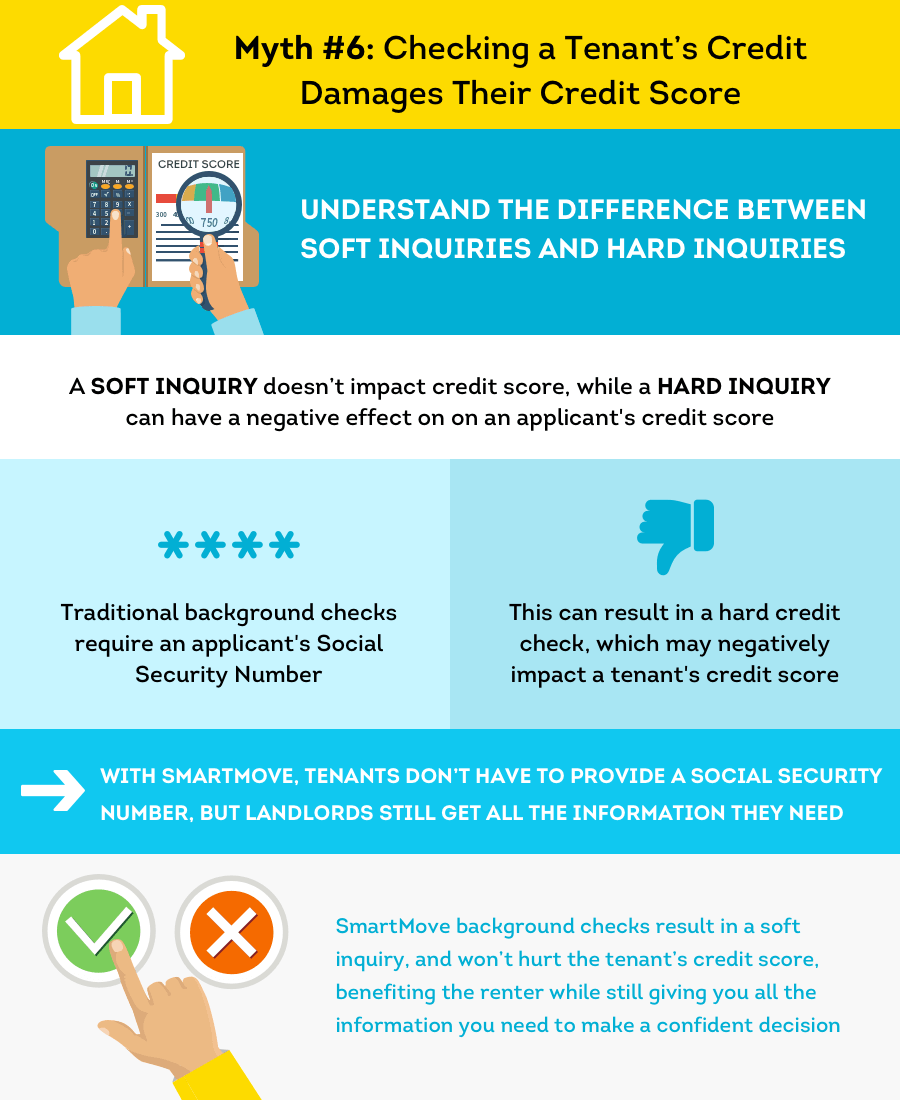 Myth #7: Checking with One Tenant Reference is Enough
You should always consider an applicant's references to gain further insight into their behavior as a renter. However, contacting just one reference may not provide the information you need. It's important for you to reach out to the employers and past landlord references your applicant provides.
Employer references: To help ensure your tenant is gainfully employed with a stable income, you should consider contacting their listed employer reference. When calling their employer, it is suggested that you confirm:
The position they hold
Their time with the company
Landlord references: Previous landlords can confirm your applicant's self-reported rental history. Here are some general suggestions on how to perform a landlord reference check step-by-step:
Call your applicant's previous landlord and the landlord before that. Contacting several previous landlords can help you gain a more complete picture of your prospective renter, as an applicant's current landlord may not provide accurate information in an effort to get rid of a troublesome tenant.


It's important to ask the right landlord reference questions in order to glean the information you need to make your leasing decision. The following questions are a good place to start:
Can you confirm the applicant rented from you?
Did the applicant pay his or her rent on time every month?
Did the applicant take care of the rental property?
Was the unit clean and in good order when the applicant left?
Was the applicant disruptive?
Would you rent to the applicant again?


After gathering the answers to these questions, look for indications of a good tenant, including:
They paid rent on time, every time
They didn't cause property damage
They kept the unit in good condition
They didn't have any reported issues with neighbors and other tenants
They notified the landlord of any issues in a timely manner
Pro Tip: Seriously consider performing reference checks on every name listed on the rental application. You may believe that you only need to screen the primary applicant listed on the rental application, but this could backfire if the second tenant stops paying rent or suddenly moves out. One tenant may have an exemplary rental history, while another may have been evicted multiple times. It's important to screen all co-applicants prior to signing a lease agreement; forgetting to do so is one of the biggest mistakes landlords can make.
Myth #8: Tenant Screening Takes Too Long
If you're a new landlord learning how to screen tenants for the first time, then you should know that there are several different ways to get information on rental applicants. Although some methods may be time-consuming, there are alternative ways to check an applicant's background that deliver fast and accurate results.
A traditional background check company may provide information about the following:
Misdemeanor and felony criminal records
Sex offender status
Social Security Number validation
Employment verification
Education verification
License verification
Credit reports
Motor vehicle records
Military records
Address history
While traditional background checks are robust, they can be very expensive and may provide more information than an independent landlord actually needs to make a confident leasing decision; for example, whether an applicant has a parking ticket may not be relevant to their predicted behavior as a tenant.
These background checks require an extensive amount of research to pull such a large volume of data together, which means that landlords may wait days or weeks for information they don't necessarily need. In the meantime, your unit sits vacant and you lose out on rental income.
Another way to check an applicant's background is by using online people search databases. This DIY method may be free, but the results are typically unreliable. Depending on the site used, you may receive information on:
Sexual assault offenses
History of bankruptcies
Judgments
Address history
Marriage records
This DIY method requires a landlord to take time out of their own busy schedule to complete. Searching online databases may be faster than traditional background checks, but the results may be inconclusive and difficult to verify. Furthermore, you may inadvertently open yourself up to discrimination claims if you unfairly deny an applicant based on your findings.
Under the mistaken impression that running a professional background check will take too long, some landlords may opt-out of the process altogether. This could then lead to issues down the road if their chosen applicant has a prior eviction history or criminal history.
Don't be tempted to skip a background check because of time constraints. You can get a comprehensive, online background check in minutes through a service like SmartMove® that is specifically tailored to landlords. When selecting a provider, make sure they perform a records check that includes the following reports:
FBI's Most Wanted
Sex Offender Public Registries
Office of Foreign Assets Control (OFAC)
Keep in mind it has been estimated that 24% of renters had a criminal background history. Are those the kinds of odds you're willing to accept on faith alone? If you believe that background checks take too long and are not worth your while, then you might buy into a tenant screening myth that could have severe consequences down the road, especially if you accidentally place a tenant with a history of violent behavior.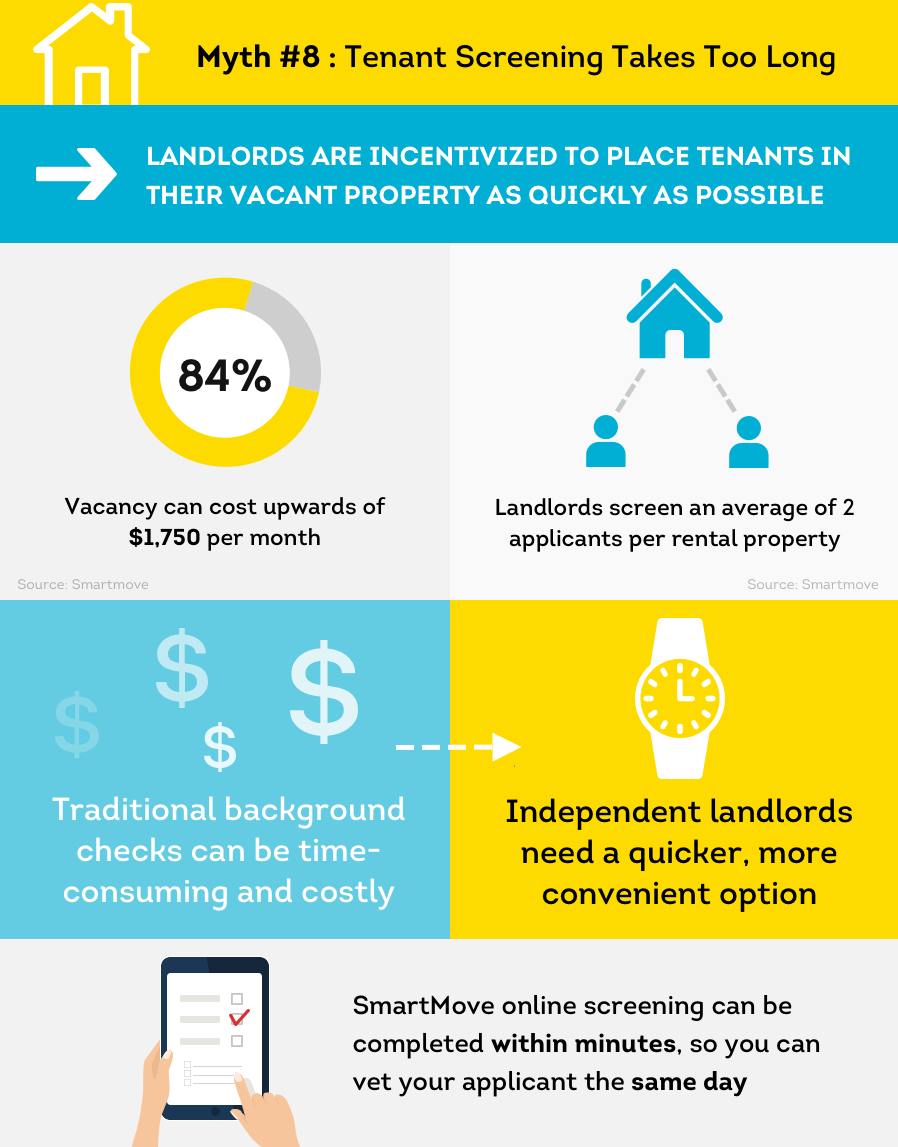 Forget the Myths and Find the Facts with Comprehensive Tenant Screening
With all the landlord myths and misinformation floating around out there, renting out your apartment or house may sound scary, but it doesn't have to be. Placing the wrong tenants in your property can mean spending thousands on damages or dreaded eviction proceedings, but almost all common tenant screening myths can be countered with a thorough applicant vetting policy.
Rely on more than just your gut with an eviction history and criminal background check through TransUnion SmartMove. Running these accurate reports is quick and easy. Plus, seeing actual insights into how your applicant has behaved in the past will give you a better idea of how they might behave while staying on your property—much better than going on intuition alone.


Dispel myths about an applicant's financial situation by verifying the information they provide. Running a SmartMove online background check gives you the information you can actually use to judge your applicant.
A ResidentScore and Income Insights report from SmartMove gives you information about am applicant's financial and rental history, so you can make a more informed decision. Backed by TransUnion, a major credit reporting agency, these trustworthy results arrive in a matter of minutes. Don't fall for the myths, try SmartMove and start screening today.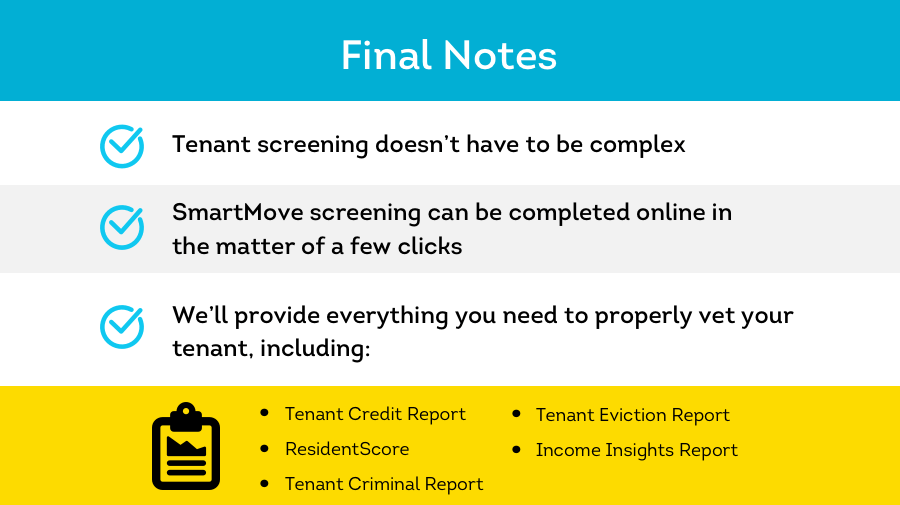 Additional Disclosure:
Remember that this material is intended to provide you with helpful information and is not to be relied upon to make decisions, nor is this material intended to be or construed as legal advice. You are encouraged to consult your legal counsel for advice on your specific business operations and responsibilities under applicable law. Trademarks used in this material are the property of their respective owners and no affiliation or endorsement is implied.