Disclosure:
This content, except as otherwise indicated or stated on this site, is the property of TransUnion Rental Screening Solutions, Inc. This content is for educational purposes and for convenience only. Trademarks used are the property of their respective owners, and no endorsement or affiliation is implied. The information presented in this content is "as is" without warranties of any kind, and specifically is not represented to be complete and does not constitute legal advice, and is subject to change without notice. You are encouraged to check these terms from time to time for changes, and by accessing this site you agree to these terms and all terms listed. Laws and regulations may vary by state and locality. Consult your own counsel if you have legal questions related to your rental property practices and processes.
The last thing a landlord wants is for a bad tenant to occupy their rental property, as selecting the wrong person could lead to a costly eviction, damaged property, or nonpayment of rent.
Finding high-quality tenants should be a landlord's top priority, and tenant screening is an essential part of the process. According to SmartMove data, more than 95% of landlords believe that tenant screening is beneficial and helps them to get a higher-quality tenant into their rental unit.
To thoroughly screen rental applicants, landlords must consider several key pieces of information:
Here's what they found:
In the "not evicted" group, 5.5% of residents had prior evictions on their records
For residents who were ultimately evicted, the number rose to 21.7% of residents with a prior eviction
Evicted residents have twice as many prior rental related collection records as non-evicted residents
While the above checks are essential parts of the tenant screening process, there's another piece of the tenant screening puzzle every landlord must consider before accepting an applicant: the applicant's rental history.
Verifying your prospective tenant's rental history can provide more insight into their true character and their overall intentions as a renter. And, a tenant's past behavior may be indicative of their future actions. Not only does an applicant's rental history help to give you the bigger picture of who they are, but it can also help to guide your overall tenant decision. Taking the time to verify an applicant's rental history can help you to get answers to questions like:
Did they cause damage at their previous rental?
Did they break a lease agreement?
Did they pay monthly rent on time?
First, let's take a closer look at what's included in a rental history report.
What is a Rental History Report?
A rental history report is a list of previous addresses that a tenant has rented from, along with contact information of the landlord or property manager at the time. It is likely that the credit report will list out previous addresses for the applicant, but it is a good idea to ask the applicant for a complete list of addresses and contact information for previous landlords.
What if My Tenant Doesn't Have a Rental History?
In some cases, you may receive a tenant application that lists no rental history at all. For example, college students, Millennials, or Gen Z renters may be new to the rental market, therefore they may not have had the opportunity to obtain a substantial rental history.
While first-time renters may lack a rental history, you don't necessarily have to disqualify them as a potential tenant. It's important to note that lack of rental or credit history doesn't necessarily mean an applicant won't make a good tenant.
If you find yourself in this situation, there are several key pieces of information you can consider instead, including pay stubs, tax return stubs, or co-signed leases.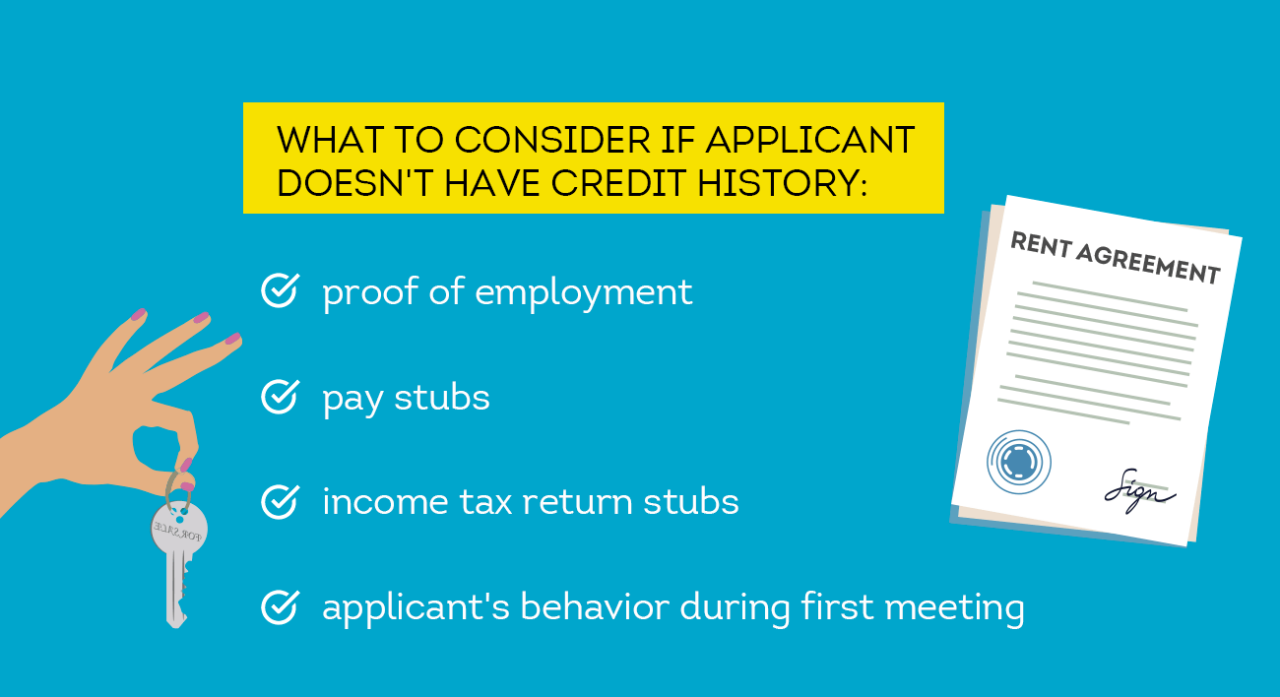 Proof of employment: Does the applicant have a steady income? Be sure to follow through and verify their employment by contacting their listed employer reference.


Income tax returns or pay stubs: Ask the applicant for proof of income with pay stubs or their income tax returns. Learn more about verifying a tenant's income and discover how SmartMove's Income Insights can help you analyze your applicant's financial behavior.


First impression: Were they respectful and courteous? Did they show up for their showing on time? While first impressions aren't enough to base your decision on, your first meeting with a tenant can be telling on how they will treat you, their neighbors, and your rental property.
If the above information isn't enough to base your decision on, then there's more that you can do. If you're considering renting to a tenant with no rental history, then consider the merits of requiring a cosigner on the lease. That could help mitigate risk.
How Do I Verify Rental History?
Now that we've covered the basics of a rental history report, let's explore seven crucial steps of the rental verification process and learn why this aspect of screening a tenant is integral to landlord success.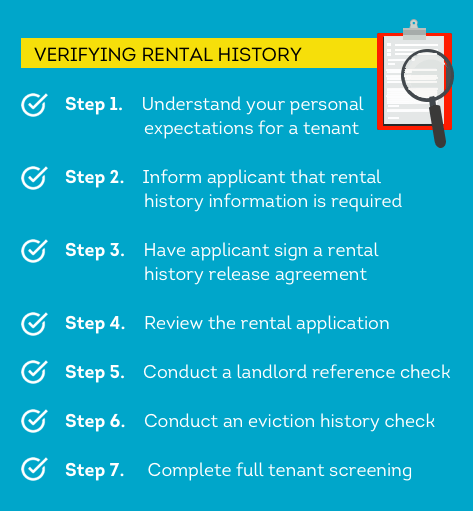 Step 1: Understand Your Personal Expectations for a Tenant
Before you list your rental property on the most popular rental listing websites and begin to receive rental applications, be sure you understand what your ideal tenant's background might look like.
Will you accept a tenant with a relevant criminal history?
Will you accept a tenant who has paid late rent in the past?
Will you accept a tenant who broke their previous lease?
Will you accept a tenant who doesn't have rental history?
Questions like the ones above can help you to create a template of who your ideal tenant would be and can also help to guide you when you're reviewing applications. Remember, your expectations should be realistic and abide by any federal or state-specific laws.
Step 2: Inform Applicant that Rental History Information is Required
To begin learning more about your prospective tenant's rental history, you will need to gather the applicant's previous rental information:
Addresses of previous rental locations
Previous landlord contact information
Let applicants know that to move forward in the application process they must provide at least three previous rental addresses as well as their previous landlord's contact information.
Step 3: Have Applicant Sign a Rental History Release Agreement
Make sure your rental application has a tenant information release form attached. With this legal document, a tenant authorizes their prospective landlord to review past rental history information. This information may include:
Length of residency with previous properties
Rental amounts paid in the past
Rental payment history
It might be worthwhile to include this requirement within the initial rental listing. That way, you can start to weed out any applicants who may not want to release their past rental history information. In the end, those who can and do provide this information upfront may be more desirable for your rental property.
Step 4: Review the Rental Application
Start the rental verification process by reviewing the prospective tenant's rental history section in the initial application. Do you notice any gaps in their rental history report? If there are significant breaks in tenancy, ask your applicant about it, as there may be an acceptable reason for these gaps in tenancy. For example, maybe the applicant decided to move back in with their parents for the sake of saving money.
You should also look for information omission:
Has the applicant left out street numbers from their previous addresses?
Did they fail to list their previous landlord's contact information?
Keep an eye out for missing information. Key omissions could indicate that your applicant doesn't want to share their tenancy history, or that they don't want you to be in contact with previous landlords.
Step 5: Conduct a Landlord Reference Check
Taking time to ensure your renter is reliable and responsible may save you the hassle of eviction and costly repairs down the road. As mentioned before, the cost of eviction can reach up to $3,500 and take up to four weeks to complete. Clearly, this small step shouldn't be ignored.
Once you've reviewed the prospective tenant's application, you should call their current and previous landlords. A landlord reference check can help you answer important questions like:
Will they keep my rental property in good condition?
Are they likely to pay rent on time?
Will they cause trouble with the neighbors?
What can I expect when communicating with this applicant?
A simple 15-minute phone conversation with an applicant's current and previous landlord can help provide insight about whether or not your prospective tenant is reliable and responsible. Once you've reached an applicant's previous landlord by phone, be sure to ask these important landlord reference check questions: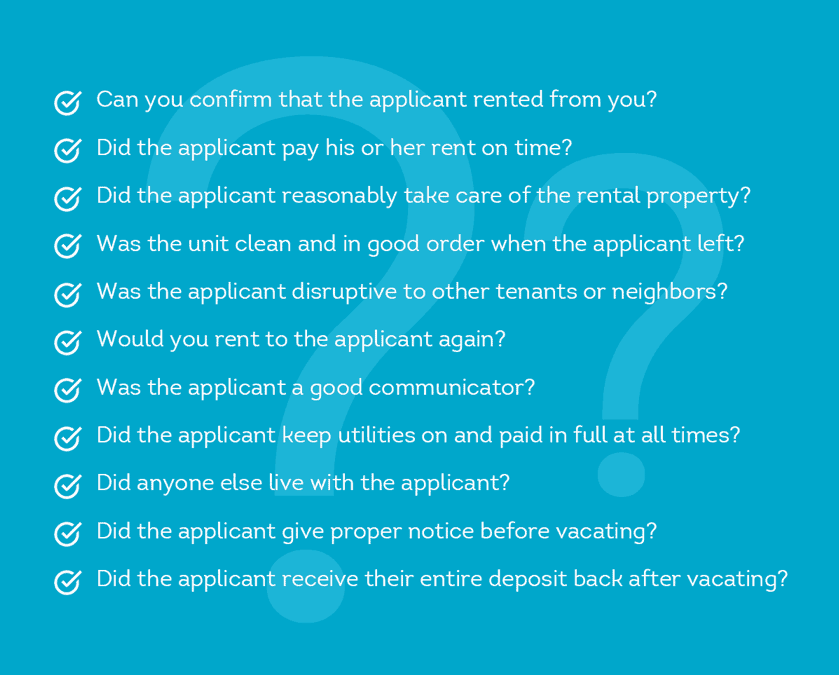 This list is wide-ranging, but by no means exhaustive. Use these questions as a starting point and add your own; come up with queries that will provide the information you need to make a great tenant decision for your property and help you spot tenant warning signs.
Once you've received applications and gathered the information you need, you can begin to verify a prospective tenant's rental history in a few additional steps.
Step 6: Conduct an Eviction History Check
While thoroughly examining rental applications and conducting landlord reference checks are essential steps when investigating a prospective tenant's rental history, it's important that you also verify the information they've reported.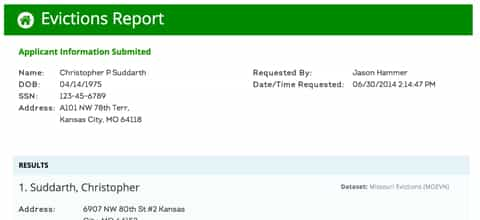 Verifying rental history with an eviction history check is arguably one of the most important steps of checking the rental history of your prospective tenant. Almost 56% of landlords say that prior eviction history is one their top concerns about new tenants, and running an eviction check can provide the peace of mind you need to move forward with your next lease or rental agreement.
SmartMove's eviction records check leverages millions of records that include:
Tenant judgment for possession and money
Unlawful detainers
Tenant judgments for small claims
Armed with this information, you'll have a better sense of whether or not your applicant is likely to present an eviction risk if they live in your property.
The costs of eviction are too high when you consider that you can take steps to avoid them in the first place. It not only pays to get an eviction history report on your prospective tenant, but also their credit, background and criminal, Income Insights reports.
Step 7: Complete Full Tenant Screening
In the end, picking a great tenant all comes down to deciding if the applicant is the right fit for your rental property. With the right information, this part of the process can be fairly easy.
Ideally, a landlord wants a high-quality tenant who:
Pays rent on time
Has no prior eviction history
Has no prior criminal history
Will treat the property as if it's their own
With SmartMove online tenant screening, you can obtain your prospective tenant's national eviction history, credit and criminal background reports, Income Insights, and a proprietary rental credit score, ResidentScore, in a matter of minutes.
Income Insights is a tool that helps landlords quickly and easily determine if more thorough income checks are recommended based off of self-reported renter income.
Income Insights enables you to:
Save time and effort verifying renter income
Lower your risk of renter payment problems
Approve your rental applicant today
What if we told you that 59% of respondents to a 2016 SmartMove user survey strongly and somewhat agreed that they place greater emphasis on a prospective tenant having a steady income rather than a previous credit history?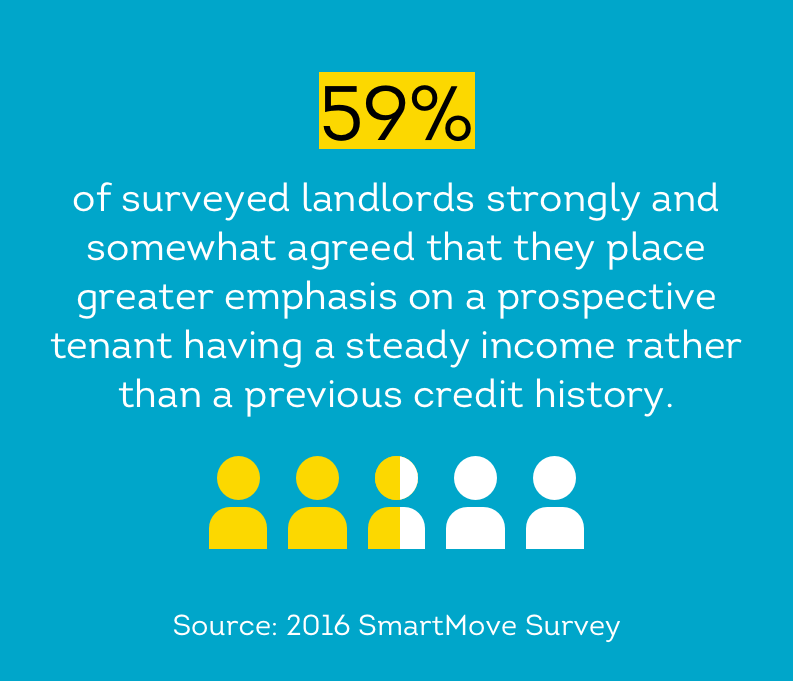 An Income Insights report is a quick way to determine if you need to invest time and energy to verify sources of income for your applicant. By evaluating applicant credit behavior, Income Insights can estimate if the reported income seems reasonable. If no, then additional income checks are recommended.
When you think of the thousands of dollars you could avoid having to spend on an eviction, a tenant screening service like SmartMove is a prudent investment.
Final Notes
Verifying rental history can help you make the right decision for your rental property. Your renter's past conduct in a rental property may be a good predictor of their future behavior if you decide to rent to them. Do your research, verify their rental history, and pick the right tenant for your property.
Using TransUnion SmartMove, you can increase your chances of identifying a responsible tenant, and gain a more complete picture of an applicant's background. Within minutes, you'll receive a rental credit report, eviction report, a criminal report, Income Insights report, and a ResidentScore to help you make a well-informed decision.
With convenient online screening, you can vet potential tenants within minutes. Use SmartMove and rent your property to the right tenant, faster.
Additional Disclosure:
Remember that this material is intended to provide you with helpful information and is not to be relied upon to make decisions, nor is this material intended to be or construed as legal advice. You are encouraged to consult your legal counsel for advice on your specific business operations and responsibilities under applicable law. Trademarks used in this material are the property of their respective owners and no affiliation or endorsement is implied.