Disclosure:
This content, except as otherwise indicated or stated on this site, is the property of TransUnion Rental Screening Solutions, Inc. This content is for educational purposes and for convenience only. Trademarks used are the property of their respective owners, and no endorsement or affiliation is implied. The information presented in this content is "as is" without warranties of any kind, and specifically is not represented to be complete and does not constitute legal advice, and is subject to change without notice. You are encouraged to check these terms from time to time for changes, and by accessing this site you agree to these terms and all terms listed. Laws and regulations may vary by state and locality. Consult your own counsel if you have legal questions related to your rental property practices and processes.
In times of high inflation, it's essential to stick to the basics when setting a fair market rental rate. To determine the rent, research prices for comparable properties in the neighborhood to get a baseline. Then consider other factors like location, amenities are offered, unit condition, and leasing season to adjust from the baseline rent. When inflation is high, rental markets can vary wildly. It's especially important to track micro-trends in your specific location–not just nationally. This helps you determine what is fair, but not so high that it will turn renters away.
Inflation can feel like an invading army. It attacks on all sides, inspiring mass chaos while whipping people into a panic. If you're not careful, your rental property business could perish in the fray. According to Pew Research, U.S. inflation is the highest it's been in 40 years. With the housing market front and center in these discussions, renters and landlords–especially independent landlords–are feeling the crunch.
Thorough renter background screening with SmartMove® can help you find better quality tenants to fill your open unit. However, before reviewing applications, you first need to find the ideal rental rate to see you through these high-inflation times.
It's easy to feel flustered or unsure of how to keep up with unpredictable economic fluctuations. As the cost of almost everything rises, it can be hard to determine fair market rent for your unit.
Do you need to consider repricing your rent for existing tenants
Do you need to rethink the amount of rent you'll charge for incoming tenants
Do you need to do more research on the rapidly changing market rates
You'll want to put the rent at a level that covers your expenses while still guaranteeing a worthwhile profit. But, if you set it too low, your rental will under achieve in terms of ROI. Too high and you risk pricing yourself out and expensive vacancies.
However, there are things you can do to make more informed pricing decisions. The following tips can help you set a well-positioned rental rate in a high inflation environment.
Top 3 Tips for Setting Rent During High Inflation
In times of economic volatility and inflation, it's easy to get caught up in the frenzy of rising costs and anxiety over narrowing margins. However, it's important to remember that pricing a rental requires a disciplined process, regardless of any current inflation trends.
At the end of the day, you still want to set a fair market rent, a rental rate that reflects current market trends, while still being appealing to the renter and leaving sufficient income for yourself.
Sticking to the following fundamentals could help you stay grounded–no matter what the economic situation is.
1. Get the Correct Comparables
Inflation may change prices, but it shouldn't change your approach to setting the rental rate. Regardless of market changes, there are some basic principles you should always include when determining how much to charge for rent.
To arrive at a good rental price, you need to figure out the "comps" in your specific neighborhood or adjacent localities. Basically, what are other properties that are similar to yours being price at for rent
Checking rental listing sites for comps will give you a better idea of where other landlords set the monthly rent for similar properties. No property will ever be a perfect pure-play comparable, so you'll need to adjust your rental price off of the baseline rents and consider how your rental is better or less favorable to the comps available.
Some of these considerations include:
Location: Is your rental unit in a prime downtown location On a nice suburban street Next door to an oil refinery The desirability of the location, walking-distance to services, and neighborhood all play a part on where you set the rental rate.
Pool Parking Private sushi chef All the perks and extras that your renters get from living in your property are usually reflected in the rental price.
It's no secret that rent is usually higher for leases that start in the warmer months. Take the season into account when calculating your fair market rent.
Is your rental unit brand-spanking new or could it use more than a little love Properties that are better maintained typically rent for higher than units that are falling apart. Be honest about the condition of your place and make sure the asking rate reflects the condition.
2. Monitor Trends in Your Local Market
When setting the rental rate, it's essential to consider the economical situation in your own neighborhood, not just national averages. Although prices in many markets are rising, some are growing at an accelerated rate.For example, according to USA Today Money, the highest rent increases have been seen in Florida, with rents rising an whopping 50% around Miami over the last year. And that's not all. According to the National Association of Realtors, rents are rising at a double-digit pace in 127 out of 390 metro areas.
You must take these local trends into consideration when setting your rental rate. This is especially important when inflation is high or if you manage multiple units that open up on an ongoing basis.
Here are some resources you can use to track costs over time:
3. Don't Price Yourself Out
Exploding markets and opportunities to raise the rent might make you eager to bump up your rates, too. However, the situation isn't the same everywhere. Plus, runaway markets don't always last forever.
While rental costs grew in several markets in early 2022, many experts say the housing market is stabilizing overall. According to Apartment List, the average cost of rent in the U.S. grew over 17% during 2021, but only 6% through 2022 so far. This could be a sign the market is calming down again.
To make money, you need to find quality tenants and prevent vacancies. If you crank up the rent too far above market average at renewal time, it's possible that your current tenants will leave. If the rate is too high, you are less likely to find any new tenants who are willing to pay your over-market prices. Then, you'll be dealing with an empty rental unit that is not producing any income. The takeaway is that when you are setting fair market rent, it's important pay attention to micro trends to find a good balance of income and a rental rate that tenants are willing to pay.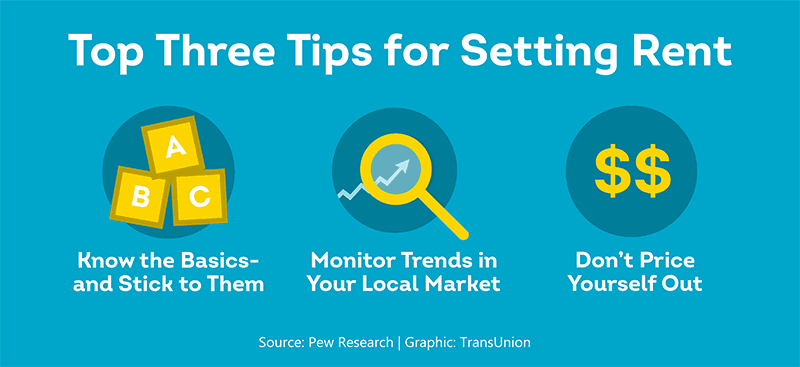 Other Considerations in High Inflation Market
Periods of high inflation don't just impact how you set your rental rate. Increasing prices and financial strain can bring other unexpected changes to your property business. In addition to knowing how to set the rent, here are some other considerations for landlords when inflation is high.
Track Rising Expenses
Inflation raises costs on all kinds of goods and services. From construction materials and tools, to professional service fees, insurance premiums, and utilities, rising costs put pressure on your bottom line.
In times of high inflation, it's good to take a good, hard look at your books. Make a list of all of your rental expenses and track how the prices for line items like the following have changed:
Utilities
Maintenance
Contractors
Materials, such as flooring and appliances
Landscaping
Professional services like accountants and lawyers
Subscription-based software for administration
Insurance premiums
You can use resources like the Department of Labor Consumer Price Index to track general trends from month to month.
Stick to Your Lease Agreement
If you decide to raise the rent on current tenants, stick to the terms of your lease. As the lease agreement is set for a specific period of time, you usually have to wait until the end of the lease period before making changes to rental rates. This is typically the case even if you're losing money through inflation.
If you try to raise the rent in a way that violates your lease agreement, your tenants may be able to take legal action against you. When going over terms to include in your rental agreement, consider adding in clauses about expected rental rate increases and how they will be communicated, so that tenants know what to expect ahead of time. Consider consulting with your legal counsel first for guidance on the proper modification of terms throughout your rental agreement.
Negotiating Price Increases with Current Tenants
When it comes time to negotiate a lease renewal, you may be hesitant to raise the rent and face the risk losing good tenants. But there are effective ways to negotiate the lease at renewal time. If you know that you will raise the rent, give your current tenants plenty of advanced notice. Explain your reasoning. No one likes their living expenses jumping up suddenly. However, having an open, respectful conversation can make the news easier to swallow.
If they're great tenants, consider leaving room for negotiating a new rental rate. Finding new tenants can be expensive and risky. If your current tenants offer to pay less than you want, it still might be better than finding someone new. Afterall, having wonderful tenants who respect your property, follow the rules, and pay on time every month could be worth settling on a little less than expected.
Obey Local Laws
Check for any local laws that may limit the percentage by which you can raise the rent in a particular time frame. Same states––and even cities––put a cap on rent increases.
For example, the state of Oregon limited rent increases to a maximum 9.9% in 2022. Figure out if your area has any similar laws and follow them. The last thing you want is getting yourself into legal hot water because you were unaware of the law. As always, contact your legal counsel if you have any questions.
Find High Quality Renters that Can Pay Every Month
To make money in any market, you need a renter that can pay rent on time every month. The industry rule of thumb is to confirm that your renters have a rent-to-income ratio of at least 3x the required monthly rent.
Example: if rent is $500, then you should confirm your rental applicant makes at least $1500 every month.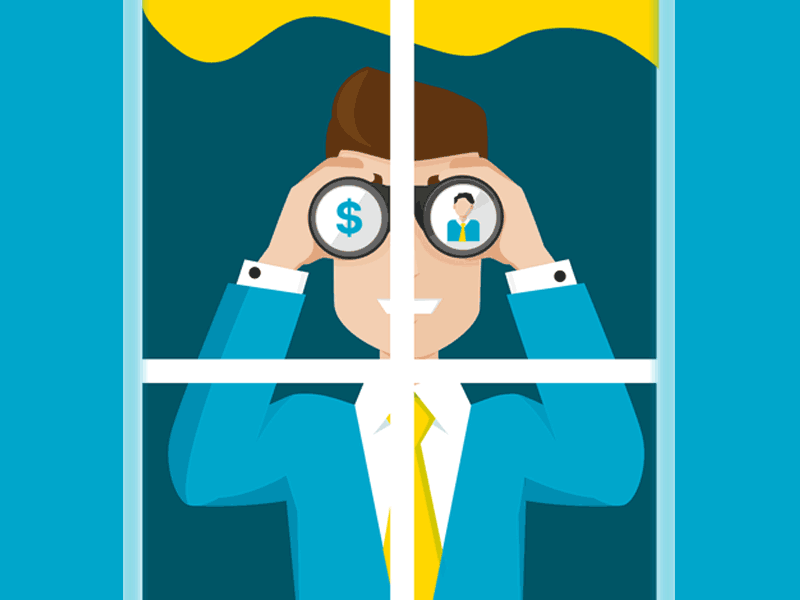 How to Find Better Renters
In a high-inflation market where renters feel the pinch, it's extra-important to run comprehensive screening that includes sufficient financial review and checks for credit-worthiness. First, know how to verify rental applicant income. Review employment information and financial documentation through things like pay stubs and tax returns.
Additionally, you can reduce the need for manual financial screening with Income Insights, a proprietary tool that analyzes the applicant's self-reported income by using data from the credit report, including an analysis of how much they pay toward balances, the amount of money they spend, and the types of balances they carry among other factors. Income Insights compares this credit behavior to the applicant's self-reported income to determine whether additional income verification is recommended.
Once you confirm income, you also need to make sure they're as sparkling as they appear on paper. Here are some things to look for:
Criminal background: Does your renter have a relevant criminal past that could endanger your other renters, neighbors, or property Get a criminal background report to help discover the truth.
Eviction history: One predictor of potential future renter issues evidence of a past eviction. What secrets does your rental applicant's past hold TransUnion research showed that evicted residents have nearly three times as many prior eviction and rental-related collection records than non-evicted residents.
Credit history: Dive into financial habits with a renter credit report. Knowing how someone handles debt can help you make a better leasing decision. Even more precise, ResidentScore, a proprietary renter credit score you'll get from SmartMove, has identified the most crucial consumer credit data that are most indicative of evictions, so you can better screen prospective tenants and reduce your risk of eviction from the start.
Help Improve Outcomes in Any Market with SmartMove
While setting a rental rate in the turmoil of high inflation, it's critical to check out comps, reflect on your unit's pros and cons, and research micro-trends in your area. However, getting the rent right is only half the battle. Help discover if your rental applicant is a champion or a cautionary tale with thorough tenant screening through SmartMove.
Investigate if your potential tenant is likely to pay the rent on time every month, even when times are tough. Tenant credit reports detail a renter's history with financial obligations, while Income Insights help confirm they actually earn the salary claimed on the application.
Finding the perfect rental rate is useful if a destructive tenant causes thousands in property damage. Criminal reports check your rental applicant's information against millions of criminal records to see if there's a match. Knowing a tenant's past could help prevent danger conditions for other residents, neighbors, or the property.
Made specifically for independent landlords with only occasional screening needs, SmartMove provides lightning-fast, affordable online tenant screening with no application fees or hidden costs. Pay only for what you need, only when you need it. All FCRA-compliant reports are backed by TransUnion, a major credit agency, so you can feel more confident.
Just like in battle, having better intelligence leads to better strategic decisions. Don't let ill-fitting tenants turn your livelihood into a casualty. Get the information you need with ultra-fast, online screening through SmartMove.
SmartMove,
Great Reports. Great Convenience. Great Tenants.
Additional Disclosure:
Remember that this material is intended to provide you with helpful information and is not to be relied upon to make decisions, nor is this material intended to be or construed as legal advice. You are encouraged to consult your legal counsel for advice on your specific business operations and responsibilities under applicable law. Trademarks used in this material are the property of their respective owners and no affiliation or endorsement is implied.