Summary:
As a landlord, its helpful to know how to tell if a tenant plans to not pay rent. Five red flags for nonpayment include past evictions, insufficient income, relevant criminal history, bad references, and avoiding filling out a rental application. Being on the lookout for these renter nonpayment warning signs can help you protect your investment.
Disclosure:
Remember that this material is intended to provide you with helpful information and is not to be relied upon to make decisions, nor is this material intended to be or construed as legal advice. You are encouraged to consult your legal counsel for advice on your specific business operations and responsibilities under applicable law. Trademarks used in this material are the property of their respective owners and no affiliation or endorsement is implied.
You're not a fortune teller. But as an independent landlord looking to find great tenants, you must act as your own crystal ball when screening new renters. Every prospective rental applicant you talk to has a different story and situation. It's up to you to ask the right questions, get the right paperwork, and check a person's background history to fill in any murky bits.
Losing thousands—or even tens of thousands—to rent non-payment and eviction proceedings can utterly destroy your rental business. To protect your livelihood, it's essential to know what non-payment warning signs to look for in rental applicants and thoroughly screen all potential tenants through a reputable service like SmartMove.
No matter who you end up renting to, look out for these five renter red flags. Without due diligence and comprehensive background checks, you could see yourself in a future with desperately empty pockets.
1. Past Evictions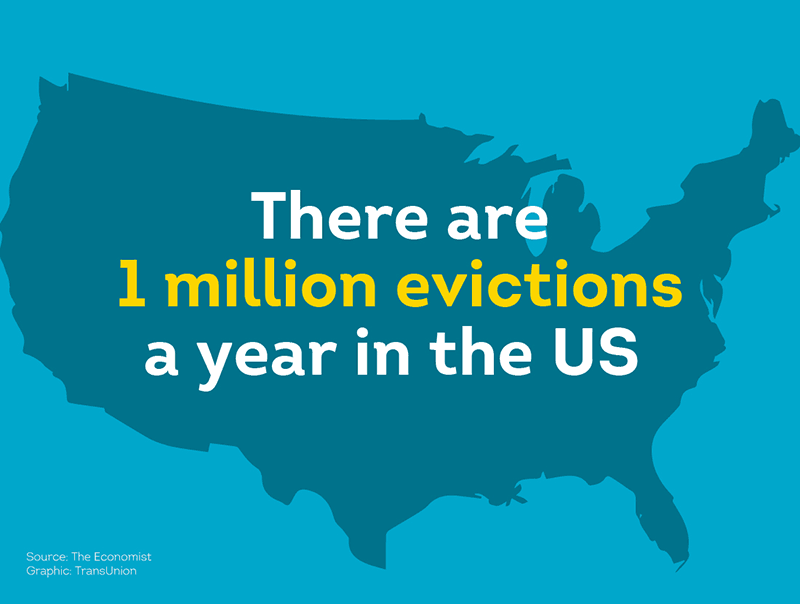 According to The Economist, the U.S. sees at least . Although personal circumstances and backgrounds may vary, the best predictor of a future eviction is a past eviction.
In fact, renters who have a previous eviction history have 3x as many rental-related collection records as people who have never been evicted. With those statistics, it's no wonder that a recent SmartMove study ranks rent nonpayment as the biggest fear of independent landlords.
If you're not checking a rental applicant's eviction history, you're putting yourself at unnecessary risk. To help protect yourself from the beginning, start with good rental applicant screening.
Along with every deep-dive past eviction check, SmartMove includes a proprietary ResidentScore, which is designed specifically for renters and is more relevant than a traditional credit score when it comes to leasing decisions. TransUnion data shows that using SmartMove to screen your rental applicant gives you a 15% better chance at predicting if you'll have to evict them sometime in the future.
2. Not Enough Income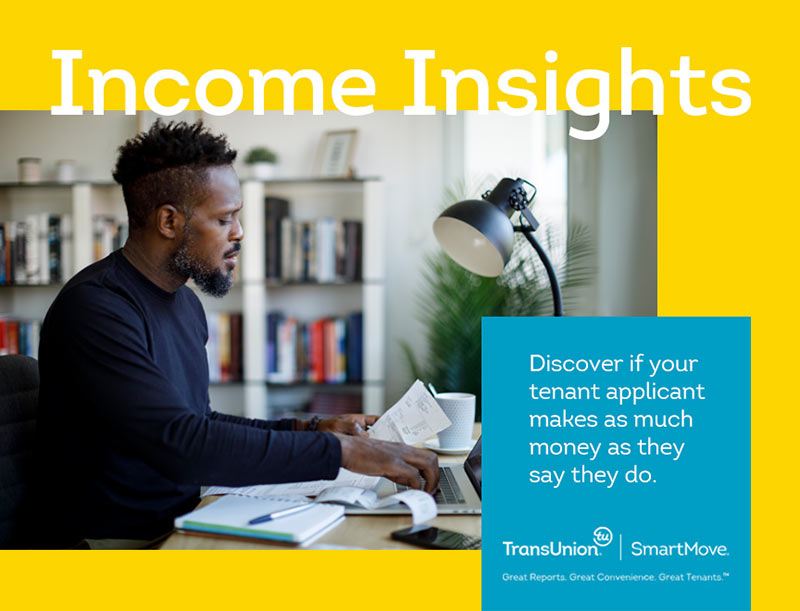 If your tenant has insufficient income, chances are they'll struggle to pay rent. But, how much should you charge in the first place? Finding the rental sweet spot involves two major responsibilities:
Set an Ideal Rental Rate
Setting a bad rental rate can wreak havoc on your property investment. Too high and you risk prolonging tenant vacancies. Too low, and your profits drop off into the abyss. At the moment, rents are skyrocketing in much of the country, but that doesn't always mean raising them is the best solution for you.
As a landlord, it's essential to know how much to charge for rent by looking at comps in the local property market, reviewing your unit's amenities, and looking into average income in your area.
Verify Your Rental Applicant Has Sufficient Income
Rental business success hinges on finding the balance of the right tenants at the right price. Once you set your rental rate, you need to confirm your potential tenant can pay—both now and in the future. Make sure your rental applicant earns 2.5x to 3x or more income than the rental rate you're asking.
Example: If you charge $1,000 in rent, your tenant should earn at least $2,500 - $3,000.
There are many ways to verify a potential tenant's income, including paystubs, tax returns, and employer letters. However, be cautious with any materials provided by the applicant directly, as documents can be forged.
Pro Tip:
Help avoid fraud and back up tenant-supplied records with hard data through a screening service like SmartMove.
For example, an Income Insights report evaluates your rental applicant's financial strength and lets you know if you should ask your prospective tenants for additional income proof.
3. A Criminal Record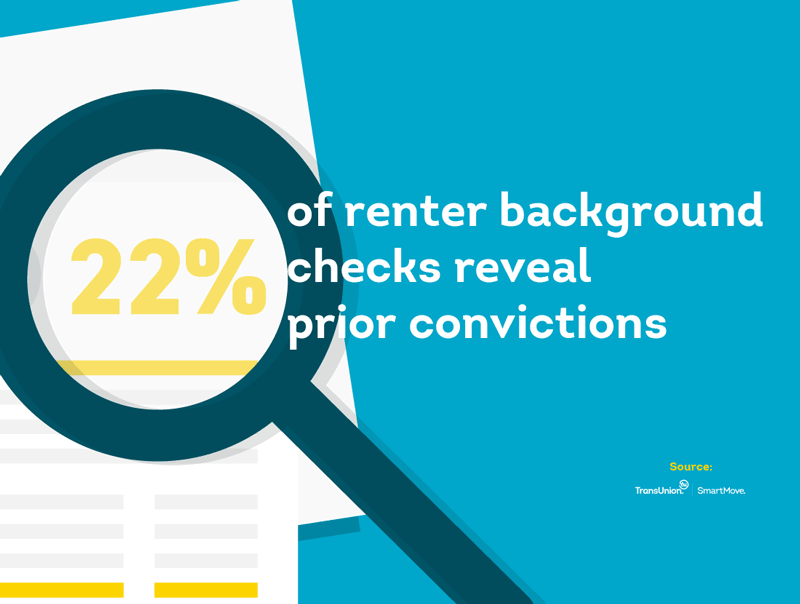 Failing to check a rental applicant's relevant criminal past before signing a lease not only puts you at legal risk, but it could wind up harming your property, other tenants, and the community as a whole.
According to TransUnion data, 1 in 5 renters screened had a criminal record hit on their online background check. With such a high prevalence of positive results, it's imperative to screen every renter to get a fuller picture of their past.
Evidence of a criminal past may seem foreboding when you're screening potential tenants. However, not every arrest or conviction is relevant to the person's ability to be a great, responsible tenant. If you have doubts, its best to talk with your rental applicant to get a better idea of how their past may actually affect the future success of your rental property.
How to Search a Rental Applicant's Criminal Record
It's tempting to search your applicant's name in Google, social media pages, or a public records finder, but that could be setting yourself up for a lawsuit, depending on your state. For instance, in California, it's illegal to use someone's driver's license or date of birth to search criminal records.
Additionally, tenant screening reports like criminal background or tenant credit checks can include data protected by the federal Fair Credit Reporting Act (FCRA). This means that only certain individuals are legally allowed to access protected data—and only under specific circumstances.
Rather than risk expensive, stressful legal trouble by attempting self-performed tenant screening, use a well-established, FCRA-compliant rental background check provider like SmartMove.
4. Bad References
How your rental applicant acted in the past can be an eye-opening insight into how they might act in the future. By failing to check the rental applicant's references, you may fail to protect your property and income.
Learn how to conduct landlord reference checks and ask about the following:
Percentage of security deposit not returned
Any late payments
Early termination of lease
Honest feedback from your tenant's previous landlords can reveal additional red flags that may not show up on online background checks, credit reports, or other tenant screening. While there are specific questions you may not be legally allowed to ask about prospective renters, making smart inquiries allows landlords to discuss payment activity, security deposit amounts, leasing terms, and whether the lease was broken.
If you really like your hopeful renter, but their rental reference is less than glowing, get their side of the story. For example, if a previous landlord failed to keep the unit at "habitable" levels, the tenant could've been legally allowed to break the lease early.
5. Doesn't Want to Fill Out a Rental Application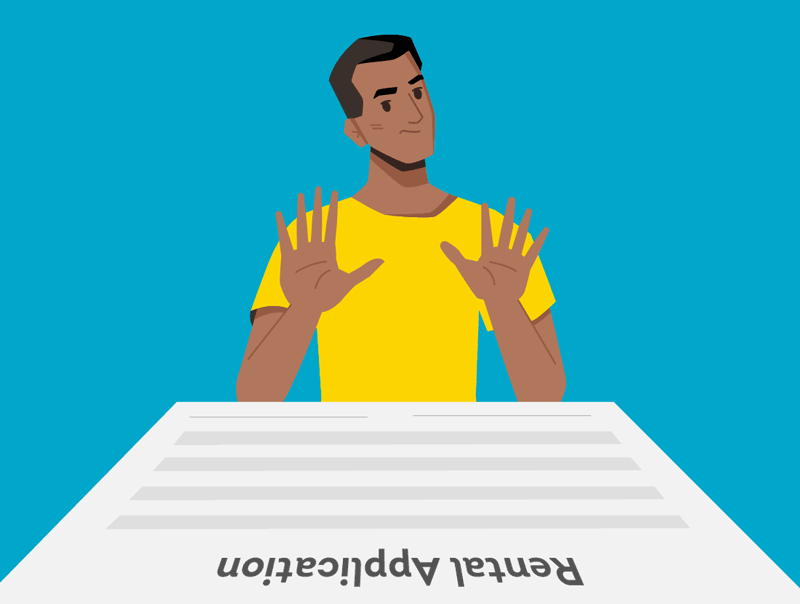 This final red flag is one of the most crucial documents to collect from any potential tenant. Rental applications contain important personal information that's essential for landlord-tenant relationships and can also help verify your applicant is who they say they are.
Know what questions to ask on your rental application to help identify great renters. At minimum, your application should include the following:
Personal information and contact details for all prospective tenants in the unit
Employment, income, and credit information
Rental history, including dates, manager contact information, and any evictions
Relevant criminal history
Details about any pets and smoking status
If your potential tenant provides an incomplete application or provides excuses to avoid the process entirely, it could indicate potentially sinister intentions. Most qualified tenants understand that part of renting involves an application and are happy to hand over personal information to move forward in the selection process.
Someone who tries to go around attempts to verify employment, credit, and references might be hiding something that could knock them out of the running. Getting a complete rental application, along with SmartMove online background checks, can help you choose the best tenants possible for your particular rental unit.
SmartMove Online Background Checks Give You Confidence that Your Tenant Applicant is the Right Renter for Your Property
You're not a mind reader. You can't know what's really going through a rental applicant's head when they're eyeing your property. Knowing what renter flags to watch for can certainly help prevent nonpayment. However, it's essential to further cut through leasing uncertainty with high-quality hard data from tenant background checks with SmartMove.
With just your rental applicant's email address, SmartMove delivers thorough, consent-driven credit, criminal and ID-verified reports instantly. All FCRA-compliant background checks are designed specifically for independent landlords with data backed by TransUnion, a major credit agency.
Convenient, affordable reports can help you decide which red flags are a real warning, and which ones aren't worth the worry. Income Insights and a ResidentScore can help predict a tenant's ability to pay rent. Eviction reports and criminal history provide greater insight into your rental applicant's background, so you that you can feel more confident in your leasing decisions.
You might not be able to see the future, but you can help steer it in the right direction with fast, high-quality tenant screening from SmartMove.
SmartMove,
Great Reports. Great Convenience. Great Tenants
Additional Disclosure:
Remember that this material is intended to provide you with helpful information and is not to be relied upon to make decisions, nor is this material intended to be or construed as legal advice. You are encouraged to consult your legal counsel for advice on your specific business operations and responsibilities under applicable law. Trademarks used in this material are the property of their respective owners and no affiliation or endorsement is implied.