Disclosure:
Remember that this material is intended to provide you with helpful information and is not to be relied upon to make decisions, nor is this material intended to be or construed as legal advice. You are encouraged to consult your legal counsel for advice on your specific business operations and responsibilities under applicable law. Trademarks used in this material are the property of their respective owners and no affiliation or endorsement is implied.
SmartMove® offers a convenient way for independent landlords to run effective renter screening … and do so in minutes. Background, credit, and eviction reports help to tell the full story about your prospective renter. SmartMove helps landlords get important insights fast, but it also ensures that applicants explicitly consent to screening and are in control of with whom they share their sensitive data. With unique tools, data from TransUnion, near-instant reports and applicant-friendly process, SmartMove enables landlords and renters to achieve trust in the moment.
Just going with your gut has never been an especially reliable way to evaluate prospective tenants. And now, with most rental applicants applying for units online, you have even less chance at successfully screening someone based on how they make you feel. This lack of in-person communication makes vetting applicants difficult if the proper tools aren't used. The most dependable tenant-selection decisions are rooted in thorough background information from trusted sources.
SmartMove online tenant screening service delivers critical reports that help you understand your applicant's story in minutes. From credit checks to criminal records to eviction history, SmartMove reveals more with:
Robust tenant screening that uses data and analytics from TransUnion
Built-in Identity Verification to ensure your applicant is who they say they are
Credit history information for evaluating your applicant's financial standing
Income Insights which measures a person's ability to afford rent
ResidentScore that has been found to predict eviction risk 15% better than generic credit scores
With easy-to-use tools that deliver near-instant results, it's easy to see how online tenant background checks from Smart Move are indispensable for millions of independent landlords.
Easy Process from Start to Finish
Today's landlords run SmartMove tenant background checks in order to confidently choose great tenants. Convenient SmartMove screening tools make it simple to sign up for free and screen applicants on the spot.
Three-Step Screening
1. REQUEST a tenant background check. Just create a free account on mysmartmove.com, and get access to screening tools right away. All you need is your applicant's email address, and they are contacted on your behalf.
2. RECEIVE applicant approval. Once your potential renter approves your request to see their background reports, SmartMove verifies their identity, collects consent, and shares crucial information for making stronger leasing decisions.
3. REVIEW screening reports. Within minutes of your applicant's approval, credit, criminal and eviction records are sent to your inbox. Leveraging TransUnion data, SmartMove gives you a fuller picture of your applicant and more confidence in who you should select.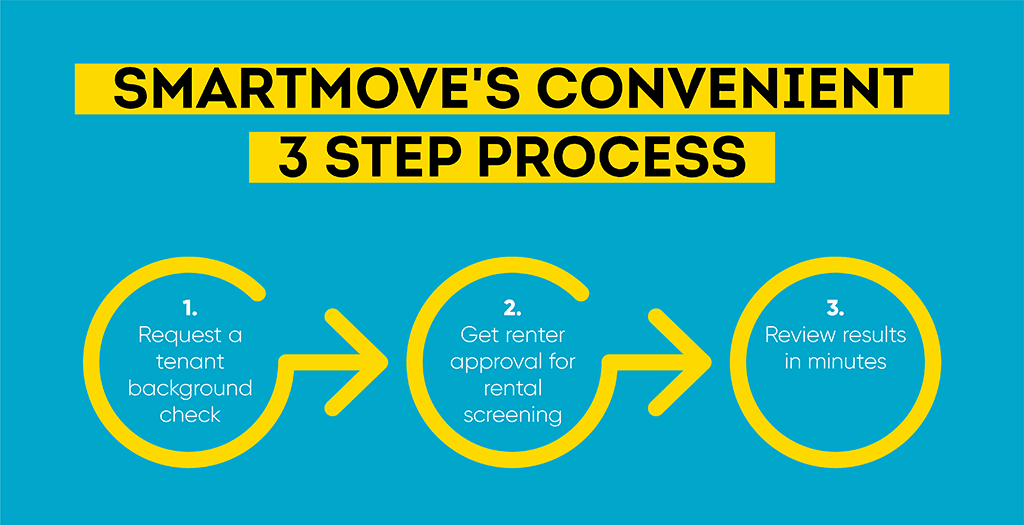 With critical insights delivered almost instantly, landlords use SmartMove to determine if their applicant is a good fit. The speed of the process is what truly helps build trust in the moment.
As a landlord, you can use credit, background and other reports to get a more well-rounded view of your prospective renter. Instead of using "gut reactions," you can use FCRA-compliant data to make a more confident leasing decision. Plus, with identity verification built into SmartMove, you can feel assured your applicant is who they say they are.
Screen Without Denting Your Renter's Credit
Looking for a rental property is stressful for applicants. When you throw in the possibility of stinging their credit score by running a credit check, the process can feel even more taxing.
SmartMove gives applicants a way to share information without negatively impacting their credit score. They are in control of when and with whom they share personal information. This helps share information fast, establishing trust in the moment.
Rather than a traditional credit "pull," which can negatively impact a credit score, SmartMove uses a credit push process. This allows your applicant to "push" their personal information directly to you as the screener. This type of credit check is considered a "soft hit" and doesn't impact a credit score y.
SmartMove is a win for both renters and landlords. Property owners gain insight into a renter's credit history and score while renters can have peace of mind knowing they won't experience a negative impact on their credit. SmartMove's consumer-consent push process makes it convenient to share information quickly that helps landlords and applicants to achieve trust in the moment.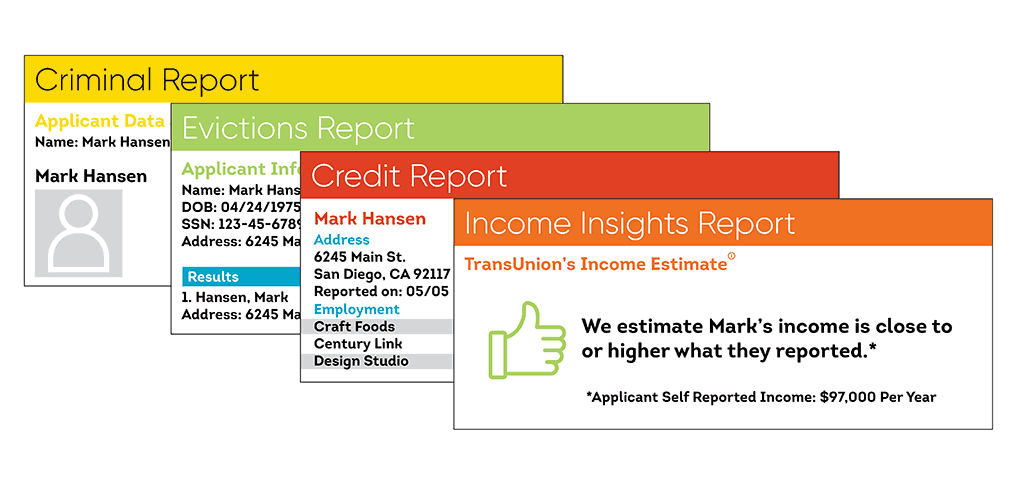 Critical Insights from Great Screening Reports
With a tenant background check from SmartMove, the reports you get back contain valued insights into an applicant's past. When screening a potential renter, choose the SmartCheck Premium package. This gives you a fuller picture of your prospective tenant, and includes a national criminal report, full credit report from TransUnion, credit-based ResidentScore®, national eviction report and Income Insights. This way you can rely on SmartMove, not on your gut, to help make an important leasing decision and one that is based on a well-rounded view of your applicant. Here's a deeper look into each report:
Criminal Background Check
Before you sign a stranger to a new lease, learn what you don't know. It's important to trust your next tenant which is why SmartMove tracks millions of criminal records to help you understand your applicant's relevant history. Four decades of TransUnion data help you steer clear of renters that don't meet your criteria.
A tenant criminal background check can protect both your property and your neighborhood. SmartMove criminal background reports pull information from FBI Most Wanted records, and Sex Offender Public Registries to uncover prior convictions that might put your rental at risk.
According to a 2016 SmartMove survey, a large portion landlords strongly or somewhat disagreed that they'd overlook criminal background issues if the renter provided an explanation. Once you gain access to a tenant's criminal report, you can decide whether the timing, severity, and nature of their crime affect your review as to that tenant, thereby allowing you to decide to make case-by-case decisions.
Of note: All of SmartMove's criminal background checks generate screening reports that are compliant with the Fair Credit Reporting Act and related state laws.
Income Insights
For many landlords, having to deal with renter payment problems is one of their biggest stressors. According to a SmartMove survey, 84% of landlords cited renter payment problems as their top concern as a property owner. Chronically late payments and especially non-payment of rent can cause significant financial peril. It could put your rental business in jeopardy.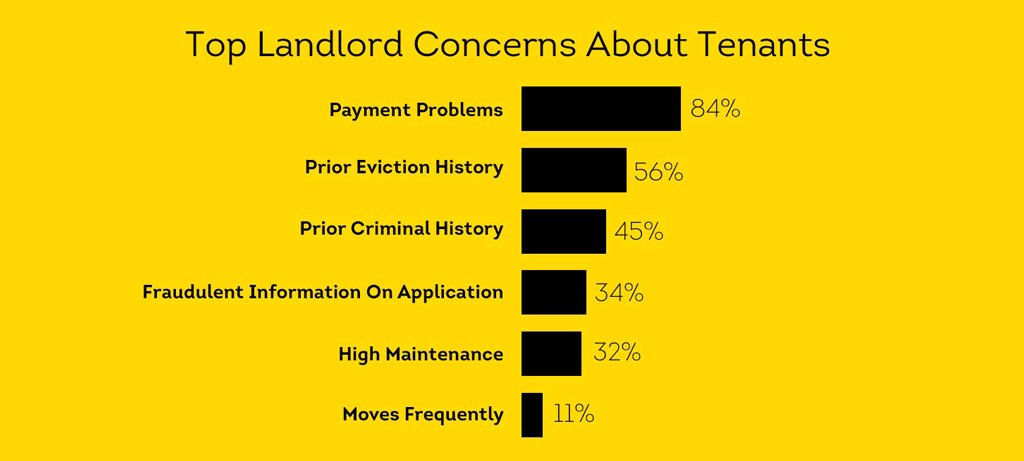 A full-credit report helps you analyze your applicant's payment history, level of debt and other pertinent information—all important when factoring into your leasing decision. In conjunction with reading their credit report, you also want to make sure your applicant makes enough income to afford rent.
Income Insights to the rescue. Only at SmartMove, Income Insights can lower risk of payment problems and save you time and effort from manually verifying tenant income. Income Insights takes the applicant's reported income and compares that number to their financial activity. It estimates job and non-job related sources of income to help you determine an applicant's financial behaviors and reduce risk of renter payment problems. Based on learnings from tracking hundreds of millions of consumer credit records, Income Insights from SmartMove quickly makes it clear if you'll need to consider asking for more proof of income.
By being more confident that an applicant makes what they say they make, landlords can better determine if renters can afford the rent—that's trust made possible in the moment.
Eviction Report
Evictions can be costly and time-consuming. In fact, a SmartMove survey found it costs about $3,500 and 3-4 weeks to evict a tenant. An Eviction Report from SmartMove provides access to one of the largest eviction databases, with millions of records. This information helps you determine whether a rental applicant makes a good match for your property.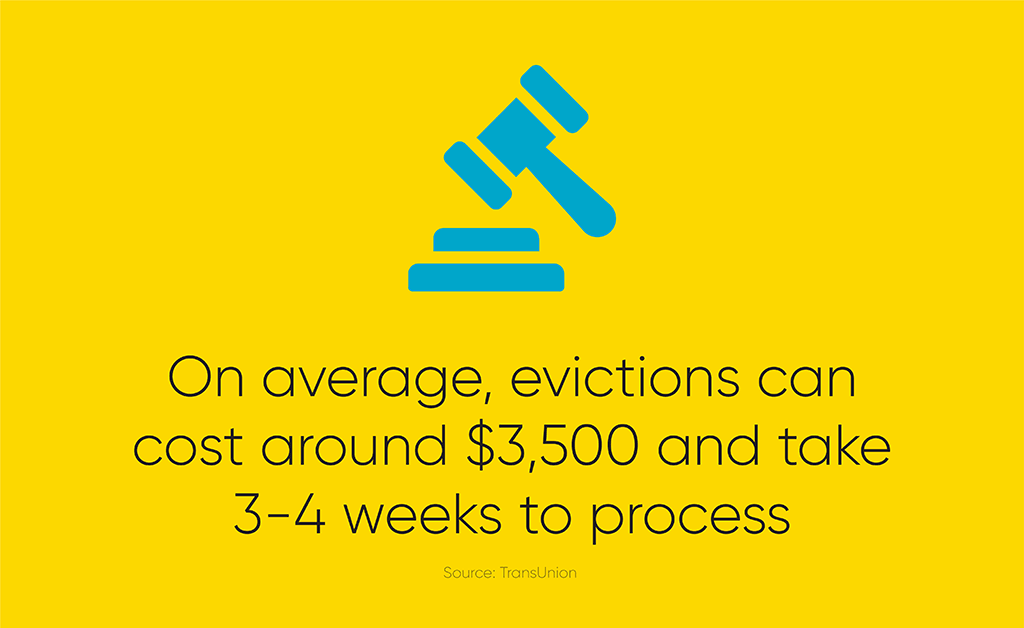 Eviction history could be a concern for landlords. TransUnion's analysis examined the records of individuals from nearly 200 properties, comparing those who were evicted to those who were not evicted:
In the "not evicted" group, 5.5% of residents had prior evictions on their record
For residents who were ultimately evicted, 21.7% had a prior eviction
Evicted residents were twice as likely to have rental related collection records
Choosing the wrong tenant could cost you thousands in lost rent, repairs and eviction-related expenses. It's easy to understand why tenant screening can be one of the most important steps you can take to get a reliable renter.
Credit Report and ResidentScore
One of the most important reports in a tenant background check is the credit report. Credit reports help you get a greater financial picture of your applicant and better understand their spending habits.
However, not every credit report provides the information you need to make a confident decision. That's why SmartMove created ResidentScore, a proprietary measure of someone's "rentability." Designed specifically for the rental industry, and built on the outcomes of 500,000 real rental outcomes, ResidentScore helps you feel more confident about your applicant.
In comparison to a traditional credit score, ResidentScore gives a more accurate evaluation of risk for future rental property income, and has been found to:
Predict eviction 15% better than a typical credit score
Identify 19% more skips than standard credit scores
Work with limited credit history or thin files to score applicant
With a full credit report from TransUnion combined with the benefits of ResidentScore, SmartMove helps deliver key insights directly to you, in minutes. Trust between landlord and applicant can be built quickly and a more informed leasing decision can made in the moment. Landlords can fill their unit fast and applicants can potentially get the keys to move that day.
Results in Minutes to Fill Vacancies Now
Vacancies are always a top concern for landlords. After all, no renters means no revenue. One way to reduce vacancies is done by conducting a background check. SmartMove background checks can provide results within minutes, which means you can make informed decisions to fill vacancies fast. With the ability to screen potential tenants almost instantly, you can easily access important decision-making information, such as criminal, credit, and ID-verified records.
Instill Trust by Putting Applicants in Control of Their Information
SmartMove rental background checks are designed to be of benefit for both landlord and applicant. Landlords get important information to make a leasing decision at near instant speed. And applicants can share their histories while protecting personal identifying information.
SmartMove process enables applicants to be stewards of their data. With a consumer-consent push process, applicants receive an invitation to screen from the landlord. If they approve the request, their identity if verified, and crucial reports are sent to you almost instantly. Renters can safely share data with who they want, when they want through SmartMove.
SmartMove doesn't share an applicant's social security or bank account numbers with the potential landlord. Knowing what data is being sent to who for what purpose allows people to be more confident in the screening process. This enables the quick sharing of information which helps achieve trust in the moment.
Renting should be a two-way street, where both landlord and tenant have trust in one another. Applicants get peace of mind knowing that their sensitive information is being placed in the right hands. Landlords get credit and other pertinent data to evaluate if someone is who they say they are.
Benefits of SmartMove: Great Reports. Great Convenience. Great Tenants.
SmartMove can help to reduce the stress of screening someone you've just met. You'll know pertinent details about your applicant quickly and be able to make a more informed decision on-the-spot, making trust in the moment possible.
SmartMove makes it easy for landlords and applicants and offers a convenient way to do rental screening.
Landlords get fast access to screening tools, making it easier to understand an applicant's story within minutes. Sign up is done online and landlords don't need the applicant's SSN to start—just an email address. Plus there's no cost to sign up. Pay as you go or pass the cost on to your applicant.
Likewise, applicants are able to quickly sign-in, verify their identity, consent to screening, and conveniently share personal information safely. Screening reports are delivered almost instantly, which builds trust at a moment's notice.
SmartMove background checks help landlords and renters alike. Some benefits include:
Great Reports

Better Eviction Prediction: SmartMove ResidentScore is proven to predict eviction risk 15% better than a typical credit score.
Analyze Income: Income Insights helps you determine within minutes whether additional proof of income should be collected on an applicant
Full financial story: Credit report reveals crucial financial insights and is a great way to better understand how your applicant handles their financial responsibilities.
Relevant criminal history: Determine if there is any activity in their past that could be problematic

Great Convenience

Start now: Sign up right away. All you need is an applicant's email address to begin screening.
Screen anywhere: Screen from your computer, tablet or phone, any time of day
Straightforward Payment: Free sign-up. No hidden fees, memberships, or minimums. With pay-as-you-go pricing options, you have found that tenant screening solution that works for you.

Great Tenants

Exclusive reports: Only SmartMove offers Income Insights and ResidentScore. The former can reduce renter payment problems, and the latter can reduce skips by 19% and predict eviction risk 15% better than a typical credit score.
Proven history: For over a decade, SmartMove has provided renter screening for more than three million landlords. Hundreds of leasing and property management companies also use SmartMove.
Trusted Service: SmartMove customer survey revealed that 9 out of 10 users would recommend SmartMove.
Access to high quality information: FCRA-quality data, TransUnion analytics, SmartMove insights, and multiple report packages put you in the driver's seat to make an informed decision.
SmartMove's fast and reliable tenant background checks can help you make more informed decisions when choosing a tenant. Here it from satisfied customers below:
Sign Great Tenants Today After Running a SmartMove Background Check
With great reports along with great convenience, you can more easily discover your next great tenant.
SmartMove renter background checks provide detailed reports about a tenant's criminal, credit, income, and eviction history, so you can make an informed and confident decision when signing a lease. This quick and secure screening service helps independent landlords screen prospective tenants wherever, whenever, so you can fill vacancies with confidence.
Critical information is quickly shared between applicant and landlord so that trust is built in the moment. Applicants get peace of mind knowing their sensitive information is placed in the right hands. Landlords get credit reports and other pertinent data to evaluate applicants effectively.
SmartMove makes it possible for two strangers to quickly exchange information in a safe, credible way. Choose your next great tenant and lease on the spot today.
Additional Disclosure:
Remember that this material is intended to provide you with helpful information and is not to be relied upon to make decisions, nor is this material intended to be or construed as legal advice. You are encouraged to consult your legal counsel for advice on your specific business operations and responsibilities under applicable law. Trademarks used in this material are the property of their respective owners and no affiliation or endorsement is implied.