Disclosure:
Remember that this material is intended to provide you with helpful information and is not to be relied upon to make decisions, nor is this material intended to be or construed as legal advice. You are encouraged to consult your legal counsel for advice on your specific business operations and responsibilities under applicable law. Trademarks used in this material are the property of their respective owners and no affiliation or endorsement is implied.
Rental Renovations to Attract Prospective Tenants
Rental renovations are a great way to attract new tenants and increase the value of your property, which means you can earn more income through higher rent prices. As a landlord, there are several rental renovations you can make, all under $1,000. Some affordable renovation ideas include exterior upgrades like new landscaping, adding new kitchen appliances, and making security upgrades to protect both your property and your tenants. If you're looking to attract more prospective tenants, take a look at our list of six ways to renovate your rental property for less than $1,000.
Shag Carpeting. Popcorn Ceilings. Cracked Sidewalks. These Little Details Around Your Rental Unit Can Have a Big Impact on How It's Perceived by Prospective (and Current) Tenants. You Want It to Look Good Enough to Attract People, but Not So Good You Have to Spend All Your Money on Golden Toilets and Doormen.
While Landlords Face Many Challenges, the Two Biggest Ones Are Finding, and Retaining, High-Quality Tenants. According to CBRE, 47% of Apartments Turn Over Every Year, Improving Renter Retention and Decreasing Turnover Is Crucial. Aside from Being a Good Communicator and Addressing Maintenance Requests in a Timely Matter, Another Way to Keep Tenants Happy Is Through Regular Rental Renovation.
Not Only Do Rental Renovations Help to Keep Your Rental Property Current, but the Effort Could Help Landlords Attract and Keep Their Already Great Tenants. Additionally, Choosing the Right Rental Renovations Can Give You the Flexibility to Increase Your Rent Rate, Especially If You're Planning to Seek Out New Renters.
Recent Trends
High-Income Tenants Have Flooded the Rental Market in Recent Years.
According to RentCafe:
Over 1.35 Million Households Making $150,000+ Annually Became Renters Between 2007 and 2017
This Population Is Growing at a Much Quicker Pace Than Owner-Occupied Households.
What Does This Mean With High-Paying Tenants Looking for Places to Live, Landlords May Be Well-Positioned to Profit. However, to Help Attract High-Earning Tenants, Your Rental Property Needs to Offer Features and Amenities That Set You Apart from the Competition.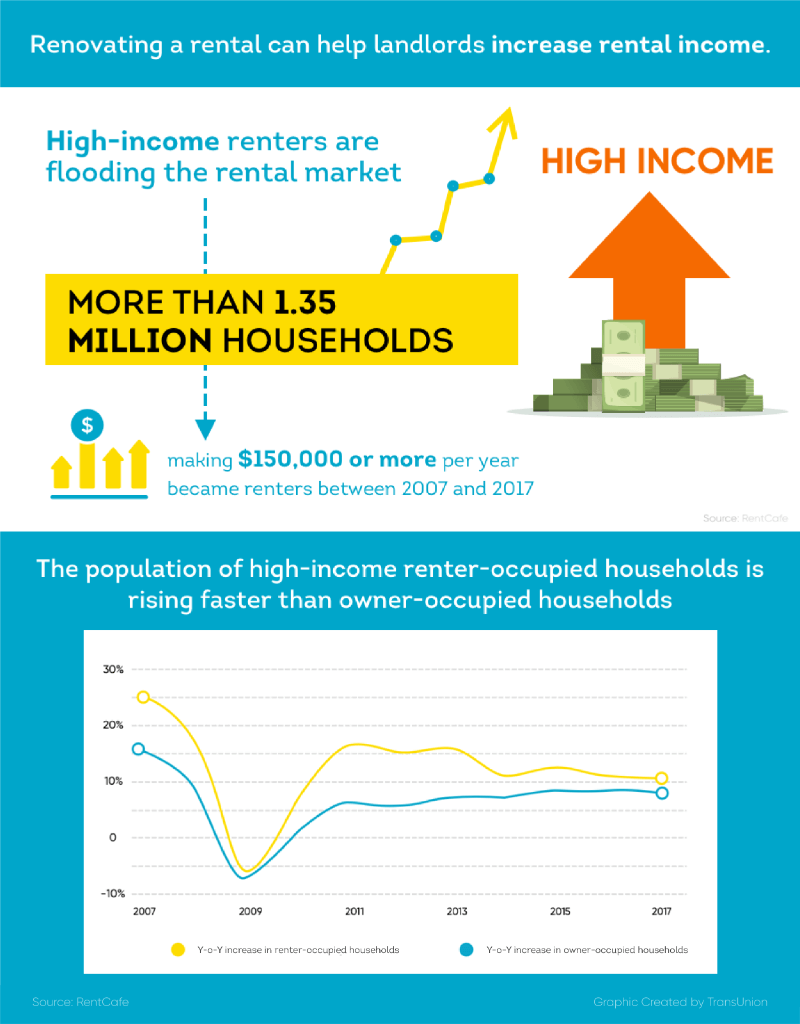 Strategically Selected Property Upgrades to Attract Rental Population
As Gen Z-ers Make Up a Significant Portion of the Rental Market, Landlords Are Pressed to Consider Ways to Cater to Their Wants and Needs.
The Good News Is That Impactful Rental Renovations Don't Have to Cost a Fortune. There Are Many Kinds of Renovations Under $1,000 That You May Consider to Help Upgrade Your Rental Property and Ultimately, Your Rental Income. Please Note: Cost Associated with Renovations May Vary by Location.
Whether Your Property Is Currently Vacant or You're Looking to Make Home Improvements to Keep Your Current Renter Happy, Making These Renovations Could Help You Increase Your Bottom Line.
1. Exterior Upgrades
Improving Curb Appeal Can Pay Off. Sprucing Up the Exterior Can Help Your Rental Unit Show Better and May Be What Encourages Prospective Tenants to Schedule a Showing. And, Upgrading Your Landscape Could Increase Property Value by 5.5 to 12.7 Percent in the Long-Term, and Help You Attract Higher-Paying Renters Now.
When Considering How to Enhance Your Property's Curb Appeal, Try to Look at Your Space from Your Tenant's Point of View. If Your Property Exterior Looks Drab, Windows Are Dirty, Yard Looks Shabby, and Paint Is Peeling, Then It Won't Make a Positive Impression on the Applicant. When Prospective Tenants See a Property That Looks Like It's Been Falling Apart for Years, They May Reasonably Assume That the Inside Is in Similar Condition.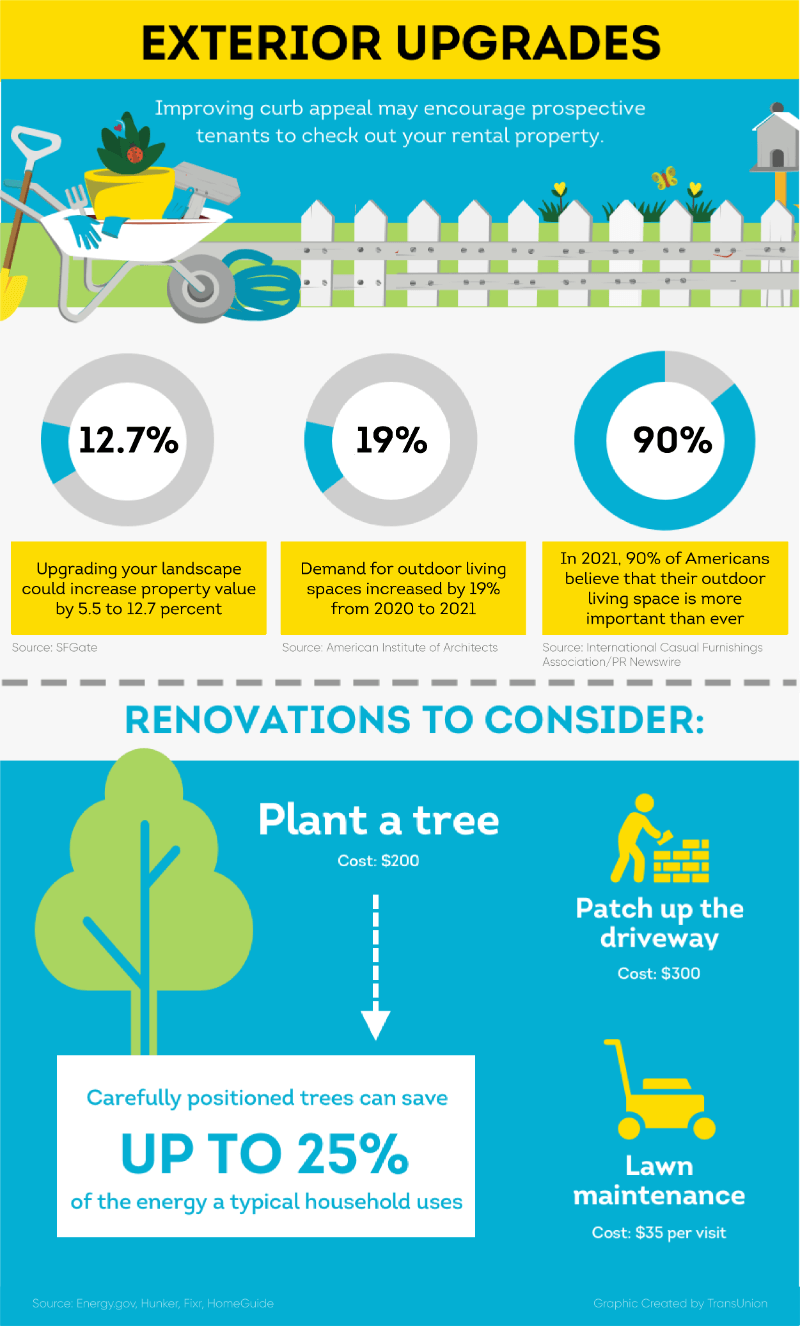 Here are a few exterior upgrades you might consider before creating your rental listing:
Groom the Lawn
Tenants may see a manicured lawn as an indication that their landlord regularly keeps up with maintenance. Remove all weeds and dead patches to help keep the grass fresh and inviting. The average cost of lawn care service is $35 per visit, but may differ depending on location. You may consider incorporating the cost of lawn maintenance in your rental rates; just be sure to outline lawn maintenance requirements in your lease or rental agreement.
Patch the Walkway and Driveway
It's only natural that time takes a toll on frequently used walkways and driveways—high traffic areas tend to show the most visible wear and tear. Consider patching any potholes in the driveway or cracks in the entrance-way that may give off the impression that you've neglected such details. If you choose to patch the driveway yourself, DIY driveway repair could cost under $300.
Plant a Tree
Planting a tree can be a quick way to help liven up the look of an open space. Plus, carefully positioned trees can save up to 25 percent of the energy a typical household uses. And, with demand for green rental units on the rise, and this eco-friendly selling point could help you draw in high-income renters focused on sustainability. The average tree costs around $200, making this an affordable investment that could pay off long-term.
If your rental property boasts a backyard, then consider extending the exterior upgrades for that space as well. A 2021 study performed by the American Institute of Architects found that demand for outdoor living spaces increased by 19 percent from 2020 to 2021, while a 2021 survey by the International Casual Furnishings Association found that 90% of Americans believe that their outdoor living space is more important than ever. Backyard maintenance and updates may help you pull in more applications, and if you have a smaller property, this added living space could be a great draw.
2. Security Upgrades
Landlords should always consider rental renovations that enhance security, as it could help make tenants feel safer in their home. One in five residents report feeling unsafe in their community property, and taking steps to improve tenant security could help you draw in more applicants.
As a landlord, you are responsible for providing tenants with a habitable living space. Landlord-tenant laws require that landlords provide certain security measures within their rental properties; at the very least, all doors and windows should be appropriately secured and have functional locks. Other security measures, such as alarm systems, aren't required by law in rental properties.
Installing state-of-the-art security upgrades could help justify higher rental rates. But, if a tech-heavy security system is not in your budget, then consider other ways to heighten security at your rental.
Consider the following renovation ideas to help enhance the security of your rental property:
Furnish a new front door
If your rental property has an older front door, look for warning signs that it may need replacing. It may be time to invest in a new door if you notice rotting, cracks, or mold. HomeAdvisor estimates the average cost of a new door is $944.
Replace weak locks
It was reported that 34% of intruders enter a home through the front door. Be proactive by replacing weak locks and rekeying your property after tenant turnover. According to Thumbtack.com, the cost of having locks rekeyed ranges from $40 to $100.
Povide outdoor lights
If your rental property has existing outdoor lighting, then ensure it functions well. If you do not have outdoor lighting, then install at least one outdoor light to improve nighttime visibility and help to give potential renters peace of mind. Each outdoor lighting fixture costs an average of $75 to $100 each.
3. Interior Upgrades
Before you consider doing an expensive and extensive interior redesign, consider what updates you can make that are budget-friendly and also may appeal to potential renters. Put yourself into the rental applicant's shoes. Remember, during a rental property showing, prospective tenants will be trying to envision their lives within the space.
Consider sprucing up the interior of your property with a few simple upgrades: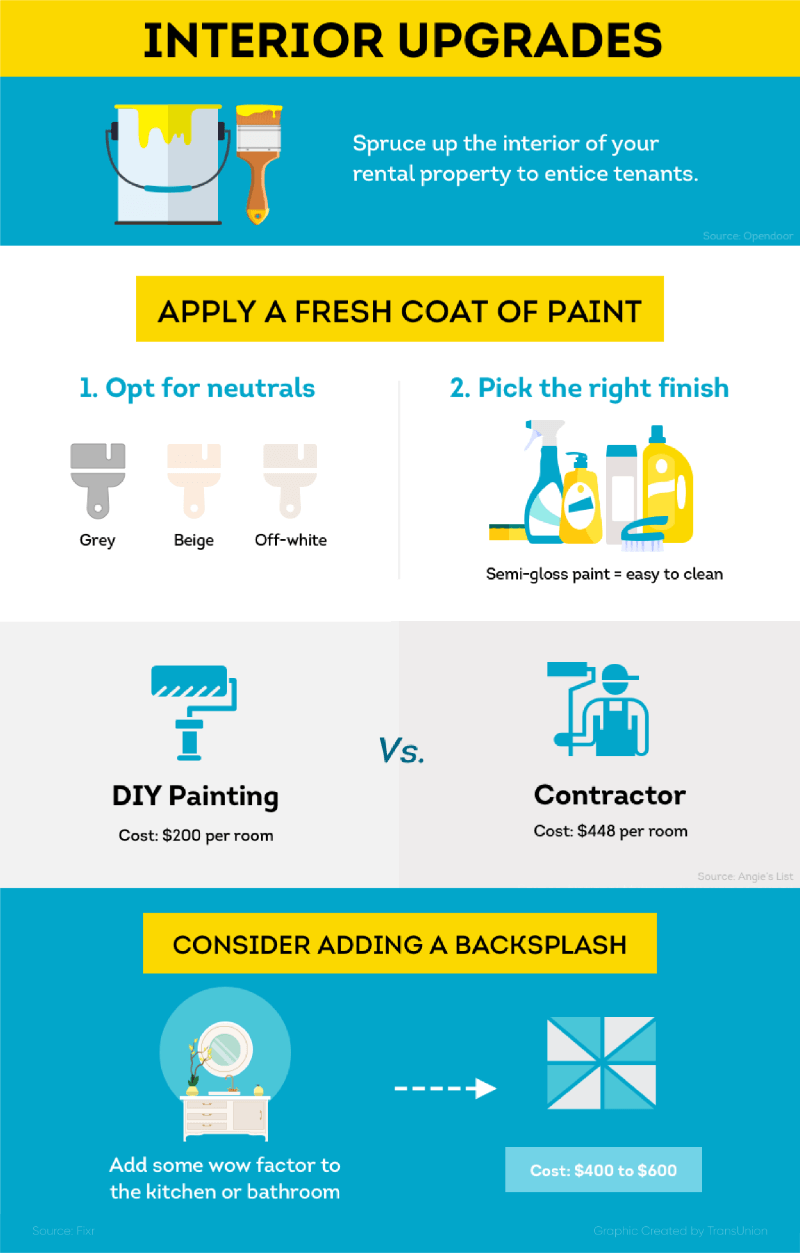 A Fresh coat of paint
Upgrading the inside of your rental with a paint job can work wonders. As a first step, take down outdated wallpaper, as it can peel, bubble, and fade. Then, take a trip to your local hardware store and ask a paint specialist for advice. Depending on the room you want to repaint, they'll be able to provide sound advice about what colors, accents, and equipment you may need to complete the job.
As you pick your rental property paint color, follow these simple tips:
Avoid bold colors: Instead, opt for neutrals like grey, beige, or off-white
Pick the right finish: Semi-gloss paint is easier to clean off
Here's a breakdown of the average cost of painting a room:
Opting to paint your rental yourself, you'll spend around $200 per room for materials.
Choosing to hire a contractor to paint your interior, you'll spend around $448 per room.
Add a backsplash
This aesthetic feature is common behind stoves, bathroom sinks, and within showers. The average backsplash costs $400 to $600 to install, but some added wow factor may help you entice great tenants to apply.
4. Appliance Upgrades
To stay competitive, you might consider upgrading your current appliances to newer, more efficient options. Many appliances will last years, making this a long-term investment that could help you pull in high-quality tenants.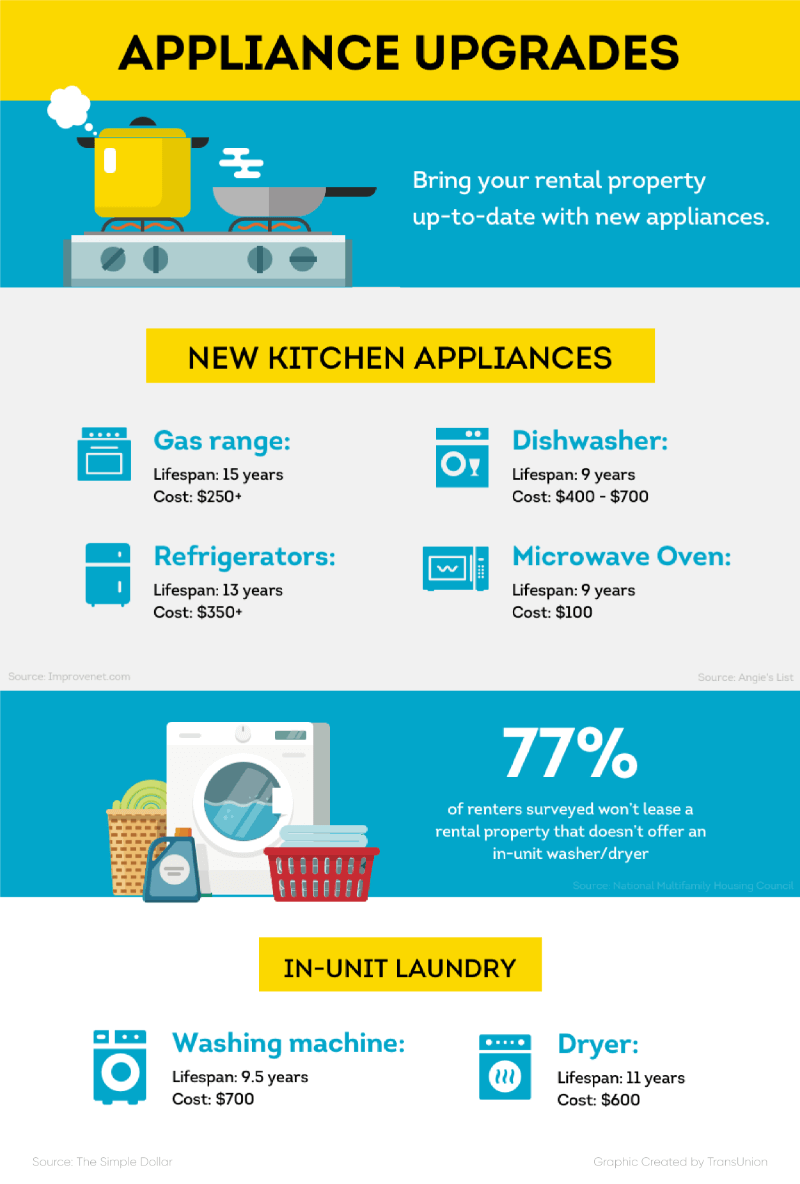 New kitchen appliances
The kitchen is one of the most highly-trafficked areas in a home, so you may consider focusing your rental renovation efforts there. With kitchen appliance technology expanding and advancing by the year, staying up to date with the latest trends can help to attract potential renters. Updating your rental unit's appliances can provide long-term value, as many of these could last for years.
Average lifespan of common kitchen appliances, per The Nest
Gas ranges: 15 years
Refrigerators: 13 years
Dishwashers: 9 years
Microwave ovens: 9 years
Compactors: 6 years
In-unit laundry: Don't forget about laundry appliances. In-unit laundry is one of the top 5 features tenants want. According to a report from the National Multifamily Housing Council, 92% of renters reported in-unit washer/dryer as a must have.
According to The Simple Dollar, the average washing machine costs $700, while the average drying machine costs $600.
Both appliances offer decent lifespans:
Washing machine, at one load per day:5 years
Dryer, at one load per day: 11 years
If you decide to upgrade your appliances, make sure to highlight them within your rental property listing, as some tenants may search for "new refrigerators" or "stainless steel appliances" when apartment or house hunting.
5. Window Upgrades
Many tenants nowadays are interested in reducing their carbon footprint, but they also want to live in a beautiful rental. Upgrading your unit's windows can hit on both marks,
Studies have shown that Millennials prioritize sustainability, and are more likely to spend bigger dollars if they know their money is supporting a greater good. As Millennials make up a large portion of the current rental population, implementing green rental renovations could allow you to charge higher rental rates and fill property vacancies more quickly.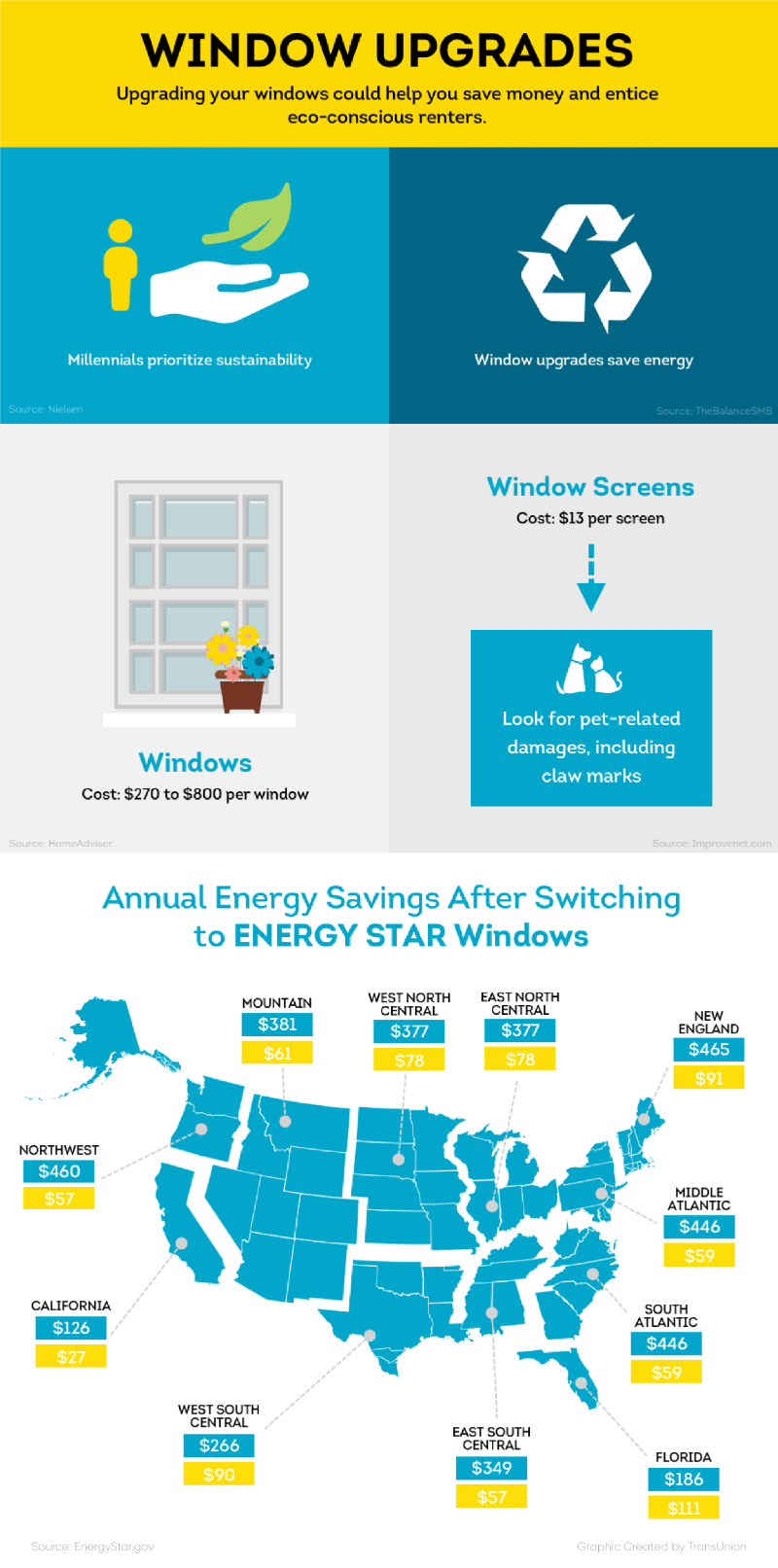 If you're interested in drawing in eco-conscious tenants, then window replacements are a great selling point, especially if your tenants are expected to pay utility bills. According to EnergyStar.gov, installing ENERGY STAR qualified windows could help reduce overall energy costs.
Window screens
If your previous tenant had a pet in the rental space, then be sure to look for any pet-related damages done to the property. Cats tend to perch on windows, so check for claw marks and rips on the screen.
It costs an average of $132 to $453 to replace a window screen if you hire a professional handyman, but you can save money by completing this easy upgrade on your own. Here are some tips for a DIY window screen replacement.
Pro Tip: Make sure your lease explains your pet policies and pet deposit fees in order to protect against pet-related damages.
6. Fixture Upgrades
Details matter, and tenants will be on the lookout for finishing touches. Before posting your rental listing, make sure you haven't forgotten the little things that may turn off prospective tenants. Here are a few fixtures you should keep in mind as you consider rental renovations: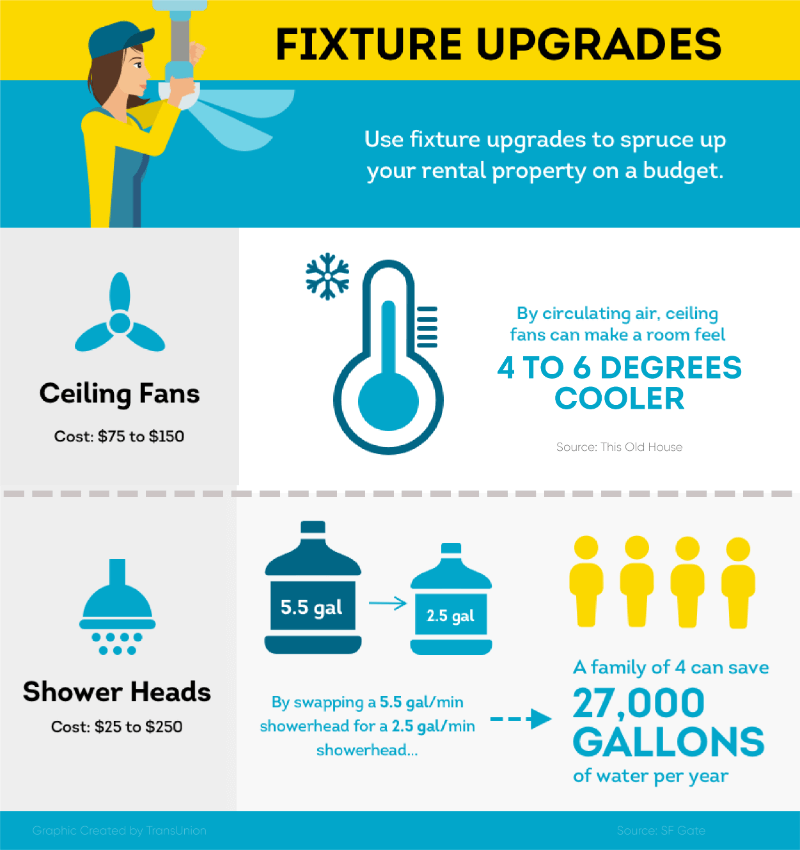 Ceiling fans
Ceiling fans are an added bonus to any home. They help cool the space in warmer months and actually distribute heat in cooler months. Double check if the fan still works on all speeds. If it makes any loud or annoying noises, guaranteed your prospective tenant will notice. The average cost of ceiling fan installation ranges from $75 to $150.
Shower heads
New shower heads can bring a bit of luxury into your rental property's bathrooms, and provide real savings on water bills. Considering 17 percent of all indoor water use is dedicated to showers, it's important to consider ways to reduce water waste.
If your rental property features older showerheads, consider replacing them. Not only does a modern style grab attention, but it could help save water, which ultimately impacts the tenant's (or your) utility bill. Shower heads made before 1992 use an average of 5.5 gallons of water per minute, while shower heads sold after 1992, which use just 2.5 gallons per minute.
Swap an old shower head out with a new one, and a family of four can save 27,000 gallons of water per year. That's a massive change for a small price.
Renovate and find the right renters
Rental property renovations can really spruce up your unit, helping to increase your property value and entice more rental applicants. And the costs don't have to break the bank; all of the aforementioned upgrades can be completed for less than $1,000, depending on location and project details.
However, renting to the wrong tenants can be costly. While home renovations may be bring in more renters into your applicant pool, your first priority is getting the rent paid on time by respectful tenants. Don't let a flood of rental applications convince you to skip proper tenant background checks.
Before you rent to anyone, screen with TransUnion SmartMove. In minutes, you'll get full reports on criminal, credit and eviction history of the person you're thinking of offering a lease.
Armed with your applicant's credit report, you can get the total financial picture of your applicant. Renter credit reports are provided by TransUnion, a trusted credit-reporting agency for over 4 decades.
And you can get our Income Insights report, which analyzes tenant income fast and helps you determine if an applicant makes enough money to afford the rent. It can lower the risk of payment problems and save time and effort that comes with manually verifying tenant income.
SmartMove
Great Reports. Great Convenience. Great Tenants.
Additional Disclosure:
Remember that this material is intended to provide you with helpful information and is not to be relied upon to make decisions, nor is this material intended to be or construed as legal advice. You are encouraged to consult your legal counsel for advice on your specific business operations and responsibilities under applicable law. Trademarks used in this material are the property of their respective owners and no affiliation or endorsement is implied.