Disclosure:
This content, except as otherwise indicated or stated on this site, is the property of TransUnion Rental Screening Solutions, Inc. This content is for educational purposes and for convenience only. Trademarks used are the property of their respective owners, and no endorsement or affiliation is implied. The information presented in this content is "as is" without warranties of any kind, and specifically is not represented to be complete and does not constitute legal advice, and is subject to change without notice. You are encouraged to check these terms from time to time for changes, and by accessing this site you agree to these terms and all terms listed. Laws and regulations may vary by state and locality. Consult your own counsel if you have legal questions related to your rental property practices and processes.
The rental market across much of the United States is active, making it seem like a good time to become a landlord, but the picture is more complicated.
Yes, rents are on the rise and tenants are more stationary than in the past. But more renters are also struggling to make ends meet. In 2015, more than 20 million renters—more than half of all renters in the United States—were cost burdened, meaning they spent at least 30 percent of their income on rent , according to an analysis by real estate firm Redfin. CNN Money notes that 11 million tenants spent about half of their income on rent in 2014. However, as a CNBC report explains, renting is still cheaper than owning a home , with homeowners spending nearly a third to almost double that of compared to renters.
For the first-time landlord, navigating the complex business world of rental property management may seem intimidating. TransUnion SmartMove recently interviewed 15 property managers whose business interests and experiences span the globe. Here they offer advice and tips for the novice landlord on everything from what mistakes to avoid to what makes a good investment property.
Know the law
One of the biggest pieces of advice from several property owners was that landlords should understand both federal and state fair housing and landlord-tenant laws.
As Kim Fearon with Ashford Management Services notes, "Many first time landlords can put themselves in a legally perilous situation by not knowing what they can and cannot do with regards to screening applicants, who you can choose to rent to, etc." For example, federal law prohibits discrimination on the basis of race, color, religion, sex, national origin, disability and familial status.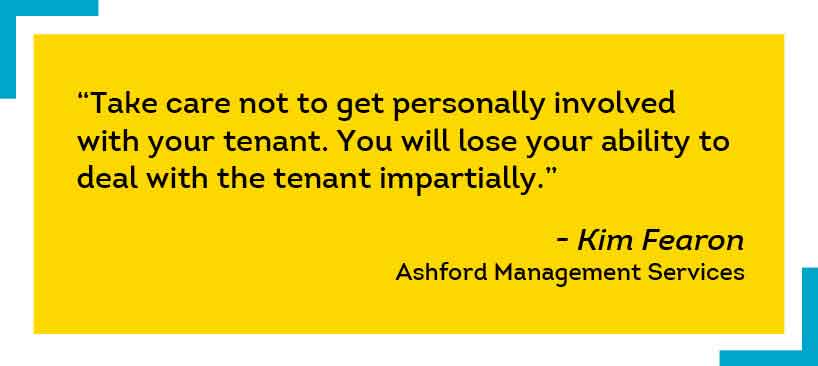 And know what's in your lease, adds Bruce Feldman. "Though critical to any rental, many property managers know little or nothing about what's in the leases of the tenants they are managing. This results in a consumer-oriented relationship rather than a contractually oriented relationship."
Do your homework, advises retirement analyst Benjamin Davis , by reading books and blogs like this one. "My best advice would be to acquire as much knowledge as possible."
Remember that the relationship between landlord and tenant is a business one. Be professional and courteous but avoid the mistake of becoming friends with your tenants, says Fearon. "Take care not to get personally involved with your tenant. You will lose your ability to deal with the tenant impartially." It's important to have policies and procedures in place to keep emotions out of any decision, adds leasing agent Dee Brown with United Properties of West Michigan . "Making sure everything is in writing can save you as a landlord a lot of headaches further down the line," she says.
Screen Your Tenants
Many of the experts interviewed by TransUnion SmartMove emphasized that finding the right tenant is paramount—and that there is no substitute for a rigorous screening process. Too many inexperienced landlords or property managers are in a rush to fill vacancies, according to Caleb Kohl, who manages his own real estate and finance company called Does Prosper .
"They sacrifice long-term property preservation for short-term cash flow," he says. "I don't think they do proper screening of potential tenants. This would involve credit/background checks, proof of income, full rental deposits, checking past landlord references, etc."
SmartMove provides many of these services online, including a tenant criminal background check , eviction check and credit history. SmartMove data from 2016 show that 24 percent of tenant reports have a criminal record. About 8 percent of reports also turn up an eviction record. Court costs for evictions can prove costly, averaging about $3,500.
Prior evictions is one of the biggest warning signs, according to Brian Davis, co-owner of Spark Rental. "If they've violated leases in the past, whether by defaulting on the rent or damaging the property or committing crimes or any other lease breach, they're likely to do it in the future," he says.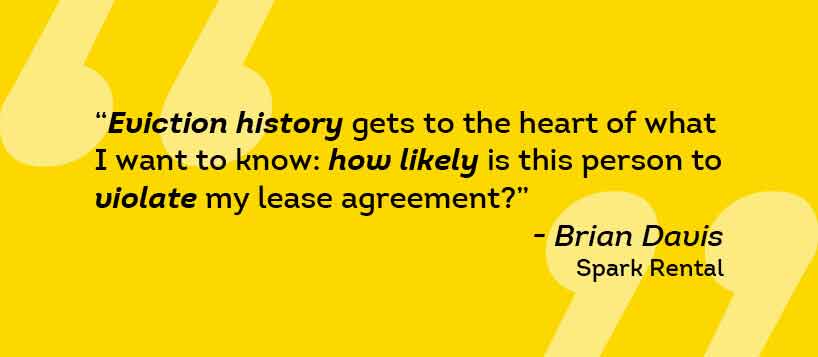 While eviction history is important – A1 Properties KC declines to consider anyone with an adverse rental history the past five years—Shanna Thomas says honesty from prospective tenants is the most important factor in considering an application. "If the prospect lies on their application … it will automatically be an immediate denial," she says. "If they are not truthful from the beginning, that only starts out the landlord-tenant relationship with mistrust—and that is the biggest warning sign in our opinion."
As Dean Foggitt at Brink Property Management sums it up: "Screen your tenants carefully; it will avoid a lot of future problems."
Be Proactive
The best landlords know how to keep their best tenantsand are those who tackle small problems before they become big ones, whether it's physical maintenance or tenant conflicts. "The best property managers focus on preventing problems before they arise. They inspect each rental property every six months. They fix problems at the first sign of trouble," notes Mr. Davis of Spark Rental. Mr. Kohl says property managers who avoid conflict end up losing rental income from delinquent tenants. "I have learned the hard way that if I want to be a good property manager, I need to act quickly at the first sign of problems."
Even better is to anticipate issues before they arise: Having an established list of policies and procedures can prevent problems before they occur. It starts when you begin searching for a tenant. "Have a pre-set list of qualifications for what you consider to be a 'great tenant' and do not stray from your qualifications," notes Mo Hashem at property management company Flat Fee Landlord . "Have a process when it comes to placing great tenants and trust it at all times, even when it is taking longer than normal to find a tenant for your property."
Proper turnover of the property to the tenant is another proactive move, according to Gary Low with Singapore-based rental company Krib . "Record all existing defects, and if possible the condition of furnishings and fittings, using photos and a detailed checklist," he says. "It will save a lot of time and discourage dispute during the return of the property when the tenancy ends."
Find the Right Investment Property
Location, location, location. That mantra is as true for investing in rental properties as it is in buying a home. Most of the experts agreed that a good rental property provides both reasonable cash flow—meaning rent covers all expenses—and solid appreciation of property value.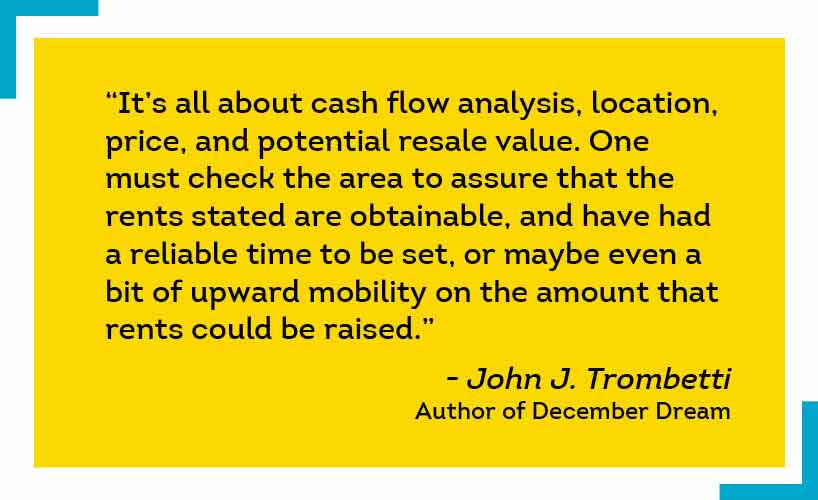 "[You] want to make sure the rental income on the property will cover the expenses on a financed deal. This way, worst case, the property can be held in the bad times," explains agent Michael Cheng at Archers Homes . "[You] want it to be in the right location that will appreciate 10 to 20 percent a year due to clear drivers that [you] can see, not just that the neighborhood seems decent. A property that doesn't appreciate is just not a good investment, as [you] can get better cash flows elsewhere."
Mr. Davis uses a "seven-year" rule to evaluate potential rental properties. "Put simply, this means that all my rental properties have to be paid within seven years." Hashem says he avoids the sort of properties found most closely to beginning of the Go square on a Monopoly board: "I tend to stay away from old, low-cost, low-rent investments. They tend to give you more of a headache than a return on your investment."
Some amenities to look for in a potential rental area include parks, universities and hospitals. "Another consideration is the infrastructure plans for the area," says Mr. Low at Krib. "In Singapore, the government has an urban master plan that determines land use for the next decade, revised every five years. This gives a good indication if transport hubs or amenities like parks and shops will be built in the surrounding area in the future, which will help raise land value and increase rental yield."
Conclusion
Going into property management can be exciting and lucrative—but prospective landlords should have both eyes open. It will cost you both time and money, says Robert Harrington, CEO of Harrington Homes Realty.

"Property management is a 24/7 job, as the property you are managing does not allow you to go home at night and take weekends off, and too many people come into the business assuming it is a regular job and [that] they can leave it and go home at five [o'clock] and take weekends off," he says. "The real issue here is this is not just property management, it is business management … You must know financials and how to track money."
TransUnion SmartMove can help with one of the most important decisions in that business—choosing the right tenant.
"Tenant screening isn't just about avoiding tenants who may default. Landlords and property managers should be looking for the candidate who will be the most reliable, longest-term renter," says Mr. Davis of Spark Rental.
Additional Disclosure:
Remember that this material is intended to provide you with helpful information and is not to be relied upon to make decisions, nor is this material intended to be or construed as legal advice. You are encouraged to consult your legal counsel for advice on your specific business operations and responsibilities under applicable law. Trademarks used in this material are the property of their respective owners and no affiliation or endorsement is implied.