Disclosure:
This content, except as otherwise indicated or stated on this site, is the property of TransUnion Rental Screening Solutions, Inc. This content is for educational purposes and for convenience only. Trademarks used are the property of their respective owners, and no endorsement or affiliation is implied. The information presented in this content is "as is" without warranties of any kind, and specifically is not represented to be complete and does not constitute legal advice, and is subject to change without notice. You are encouraged to check these terms from time to time for changes, and by accessing this site you agree to these terms and all terms listed. Laws and regulations may vary by state and locality. Consult your own counsel if you have legal questions related to your rental property practices and processes.
Paperwork. Sure, it's probably not your favorite part of being a landlord, but you know it's important. You also know that writing formal letters can be a pain, especially when it comes to move-out notices for your tenants. Amid all your other tasks, it might seem tempting to skip the letter altogether. In reality, sending a move-out notice to your tenant is an essential task for a landlord, and—when done correctly—it's a practice that may be extremely helpful to your bottom line.
Whether you're saying adios to your favorite renter or you can't wait for them to leave, move out letters do more than just tell tenants to hit the road. A strategic, detailed letter could help protect your rental investment. Ultimately, the goal of a move-out letter is to help encourage tenants to move out on time and leave your space in good condition, which may allow you to fill the vacancy more quickly.
Vacant apartments cost landlords an average of $1,750 per month and the total can be much higher if there's a ton of clean-up to do. The longer it takes to repair damage or clean up an old tenant's mess, the longer you go without rental income. This would be a huge financial hit to anyone, especially an independent landlord.
Turning over your apartment and finding a new tenant is a time-intensive project with a lot of moving parts. In between cleaning, repairing damage, creating a rental listing, scheduling showings, and thoroughly screening applications, a lot can get lost in the shuffle.


With all of this going on, it's easy for the vacancy to drag on. You can increase your chances at a smooth turnover by finding responsible tenants from the start. A comprehensive tenant screening through a service like SmartMove may help you find responsible tenants. Paired with a good move-out letter, responsible tenants mean less time cleaning up messes and more consistent rental income for you.
Learn the purpose of a move-out letter and the benefits landlords may glean from this important documentation.
What's the Purpose of a Move out Letter?
At the end of a lease or rental agreement, both the tenant and landlord generally have the option to terminate the tenancy. If you or your tenant decides to end things, then your state may require you to provide notice, even if your lease already specifies a termination date.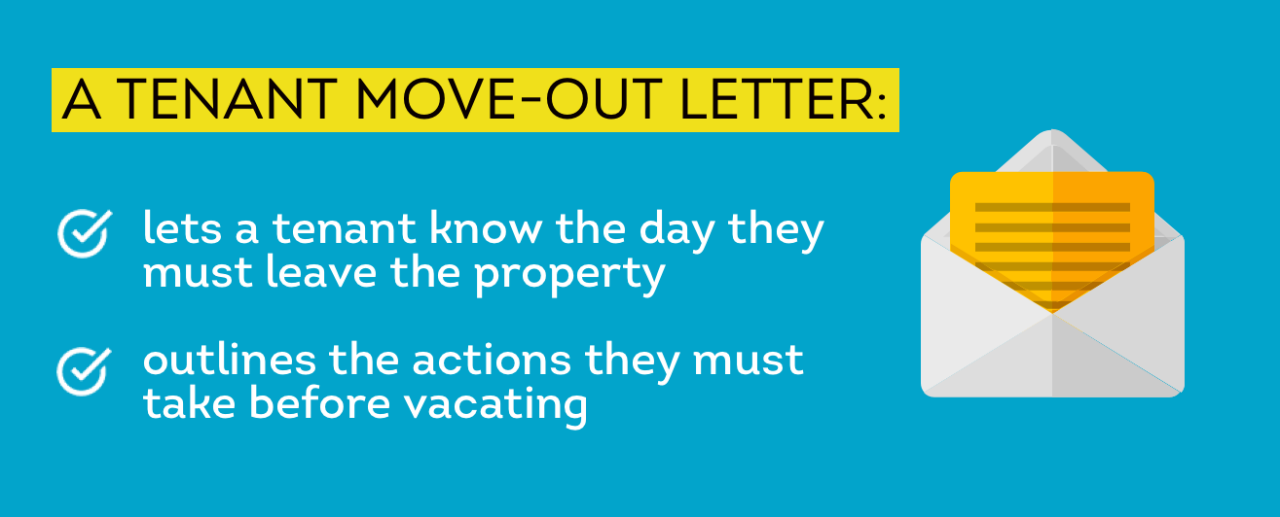 Even if a move-out letter is not mandated, it could serve a purpose, as it clearly outlines tenant move-out expectations and may help reduce the risk of disputes later on. In addition, you can use this letter as an opportunity to lay out your inspection procedures and what the tenant is expected to clean.
Tenant turnover can be stressful and costly, but a move-out letter may help ease some of the burdens. If your tenant leaves the property in good condition—as outlined in writing— then it may mean spending less time and money on repairs, allowing you to get a new tenant into the property faster.
The Benefits of Sending a Move out Letter
A move out letter could provide several benefits for both the landlord and the departing tenant:
Serves as an act of good faith: This document can solidify the landlord-tenant relationship and may help to ensure that the tenant leaves on good terms. It also could serve as a formal 'thank-you' to your tenant for choosing your property and abiding by your rental term agreements.
Simplifies expectations for tenants: A move-out letter may help cut down potential miscommunications by outlining all move-out requirements in one place.
Allows tenants time to act: Sent with proper notice, a move-out letter allows your renter adequate time to complete all the outlined tasks.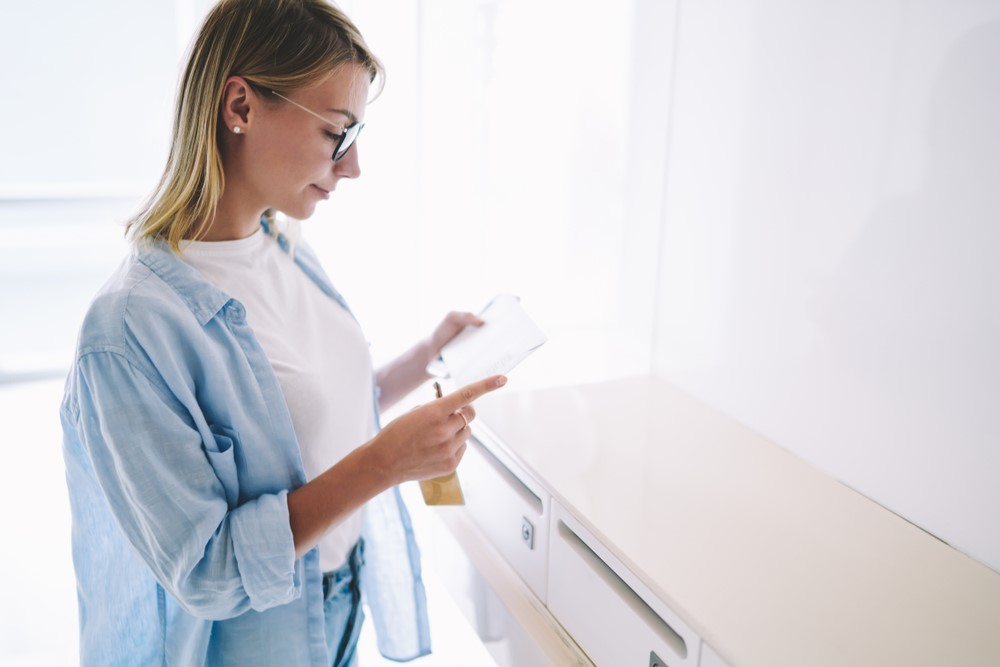 Tips on How to Write a Tenant Move out Letter
The information that may be included in a tenant move-out letter is likely to vary, as every rental property is different and may require unique attention. Consider checking with landlord trade associations or legal counsel to assist with the letter. However, here are a few tips to help you start:
Include the date of delivery (whether sent by mail or delivered in-person)
Include your contact information
Tell your tenant the date they must move out date and explanation (i.e. the lease has ended) Pro-tip: If they have an opportunity to renew, then is maybe worth it to include details about how to renew and any changes in rent
Provide final inspection details

Will you do a walk-through with the tenant in person?
What is the tenant expected to clean?

Outline important dates

When does the tenant need to move out?
When will a move-out inspection occur?

Explain instructions for leaving keys behind

State if there are any attachments to the letter, such as a move out checklist

Explain the details of the security deposit process

How and when will it be returned? (Pro-tip: send the deposit with Certified Mail so you can keep track of the date of tenant receipt or consider a form of electronic payment.)
When Should I Send a Move-out Letter?
The timeline for sending out your move-out letter varies based on state and local laws and regulations. Do your due diligence and check local move-out rules and regulations to help ensure that you're compliant. It's always a good idea to speak with legal and real estate counsel in your area to confirm the amount of notice you're required to give your tenants.
What's the Difference Between a Move-out Letter and an Eviction Notice?
Tenants move out for many reasons. But, in the worst-case scenario, landlords may be forced to evict tenants for breaking the terms of their lease or neglecting to pay rent on time. If you're evicting your tenant, then a move-out letter probably won't suffice; you must follow a separate, specific legal process to do this correctly. Note: eviction processes vary by state, so be sure to talk with your legal counsel to ensure you're compliant with state-specific and federal eviction laws.
In general, an eviction notice is a document used to start a formal eviction process. Eviction notices typically vary by state, but this documentation is generally used to inform the tenant that you will begin eviction proceedings if the issue in question isn't resolved within a certain number of days. Before taking any action, be sure to consult with your legal counsel on this matter.
Move Out Checklist
The checklist below, which is by no means exhaustive, can help spell out a tenant's responsibilities when moving out of your rental property. Ultimately, what is included within the checklist may vary by landlord depending on their rental property. In addition, a move-out checklist may also explain what is expected in order for a tenant to get back all, or some, of their security deposit. As the landlord, you'll need to determine whether the property has normal wear and tear or exhibits damage from neglect or abuse.
A move out checklist may suggest that a tenant:
Cleans all of the bathrooms
Cleans all of the windows
Disposes of all garbage
Ensures that wall paint is the original color (unless they received express permission to change it prior)
Sweep, mop, or vacuum the floors
Keep in mind that every rental property is different, so your tenant move-out letter may be different from another landlord's due to unique property features. Example: sweep debris from a patio.
Make Move Out Letters More Effective with Detailed Tenant Screening
Move-out letters are an essential part of being a professional, organized landlord. However, even the best-written move-out letters will be ineffective if sent to tenants who don't follow the rules to start. To help make transitions between tenants go smoothly, it is essential to thoroughly screen your rental applicants before you sign a lease. By thoroughly screening your applicants, you may be more likely to find responsible tenants who will pay their rent on time, respect your property, and pay attention to move-out details.
Knowing how your applicant behaved in previous rental situations may be a great indicator of how they will behave in your space. After all, if someone left their last apartment in shambles, then they might do the same to yours. Remember, lengthy repairs mean longer vacancies—a direct hit to your income.
With TransUnion SmartMove®, it's easy to check your applicant's credit health, criminal record, and eviction history, and this information may help uncover past behavior that could spell future damage to your property. In addition, SmartMove landlords will receive their prospective tenant's ResidentScore, which can better predict the risk of future eviction. Keep in mind that the cost to evict a tenant can reach $3,500, so it makes sense to do everything you can to prevent such a financial hit.
Creating move-out letters and managing paperwork might not be the most enjoyable task on a landlord's to-do list, but it is an essential one. Finding great tenants through comprehensive screening with SmartMove can help make your move-out letters more effective so that you can focus on parts of the job you love. For peace of mind, use SmartMove.
Additional Disclosure:
Remember that this material is intended to provide you with helpful information and is not to be relied upon to make decisions, nor is this material intended to be or construed as legal advice. You are encouraged to consult your legal counsel for advice on your specific business operations and responsibilities under applicable law. Trademarks used in this material are the property of their respective owners and no affiliation or endorsement is implied.