Disclosure:
This content, except as otherwise indicated or stated on this site, is the property of TransUnion Rental Screening Solutions, Inc. This content is for educational purposes and for convenience only. Trademarks used are the property of their respective owners, and no endorsement or affiliation is implied. The information presented in this content is "as is" without warranties of any kind, and specifically is not represented to be complete and does not constitute legal advice, and is subject to change without notice. You are encouraged to check these terms from time to time for changes, and by accessing this site you agree to these terms and all terms listed. Laws and regulations may vary by state and locality. Consult your own counsel if you have legal questions related to your rental property practices and processes.
In April 2016, the U.S. Department of Housing and Urban Development (HUD) announced new guidance for taking adverse actions based on an individual's criminal history. The guidance states that it is HUD's position that criminal background screening policies employed by housing providers have the potential to have an impermissible disparate impact on certain protected groups.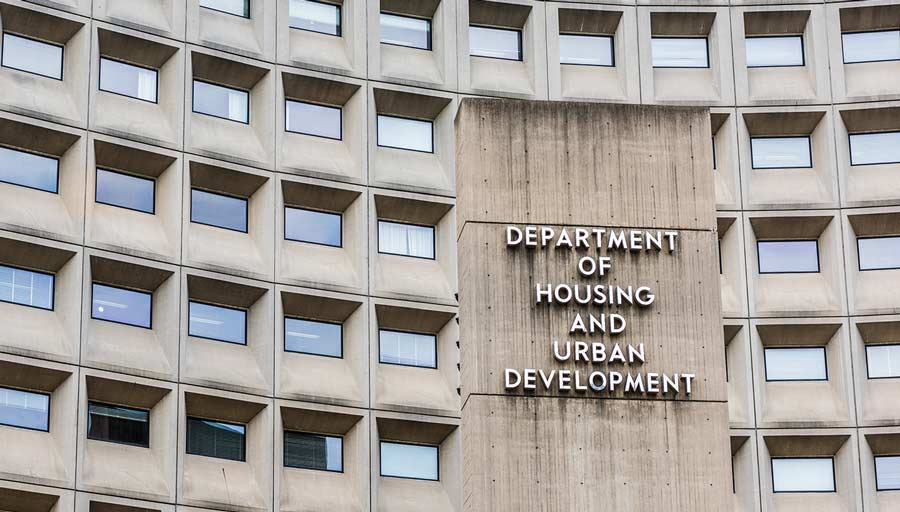 Introduction to HUD guidance on criminal background checks

Individuals with a criminal history are not a protected class under the Fair Housing Act, but HUD notes that the use of a blanket policy to deny any applicants with a criminal record might lead to disparate impact on a protected class due to the disproportionate incarceration rates among certain groups. As HUD states, "across the United States, African Americans and Hispanics are arrested, convicted and incarcerated at rates disproportionate to their share of the general population."
HUD's guidance on criminal records states that a policy which denies applications based on arrest records does not serve a legitimate interest to protect the safety of residents and their property. Regarding criminal convictions, HUD favors a more individualized approach to tenant screening and encourages landlords and property managers to study the specifics of an applicant's criminal history before deciding whether or not to rent to an individual.
Before making this decision, HUD suggests assessing "the nature and severity of an individual's conviction," along with "the amount of time that has passed" since the conviction. HUD strongly encourages landlords and property managers to make their decisions on a case-by-case basis. To read more on the HUD background check policy, download and save the HUD Guidelines PDF.
What are the HUD criminal background check takeaways?
"Criminal records-based barriers to housing are likely to have a disproportionate impact on minority home seekers." Because African Americans and Hispanics are incarcerated at rates disproportionally higher than their share of the general population, they are more likely to have difficulty renting a home if restricted by a criminal background screening.


Takeaway: HUD background guidance is concerned with unfair discrimination placed on minorities due higher rates of criminal history.


"A criminal record is not a protected characteristic under the Fair Housing Act…" However, criminal history-based restrictions on housing opportunities violate the Act if the burden falls more often on renters of one race or national origin over another without justification.

Takeaway: The Fair Housing Act prohibits discrimination based on race, color, religion, sex, disability, familial status, and national origin. Although the guidance for HUD criminal background checks focuses on discrimination centered around race and national origin, criminal history policies may result in discrimination against other protected classes.


"… determining whether a policy or practice results in a disparate impact is ultimately a fact-specific and case-specific inquiry." National statistics provide grounds for HUD criminal background check concerns, but other information may be relevant in determining whether a changed policy or practice causes a disparate impact.

Takeaway: In the context of an investigation on a HUD background check, additional evidence such as tenant files, applicant data, census demographics, and localized criminal justice information may be used to make a case. The housing provider may offer evidence to refute the claim that its policy or practice causes disparate impact.


"A housing provider must… be able to prove through reliable evidence that it's policy or practice of making housing decisions based on criminal history actually assists in protecting resident safety and/or property." Bald claims made on the basis of prior arrest and/or prior conviction do not suffice.

Takeaway: If a landlord chooses to include a criminal background check within their tenant screening, a policy or practice that fails to consider the nature, severity, and recency of criminal conduct is unlikely to be proven necessary to serve a substantial, legitimate, or nondiscriminatory interest.


"… the burden shifts back to the plaintiff or HUD to prove that such interest could be served by another practice that has a less discriminatory effect." If the housing provider proves their policy is legitimate per the HUD guidance on criminal records, the next step is to evaluate whether there is a less discriminatory alternative.

Takeaway: Assessing the individual outside of the information contained within the criminal record may reveal mitigating evidence which likely has a less discriminatory effect, such as the facts and circumstances around the criminal conduct or evidence of rehabilitation efforts. Housing providers are encouraged to delay consideration of criminal history until after an applicant's financial qualifications are verified in order to reduce the costs of these individualized assessments.


"Section 807(b)(4) only applies to disparate impact claims based on the denial of housing due to the person's conviction for drug manufacturing or distribution; it does not provide a defense to disparate impact claims alleging that a policy or practice denies housing because of the person's arrest for such offenses." The Fair Housing Act has specific limits to the conduct against a person based on their involvement with a controlled substance.

Takeaway: A landlord may only deny housing based on a controlled substance conviction—not an arrest—per Section 807(b)(4) of the Fair Housing Act. Additionally, it must be based on a conviction for drug manufacturing or distribution; they may not deny tenancy based on other drug-related convictions, such as possession.


"A housing provider may also violate the Fair Housing Act if the housing provider intentionally discriminates in using criminal history information." For example, it would be discriminatory if a Hispanic applicant was rejected based on his or her criminal report, but admitted a non-Hispanic White with a similar record.

Takeaway: Per HUD guidance, criminal records must bear equal weight across all individual applicants, regardless of race.

What does this mean for landlords who screen tenants?
Guidance on HUD criminal background checks represents the office's interpretation of the Fair Housing Act. The Fair Housing Act only applies to certain landlords and housing providers based on a number of factors, including the number of units owned by the housing provider and whether the landlord or housing provider uses a broker, agent, or salesman. Consider consulting legal counsel to determine if you are subject to the Fair Housing Act.
Considering severity, nature, and timing of criminal convictions should be part of trying to ensure that any policies minimize the risk of any disparate impact while also reducing the risk to existing residents and property, according to HUD background guidance.

How does HUD'S guidance on criminal records affect SmartMove users?
The SmartMove leasing recommendation does not take into account an applicant's criminal background at all. The leasing recommendation† is based only on your applicant's credit information.
HUD's guidance states that a policy that denies applications based on arrest records does not serve a legitimate interest to protect the safety of residents and their property. SmartMove's criminal reports do not return arrest records.
SmartMove makes use of advanced filters and industry best practices to search millions of criminal records, as well as FBI Most Wanted and the Sex Offender Public Registries. As a result, landlords benefit from a search encompassing millions of criminal records. Our reports are available within minutes, and can be accessed anywhere online.
Learn more about how SmartMove's tenant background checks along with credit, eviction and Income Insights reports can help you make better leasing decisions and find acceptable renters for your property.
Additional Disclosure:
Remember that this material is intended to provide you with helpful information and is not to be relied upon to make decisions, nor is this material intended to be or construed as legal advice. You are encouraged to consult your legal counsel for advice on your specific business operations and responsibilities under applicable law. Trademarks used in this material are the property of their respective owners and no affiliation or endorsement is implied.