Remember that this material is intended to provide you with helpful information and is not to be relied upon to make decisions, nor is this material intended to be or construed as legal advice. You are encouraged to consult your legal counsel for advice on your specific business operations and responsibilities under applicable law. Trademarks used in this material are the property of their respective owners and no affiliation or endorsement is implied.
Whether you moved out of state but kept a rental property, inherited an out-of-state rental property, or invested in an out-of-state rental property, learning how to be a remote landlord is important. Luckily, there are tools like SmartMove that allow you to screen tenants no matter where you're at, such as our ResidentScore, our leasing recommendation system, to make sure you're renting to the right people.
Being a remote landlord can offer many benefits, especially if you want to take a hands-off approach, or live states away from your rental properties. If you want to learn more about being a remote landlord and how SmartMove can help, here are some tips to help you out.
Table of Contents
Tips for Being a Remote Landlord
Operating remotely as a landlord means taking advantage of technology, and there's plenty of good technology to go around. From websites to list your rental property to resident screening services and tenant portals, there are several tools that allow you to manage rental properties remotely. Here are some tips to help you make the transition to being a remote landlord.
1. Use Online Listing Websites
Online rental listing websites are an essential tool to have at your disposal. All you need are some pictures of your properties and all the property details and you're set. Listing websites even allow you to make changes to your listing if you're having trouble finding renters, plus renters can send an email through the website or request a tour online.
One thing to keep in mind when it comes to online listing websites is that some websites may charge a fee for rental listings, and some listing websites charge fees in certain states but not in others. With that said, it's important to set a budget to ensure promoting your rental properties doesn't disrupt your finances.
2. Screen Your Tenants
Screening tenants is an essential part of making sure you're renting to the right people. There are lots of reasons to screen rental applicants. Renting to a tenant who doesn't pay rent on time or causes damage to your rental property can dig into your bottom line, so you need to find out if tenants have a history of evictions, late rent payments, or criminal convictions. The more you can learn about a renter before you accept their rental application, the better you can protect your property.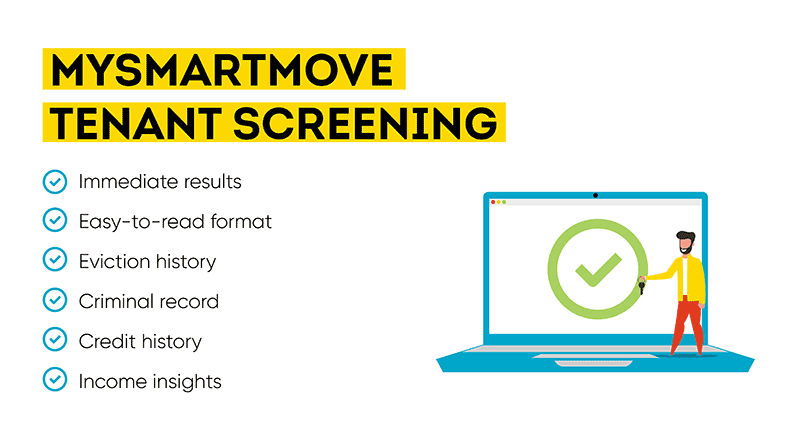 Fortunately, checking a prospective tenant's rental history is simple with SmartMove. Whether you want to know more about a renter's income, rental history, credit score, or some other information, we can help you find what you need to make smarter decisions as a remote landlord. Our credit reports for landlords will provide helpful information to allow you to make a confident leasing decision.
3. Use an Online Rent Payment System
Making sure rent is paid on time is important, but that's not easy to do if you don't live in the same state as the people you're renting to. One tool you have to take advantage of as a remote landlord is an online rent payment system. Online rent payment systems allow renters to pay their rent with a bank account, credit card, or debit card. You don't have to worry about sending out monthly bills or collecting checks from tenants, an online rent payment system will do the heavy lifting for you.
One thing to keep in mind when it comes to how to be a remote landlord is that these tools cost money. Understanding how to rent your house remotely starts with investing some money into all the tools you need, so make sure to allocate the necessary funds, as these investments will pay off in the long run.
In addition to the convenience they offer, online rent payment systems can be an important part of how to avoid non-payment of rent which is a top concern for 84 percent of landlords, according to TransUnion SmartMove survey data.
4. Create Open Lines of Communication
Communication is key when you're learning how to manage a rental property remotely. When you're not in the same state as your rental property, it can be tough to stay in touch with tenants and take care of your property. Fortunately, you can use emails, text messages, video chatting software, and more to create open lines of communication with renters, allowing them to request maintenance and ask important questions.
If you want to make it easy to communicate with renters, collect their mobile phone numbers along with their contact information. Make sure you provide renters with your contact number, too. If you want to go the extra mile, you can use Zoom and other similar communication tools to make your job easier as a remote landlord.
5. Connect With Local Contacts
Before you move out of state or invest in rental property in a state you don't live in, you need to connect with local contacts who can help you take care of your property. Being a remote landlord can make it hard to get a landscaper or electrician to your rental property in a timely fashion should a snowstorm cover a driveway or a fuse blow. Form these relationships early so you can count on contractors to show up when you've got a problem with your property and ensure your tenants are taken care of.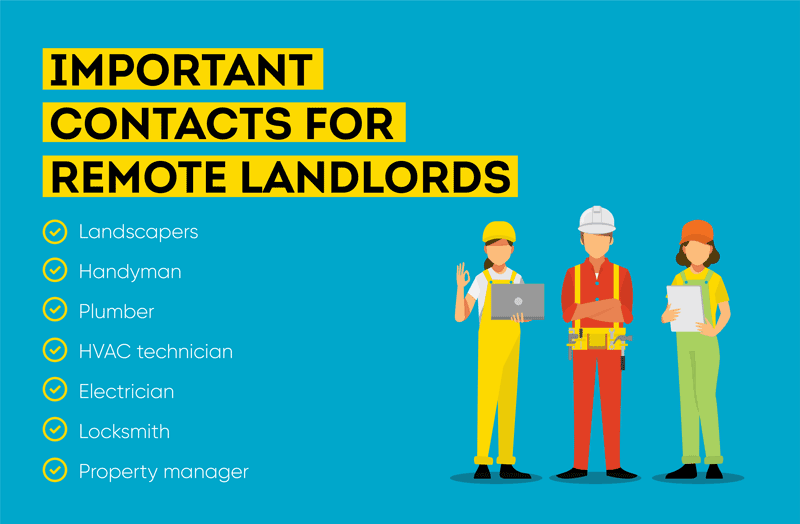 Finding a plumber you can call is especially important. Burst pipes and other leaks can cause serious damage to your rental property, so you need to make sure you can get someone out to fix these problems as soon as you notice them. Not only does it save you money to fix these problems early, but your tenants will also be happier.
6. Host Virtual Property Tours
If you're not sure how to attract new renters to your rental property, host a virtual property tour to showcase your property to a larger pool of applicants. Virtual property tours give prospective renters a closer look at your rental property, so they can decide if they want to submit a rental application from the comfort of their homes.
It's important to keep in mind that you get back what you put in when it comes to virtual property tours. Before you film a virtual property tour, you should take some time to clear out your rental property and plan a route through the property. You should start with exterior shots of the house, working your way inside and through each room like a renter would during an in-person showing.
There are several benefits to hosting a virtual property tour. You can attract renters from out of town, find qualified renters without in-person showings, and weed out any candidates who aren't interested in your rental property.
7. Use Accounting Software
Part of how to be a remote landlord is knowing how to use accounting software. Tools such as SmartMove's Income Insights and screening solutions are essential to finding quality tenants, but you'll also need to invest in tools that help you manage your finances as a landlord. The good news is, there's accounting software that's specifically designed for managing rental property finances, which means you don't need to be an expert to keep your finances in order.
Using the right accounting software means you don't have to deal with in-person meetings with an accountant, which can be costly and time-consuming. Instead, you can keep track of everything with a simple application and the only thing you have to pay for is the software license. Even if you don't know the first thing about accounting, you need to learn the basics if you want to be a good remote landlord.
8. Visit at Least Once a Year
As important as it is to understand finances and how to read a credit report, remote landlords can't do everything remotely. If you're managing a rental property in another state, you should take some time out at least once a year to visit your rental property and check on it in person.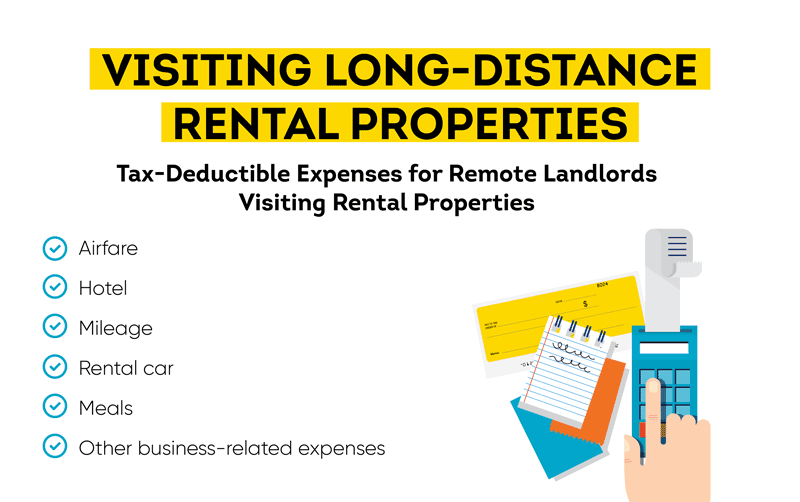 This gives you a chance to check for any damage tenants may have caused and look for signs of upcoming repairs that may be needed. The more often you can check on your rental property, the easier it will be to make timely repairs and keep your property in great shape. These yearly visits are even tax-deductible, which means you can get a tax deduction for things like airfare, lodging, mileage, gas, meals, and more.
Becoming a Remote Landlord is Simple When You Use the Right Tools!
Knowing which tools to use is an important part of how to be a remote landlord. Online listing and rent payment websites allow you to do more with your property remotely, while screening helps you weed out bad tenants and avoid non-payment of rent.
If you want to try your hand at being a remote landlord, SmartMove screening tools can help. You can find all the information you need on renters before you sign a rental agreement, including their eviction history, criminal history, credit score, and more. With SmartMove, tenant screening is easier than ever. Take the hassle out of being a landlord and try SmartMove tenant screening today.
SmartMove,
Great Reports. Great Convenience. Great Tenants