Disclosure:
This content, except as otherwise indicated or stated on this site, is the property of TransUnion Rental Screening Solutions, Inc. This content is for educational purposes and for convenience only. Trademarks used are the property of their respective owners, and no endorsement or affiliation is implied. The information presented in this content is "as is" without warranties of any kind, and specifically is not represented to be complete and does not constitute legal advice, and is subject to change without notice. You are encouraged to check these terms from time to time for changes, and by accessing this site you agree to these terms and all terms listed. Laws and regulations may vary by state and locality. Consult your own counsel if you have legal questions related to your rental property practices and processes.
As an independent landlord, it's important to stay on top of current market trends. If you wish to acquire a new property or increase rents, it's important to have a handle on the housing market. If you've recently compared your property with similar units in the area, you may well be aware of rising rent prices. In this article, we go into the nitty-gritty of why rent prices are rising in many areas, how they are affecting the rental market, and what that means for you when screening prospective tenants.
Rent prices are rising
According to Apartment List's April 2018 National Rent Report, the national year-over-year growth rate is currently 2.0 percent. While this growth rate isn't as high as the previous two years (3.6 and 2.4 percent, respectively), we still can see that rent prices are still going higher. And we would also expect to see a rise of rental prices during the peak rental season of spring and summer, as more renters seek housing.
In the bigger picture, rental prices have increased 18 percent over the past five years, with no signs of easing up. A total of 89 percent of the largest U.S. cities have seen rents increase over the past 12 months, with certain markets (Orlando, Reno, NV, and Sacramento) experiencing rent growth well over the national average. In some markets, renters paid the equivalent of a month's rent over the course of a year due to rising rent prices.
Few cities are experiencing rent declines. In terms of setting fair market rent prices, it is important to know your local market and use these numbers to decide whether to set a higher rent, rather than basing your decision solely on national rent growth.
Why is rent so high?
America's housing crisis is directly tied to rising rents. The rise of housing prices in the U.S. has led more people to rent, including those who in the past might have become homeowners. In turn, this has led to crowding in the rental market and more affluent tenants competing with lower income tenants. As the number of renter households continues to increase and drive up the need for additional supply, we will expect rents to rise as well.
Even in markets where there is on-going building of apartment housing to release pressure, construction may not be enough to prevent further rent hikes. Other factors such as employment growth and favorable demographics could lead to rising rent, despite new construction. Since developers tend to build luxury units targeted to higher-income households, the high rents these units command push up the average while there is still a limited supply of moderate and low-cost units.
Rising rents mean a higher rent burden for tenants
TransUnion SmartMove data, self-reported by independent landlords, show that rent prices are rising faster than renter income. When looking at a period covering 2014 to 2017, it appears that rent growth is outstripping income growth by more than 200%.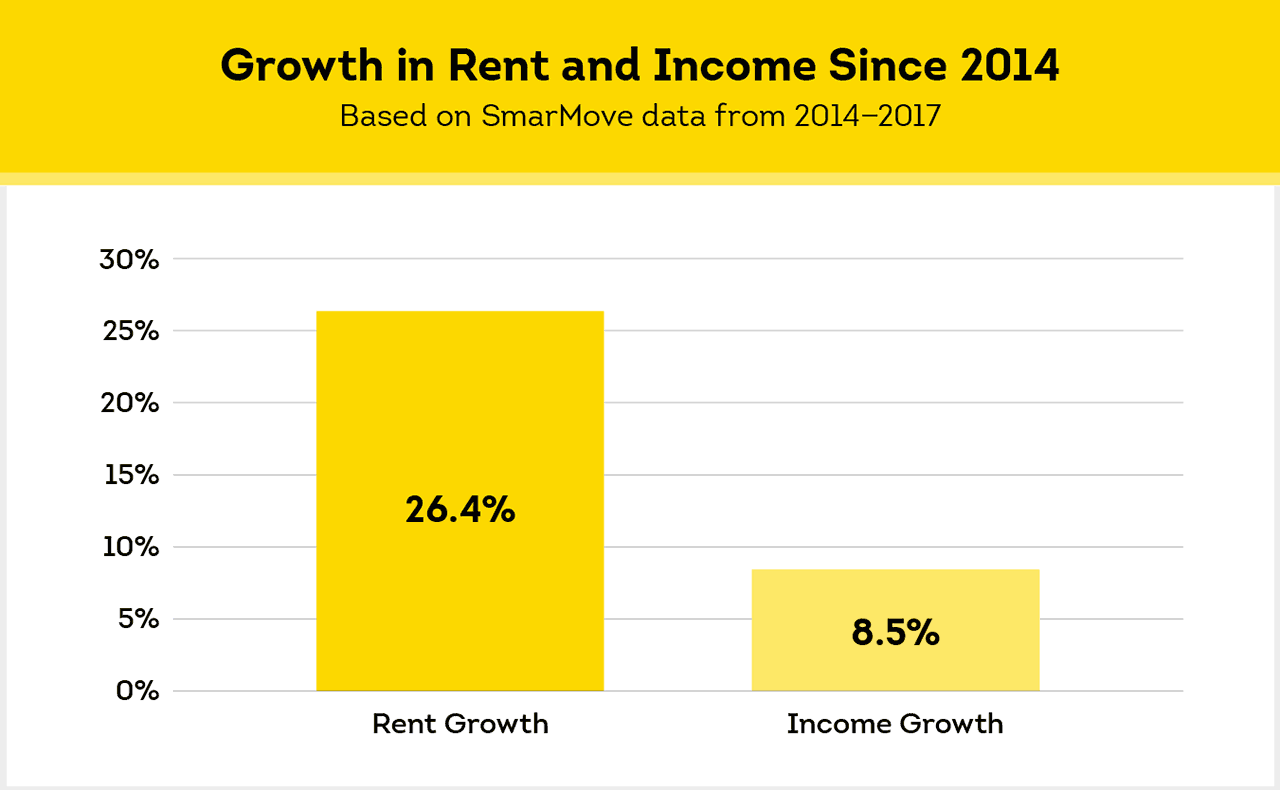 Income growth for renters has been relatively slow since 2014, tracking in the low single digits in terms of growth increases.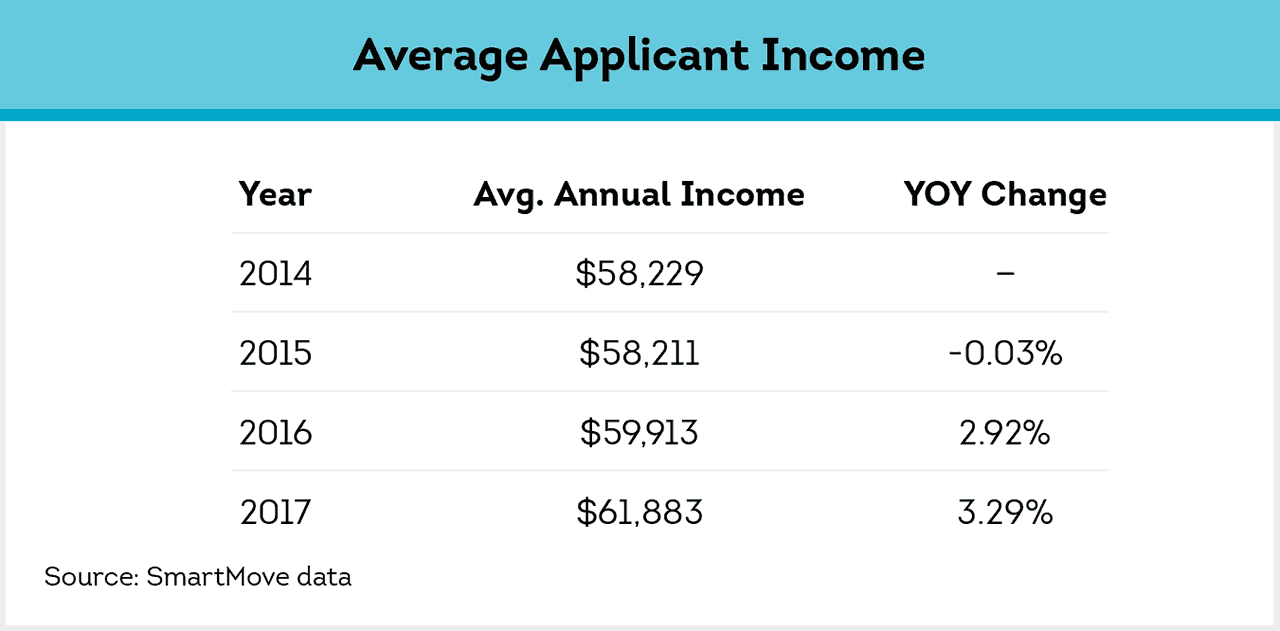 Whereas, average rents have been increasing at a much faster pace often times more than doubling the pace of income growth for renters in a given year.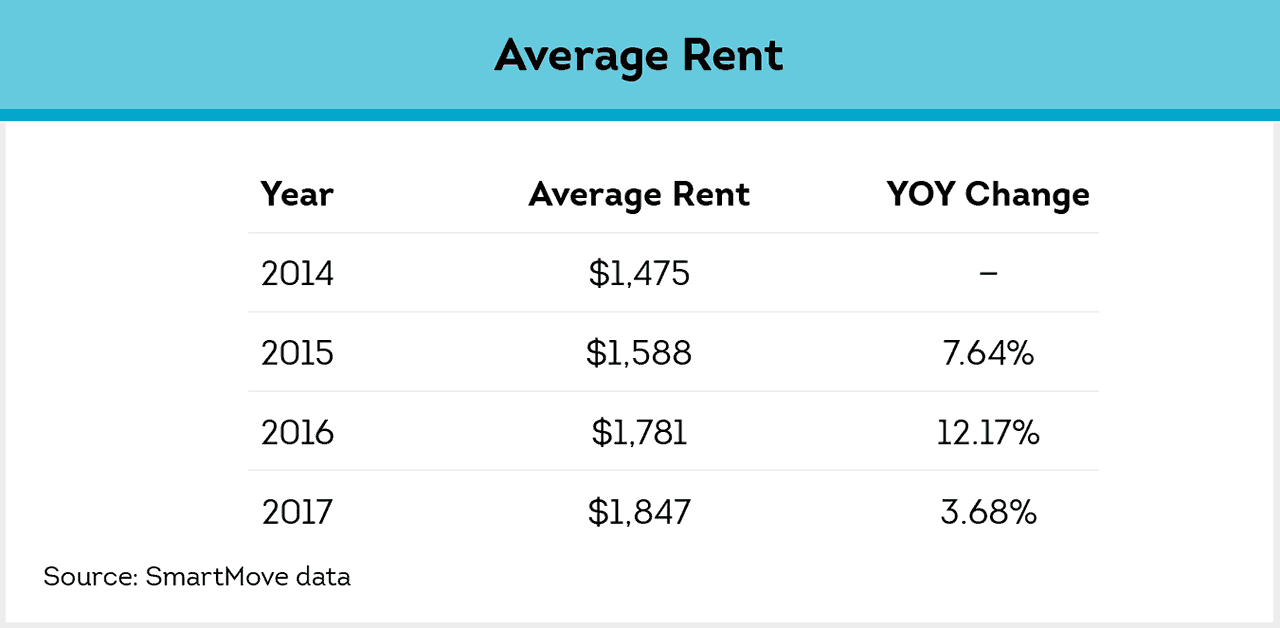 A 2017 report released by the National Low Income Housing Coalition shows that renters need to earn a wage of $21.21 per hour in order to afford a modest, two-bedroom rental home in the U.S. The federal minimum wage of $7.25 is significantly under this rate, theoretically requiring a renter earning minimum wage to work more than two full-time jobs to afford a one-bedroom rental.
Millennials now make up the largest generation in history and have a large impact on the rental and housing market. Millennial workers make an average of $21.80 per hour, $5.78 lower than the national average. National rent prices are so high that millennials are spending a greater portion of their income on rent. According to RentCafe, the average millennial will spend about $93,000 on rent by the time they hit 30. This is 45% of their income going to rent between the ages of 22 and 30.
While Generation Xers and baby boomers made less money than millennials, they spent less on rent. Over an eight-year period (aged 22 to 30), generation X spent 41 percent of their income on rent and baby boomers spent 36 percent. The members of generation X were in their 30s and 40s when the U.S. housing market crashed in 2008, putting their home buying dreams on hold and necessitating a return to the rental market. Even so, they paid $10,400 less in rent than millennials of the same age, indicating an increase in rent since the housing market crash.
More people are renting than buying

Despite rising rents, homeownership remains persistently low since renting is still the more affordable option. 76 percent of millennial renters say that renting is more affordable than owning.
With a higher number of applicants, independent landlords are less likely to have vacancies and able to be more selective about their tenants.
What rising rent means for landlords
There are several implications for landlords
Rising rent prices and stagnant wages make it harder for renters to save the down payment necessary to purchase their own home. Additionally, U.S. home prices continue to accelerate due to high demand by first-time homebuyers and a relatively low inventory of homes. Home prices have risen at twice the rate of economic growth since 2012. This means that there is still a large number of people who are in the market for rental housing. All of these trends add up to make it an overall landlord's market and they can be selective with who they choose to be their tenants.
As rent continues to rise, more renters are cost-burdened. For instance, you may notice that more renters need roommates in order to afford rent. The old rule about a 3:1 rent ratio may no longer be applicable, especially in many high rent markets. Therefore, independent landlords might have to adjust their thinking on how much income a renter needs. You may need to evaluate on a market by market basis to determine a more realistic rent to income ratio for your acceptance criteria.
With so many renters paying more than 30 percent of their income toward rent, it's more important than ever to look at credit to see how a prospective tenant manages their finances and review their payment history. To prevent future payment problems, you need to ensure that an applicant can meet their financial obligations.
Conclusion
Make sure that your renters can afford the rent
Given that rents are rising faster than renter income, and that renters seem to appear more cost burdened, landlords should do their due diligence to ensure that prospective tenants can afford the monthly rent payment.
As a busy property owner faced with an increasing number of applicants in a high-demand rental market, you need to make more informed decisions about who your next tenant will be. And you also want to be able to move through the acceptance process faster.
TransUnion SmartMove's newest feature, called Income Insights, enables landlords to identify which applicants should provide additional proof of income. Income Insights uses a statistical model to analyze an applicant's spending and payment behavior from their tenant credit report to estimate income and help the landlord decide whether to ask for additional proof of income from the applicant. In other words, it analyzes financial transactions such as credit card expenditures and payments, among with other factors, to determine an applicant's ability to meet financial obligations.
There are ways to mitigate your risk of not being paid, such as implementing a thorough tenant screening process, being straightforward about consequences for late rent, and making it easy to pay rent by accepting online rent payment.
Additional Disclosure:
Remember that this material is intended to provide you with helpful information and is not to be relied upon to make decisions, nor is this material intended to be or construed as legal advice. You are encouraged to consult your legal counsel for advice on your specific business operations and responsibilities under applicable law. Trademarks used in this material are the property of their respective owners and no affiliation or endorsement is implied.