Disclosure:
Remember that this material is intended to provide you with helpful information and is not to be relied upon to make decisions, nor is this material intended to be or construed as legal advice. You are encouraged to consult your legal counsel for advice on your specific business operations and responsibilities under applicable law. Trademarks used in this material are the property of their respective owners and no affiliation or endorsement is implied.
You've found who seemed to be the perfect tenants to occupy your rental property. They signed the lease, paid the rent on time, and everything was going as planned—until it wasn't.
Maybe they sublet the property without your permission, started paying the rent late or caused major damage to your rental property. Whatever the case, at some point in your career as a landlord, you may contemplate the need to evict a tenant.
Unfortunately, the eviction process isn't simple; it can be lengthy and is often costly. TransUnion SmartMove data found that total eviction-related expenses for property managers averages $3,500 and can take as long as 3-4 weeks for the eviction process to run its course.*
You must go through each legally required step and ensure you abide by state and city laws along the way. If you've exhausted all methods to resolve a conflict with a tenant to no avail and believe that eviction is the best course of action, then prepare for a lengthy and sometimes complex process.
There are steps a landlord can take that can help to avoid evicting a tenant, but in some situations, eviction may be the only answer.
Below we've outlined key details to remember to help avoid eviction:
1. Ensure New Tenants Can Afford to Pay Rent
A TransUnion survey found that payment problems ranked as the top concern for 84% of landlords.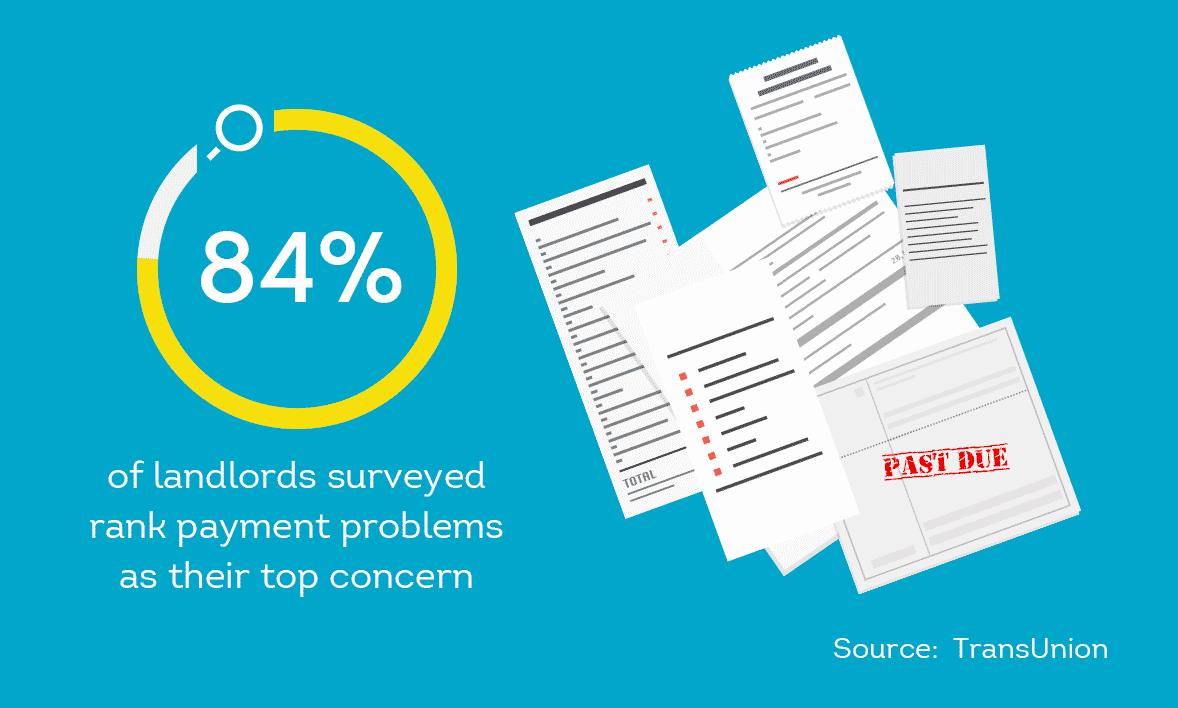 If you want to avoid payment issues, then be sure to do your due diligence with tenant screening from the very start. There are three reports that can help a landlord determine if the tenant will be likely to pay the rent on-time.
A credit report will reveal information about the tenant's credit history to include debt levels, payment history, and other financial information. By ordering a credit report, landlords will get a specialized credit score designed for rental screening as well. SmartMove also offers landlords ResidentScore 2.0, a credit score that specifically analyzes predictors of a bad rental outcome. ResidentScore 2.0 is tailored to meet the unique needs of independent landlords and built to predict evictions 15% more often in comparison to a generic credit score where the bottom 20% score range where risk is the greatest.
Another important report to appraise your renter's ability to afford the rent is the Income Insights report. This report can help a landlord to gain more confidence that their potential renter makes the income they say they make. Income Insights examines data on the applicant's credit report, such as how much they pay towards balances, the amount of money they spend, and other factors to arrive at income estimate. Within minutes, a landlord will receive a report that recommends if additional income verification is needed, such as pay stubs, which can save time and money.
2. Understand that the Eviction Process is Long and Complex
If your tenant is uncooperative and leaves you no other choice than to evict, then prepare for a lengthy process. TransUnion data suggests that the typical eviction process takes three to four weeks to complete, but this isn't always the case. Depending on your state of residence and the states laws behind eviction, this process could take longer.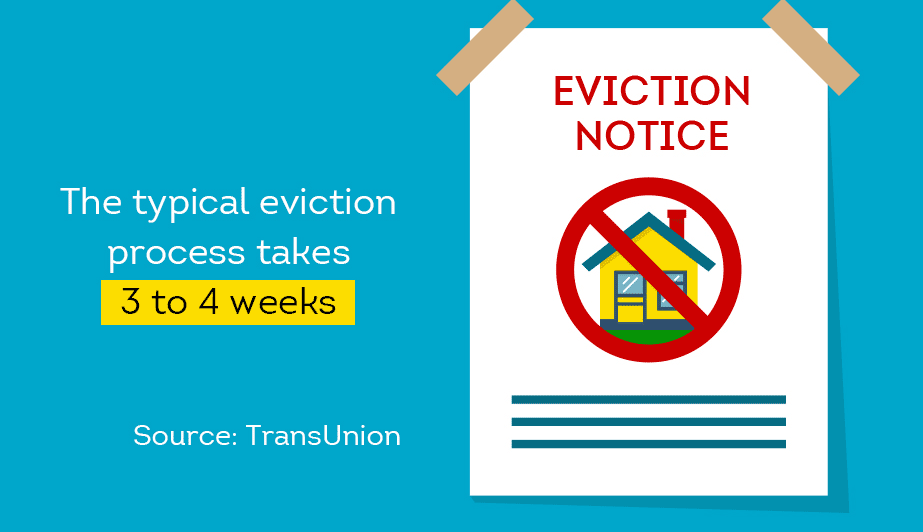 If the length of the eviction process isn't enough of a scare, according to a TransUnion survey the average cost of an eviction is $3,500.Overall, the cost and time associated with evicting a tenant is surely not favorable, and landlords should make it a priority to avoid a potential eviction as best as they can.
3. Consider the Cost of Eviction
According to a TransUnion survey, the average cost of eviction is around $3,500 and can go up into the tens of thousands depending on the complexity of the case and court fees. Figuring in court costs, legal fees, financial damages, property damages, and lost rent, eviction is not only an unwelcome tenant outcome but also a costly one as well.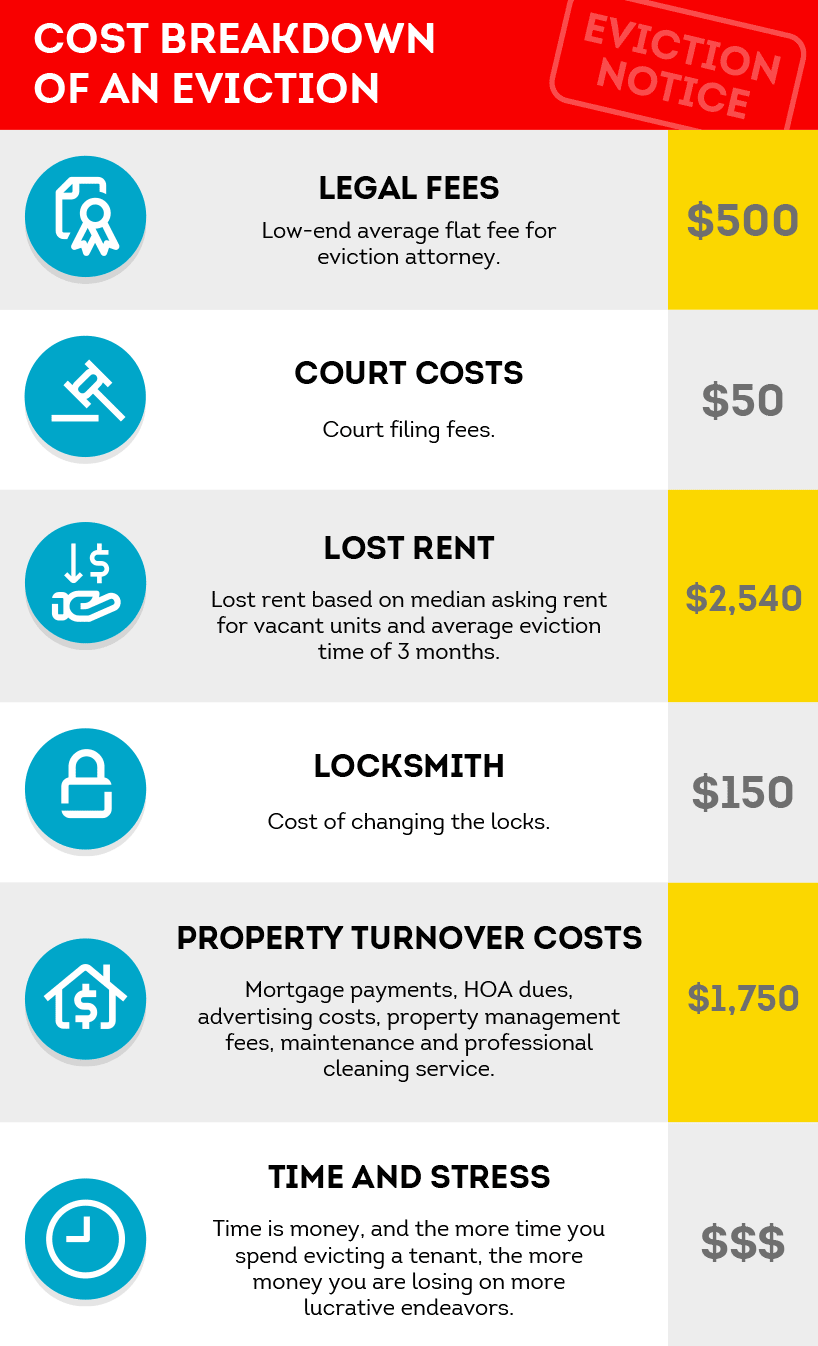 According to a 2014 SmartMove user survey, the top two concerns of landlords are payment problems and eviction history. If an eviction occurs due to nonpayment of rent, you could be headed down a very expensive path -- as the loss of rent payment and the cost of an eviction combined is not a cheap bill.
Pro-tip: Make sure to use a tool like Income Insights to analyze your prospective tenant's financial situation. One of the key advantages of Income Insights is that the report is delivered within just a few minutes, enabling the landlord to quickly determine whether additional income verification is needed.
4. Keep a Paper Trail
While it may seem like extra work, it's in the landlord's best interest to make sure all lease documents are in order. In the event of litigation, it will be helpful to have proof of each charge (i.e. property damage, late rent payment, etc.).
It's important to abide by any state-specific laws so that in the case of going to court, the judge won't question the landlord's practices or credibility. Ensure that all correspondence between landlord and tenant are kept in writing; which includes emails, texts, and letters.
Pro-tip: Send important letters by Certified Mail and keep the return receipt; this extra step ensures the tenant must sign when receiving the letter, proving that the tenant did, in fact, receive formal notice.
Check your lease to ensure that rule violations and procedures are clearly stated before proceeding with the eviction process. For example, if your tenant is two days late paying their rent, but the lease allows a five-day grace period, then there is no legal justification to evict for late payment of rent.
Besides documenting regular text and voice communication, it's also important to keep other records safe, such as:
Payment receipts: It is helpful to retain a hard copy as well as digital records of all rental-related documents. If tenants pay you in cash for rent or utilities, then credit receipts and have your tenant sign them. You might even consider mailing or emailing your tenant a copy of the receipt for their own records. If the tenant's cash payment is made late, take note on the same copy the tenant signs; this will help keep the tenant accountable for any issues that could arise in the future with late payments.
Incident reports: If there are any incidents like noise complaints or run-ins with the police for illegal activity, for example, take note and keep any copies of the official reports.
Property damage references: In the event you are evicting a tenant because they've damaged your property, The BalanceSMB suggests that you'll likely want to provide before and after pictures that illustrate said damages. Be sure to indicate the repairs you made with receipts for parts and service. It's a good idea to outline what constitutes property damage and the consequences in the initial lease agreement.
Key retrieval receipt: Most leases have a policy in place for replacing keys to the rental property. A key retrieval receipt will indicate that the key(s) have been returned when the tenant vacates the rental. This receipt will null any costs related to key replacement. A landlord should get this document signed by the tenant, as this can help to clearly communicate that the rental is no longer accessible to the said tenant.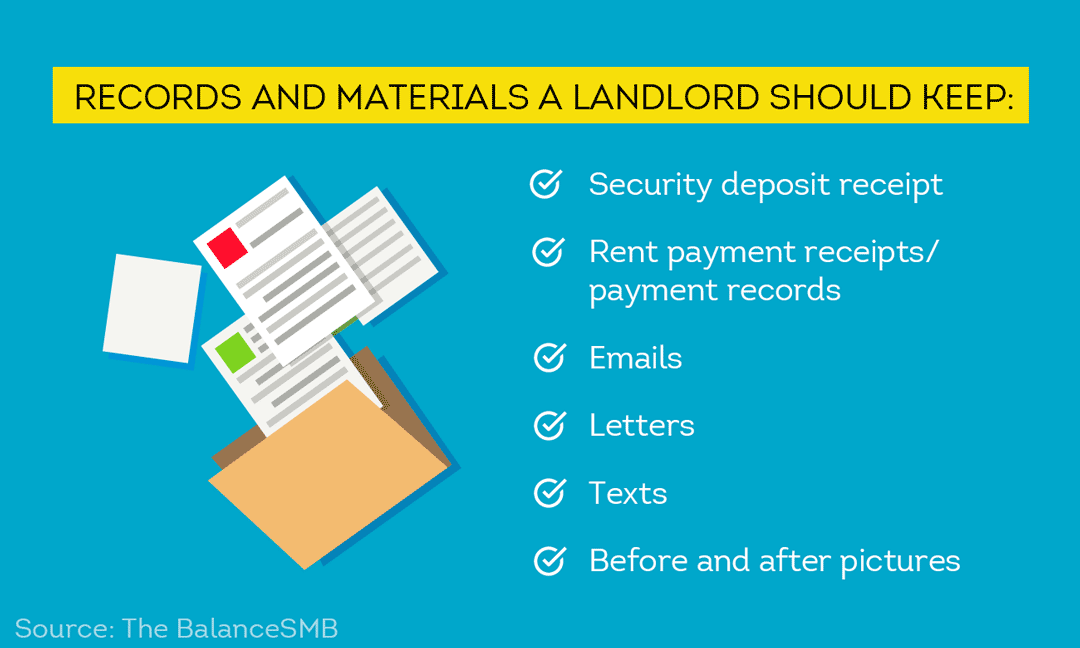 5. Do Your Research and Hire Legal Counsel
Rules regarding proper eviction procedures are determined by your local jurisdiction and can vary state to state. Be sure to consult your local and state laws when drafting your lease agreement.
In addition, it's in your best interest as the landlord to speak with legal counsel when creating a lease agreement and before starting the eviction process. An attorney specializing in property laws can help to guide you properly through the process.
Under no circumstances should you attempt to evict tenants on your own; there are many actions that could land you in hot water.
As The BalanceSMB explains, during the eviction process you should NEVER:
Change the locks yourself
Remove the tenant through physical force
Seize your tenant's belongings
Turn off utilities
It doesn't matter how difficult a renter is or what kind of damage they're causing—you should not harass or push out a tenant.
6. Prevention is the Solution
Avoiding eviction is a priority if you're a landlord since an eviction can be very expensive and time-consuming. There are some things that a landlord can do to help potentially lower the risk of having to evict a tenant.
Before a tenant moves in, you should become familiar with the local Home Owners Association regulations, where applicable, for the neighborhood in which your rental property is located. Pre-existing HOA rules will help you structure parts of your rental agreement, like setting up quiet hours for example, that follow neighborhood precedents already in place.
You should discuss rules and expectations that you have upon move-in. This includes quiet hour policies, guest expectations, and parking among other living arrangement guidelines.
Besides using these unofficial strategies, you can also more formally investigate your new residents by screening your applicants before letting them rent from you. This is the best form of protection.
In particular, a landlord should review an eviction report. Eviction history should be a major concern to landlords, since evicted residents have nearly 3 times as many prior evictions and rental-related collection records compared to non-evicted residents. TransUnion's analysis examined the records of individuals from nearly 200 properties, comparing those who were evicted to those who were not evicted.
TransUnion's findings included:
In the "non-evicted" group, 5.5% of residents had prior evictions on their records.
For residents who were ultimately evicted, the number rose to 21.7% of residents with a prior eviction.
Evicted residents have twice as many prior rental related collection records as non-evicted residents.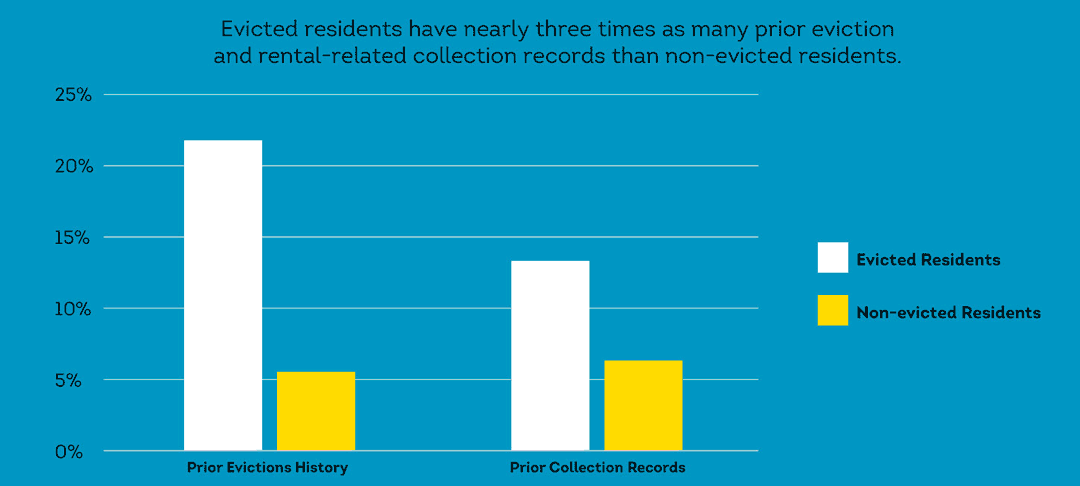 To avoid the hassle and headaches, it's helpful to screen tenants at the very beginning of the application process to help to reduce the potential of a negative outcome.
Final Notes
For landlords, there may be nothing more painful than evicting a tenant. They are costly, time-consuming and stressful. But, evictions can potentially be avoided with the help of the right information.
It's vitally important for a landlord to conduct a thorough tenant screening, which includes credit and criminal checks, eviction history, ResidentScore and Income Insights report.
A credit report will help you to gauge how financially responsible your applicant is and their track record of making on-time payments.
A criminal report will provide information about any criminal history that could put the neighborhood at risk
A ResidentScore report is generated by the tenant's credit history but is ran through a different formula than a typical credit report. Based on the score, and the property information entered, SmartMove will generate a leasing recommendation
An Income Insights report can provide a quick assessment of an applicant's income to determine if further income checks are needed
SmartMove was designed to help independent landlords quickly access critical information they need in order to choose the right tenant for their rental property. While there may still be an occasion where even the most careful landlord has to evict a resident, a thorough tenant screening is a good hedge to help reduce the risk of falling into a long, drawn-out, stressful and expensive situation.
Additional Disclosure:
Remember that this material is intended to provide you with helpful information and is not to be relied upon to make decisions, nor is this material intended to be or construed as legal advice. You are encouraged to consult your legal counsel for advice on your specific business operations and responsibilities under applicable law. Trademarks used in this material are the property of their respective owners and no affiliation or endorsement is implied.