An excellent tenant is someone who pays their rent on time, is respectful of the property, and has a long-term lease. Attracting and retaining high-quality tenants is the key to your success as a landlord. Since most landlords know what qualities make an ideal tenant, the landscape can be fairly competitive when it comes to finding these tenants. If you're looking for a way to boost your chances of finding an excellent tenant, take a look at these features that can help your rental stand out from the rest.
Whether you are purchasing new property or improving a property you already own, listed below are 11 of the most important things that tenants look for in a rental property. These factors can help you attract more tenants, giving you a higher chance of finding an excellent tenant for your property.
1. Location
Just like with any business, location can have a big impact on your revenue. Great tenants look for a property that is close to their employment, as well as grocery stores, restaurants, and community parks. It's all about lifestyle quality, and a great tenant is often willing to pay more or overlook less desirable aspects of the rental unit if the property is in a great neighborhood.
An hour long commute to work or having to go out of their way to get a nice dinner can be a deal breaker for tenants who are looking for a long-term place to call home. If you are in a desirable location, you can attract higher-quality tenants and charge a higher rent.
2. Safety and Security
Safety goes hand-in-hand with location. A safe environment is a powerful motivator for great tenants. If you're worried that your car or home is going to be broken into, it can be hard to sleep at night.
Therefore, researching crime statistics is an essential step to take when you're considering purchasing a new property in an unfamiliar area. For your existing rental properties, adding an alarm service or another security feature is a cost-effective way to make tenants feel safe and secure in any neighborhood.
3. School District
Along with location, a high-quality tenant might consider the area's school district. For tenants with school-aged children, the school district is a major priority. Every parent wants the best for their children, and a quality education is at the top of many parents' list. Even if a tenant does not have children, many tenants view the quality of the school district as an important predictor of neighborhood quality. Therefore, it is a factor that's likely to be on any tenant's radar who'd like a long-term home.
4. Parking
Nobody wants to drive around for hours looking for a parking spot, especially if they have a bundle of groceries and melting ice cream in the car. If your property is located in a suburban area, there may be plenty of parking available on the street. However, in the tight spaces of an urban environment, parking is an important consideration. If you can't offer off-street parking, try to direct tenants to a parking garage within five or six blocks of the property.
If parking is provided, make sure to outline specific rules in the lease and post signs that let others know about these rules. The next step is to enforce these rules consistently to protect your tenants from unauthorized users of the parking spaces.
5. Move-In Ready Condition
Repairs in units or common areas are disruptive and annoying. If a property requires painting, carpeting, or cleaning, it could turn off an excellent prospective tenant. Before showing the property, make sure that all the necessary repairs have been made. The first impression that a tenant gets from the property will likely persist in their mind, and you'd quickly lose their interest.
Additionally, if the state of the property is in poor condition when the tenant moves in, it sets the expectation that this is how they should treat the property. You don't want to give the wrong impression. A rental unit that is in move-in ready condition sets the expectation that the tenant will maintain high standards of cleanliness and maintenance.
6. Appliances Included
A homeowner expects to pay for appliances and their upkeep, however, a tenant who is renting a property does not. A tenant would not want the added hassle of having to purchase large and costly appliances that they may not need for a future rental or be responsible for if they break. New appliances are especially attractive to tenants, because it means there is less likelihood of the appliance breaking down at an awkward time and having to coordinate repairs.
Washing clothes at the local laundromat can be expensive and time-consuming, so many tenants are willing to pay a higher rent if the unit includes an in-unit washer and dryer. If you don't have the space or ability to provide a washer and dryer in the unit itself, providing them on the property is your next best option.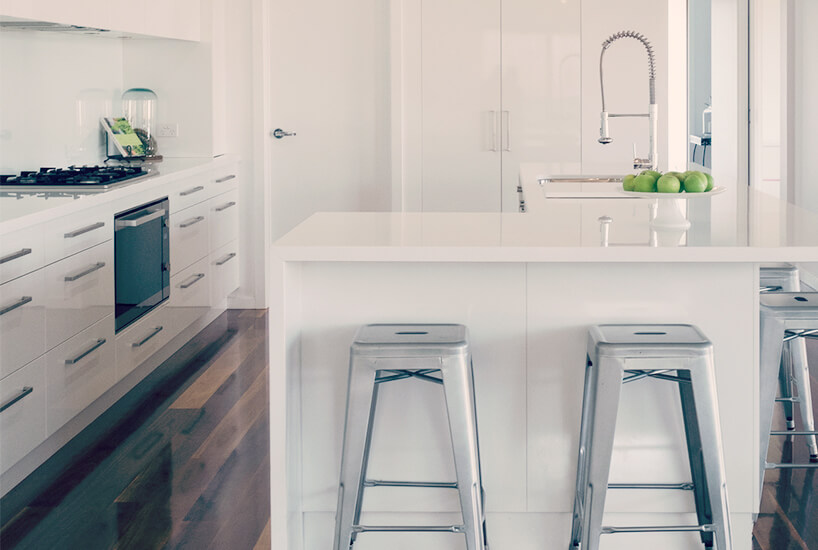 7. Upgrades and Renovations
It's the little details that can make a house feel like a home. Strategic upgrades like stainless steel appliances and hardwood flooring can help attract a higher quality of tenant. Renovations in the kitchen and bathroom are especially appealing to tenants, and even simple upgrades like a new kitchen backsplash or updated cabinet hardware can make a big impact. If you live in a warmer climate, installing central air conditioning is often worth the expense. The more a place feels like home, the longer an excellent tenant is likely to stay.
8. Age of Property
It's worth repeating that tenants want to avoid the hassle of tiresome repairs. Oftentimes, this means they will look for newer properties with newer plumbing, electrical, and HVAC systems that are less likely to break down and require repair. If you already own a property that is older, it doesn't mean that you are out of luck. By properly maintaining your property, making the necessary repairs, and keeping it clean, you can still attract excellent tenants.
9. Open Floor Plan and Storage
Open floor plans and adequate storage space have a way of making square footage seem a lot larger. This might mean removing an unnecessary wall, or providing a closet in the bedroom. Alternatively, you can offer storage outside of the unit itself perhaps within a basement or outdoor storage shed. It's important to offer tenants the option to store large and seasonal belongings, like bikes and skis. This will go a long way by giving the tenant more space within their home to move about and entertain guests, creating a more enjoyable living experience.
10. Outdoor Space
A private backyard or balcony is an incredibly attractive value add to urban dwellers, and is a great way to differentiate your property from a similar one down the street. If you can provide a small space to enjoy sunshine and fresh air, you'll be able to attract more tenants which gives you ample opportunity to select the very best, and possibly charge higher rent.
11. A Cooperative Landlord
In an ideal landlord-tenant relationship both parties should be courteous, cooperative, and respectful. If you set an expectation or make certain promises, such as updating the kitchen cabinets, in order to sweeten the deal to attract a good tenant, then you need to be sure to follow up on your promise. Good tenants expect that you will keep your end of the bargain, just as they plan to, and breaking their trust may have them looking for another place.
You can think of these 11 features, especially the ones that require an initial investment, as a way of showing the tenant how you expect to be treated in return. Taking such steps indicates to the tenant that you care about the property and will be on top of property maintenance, which is always a major concern for tenants. With the advantage of these 11 ways to differentiate your property from the competition, you can attract better possible tenants and get a higher return on your investment.
Once you've found a qualified set of applicants, you'll need a tenant screening service so you can run a thorough landlord credit check on your applicants' background. Make sure your screening includes credit, criminal, and eviction reports. By putting effort into screening your tenants upfront, you can avoid costly evictions later.
Additional Disclosure:
Remember that this material is intended to provide you with helpful information and is not to be relied upon to make decisions, nor is this material intended to be or construed as legal advice. You are encouraged to consult your legal counsel for advice on your specific business operations and responsibilities under applicable law. Trademarks used in this material are the property of their respective owners and no affiliation or endorsement is implied.