Disclosure:
This content, except as otherwise indicated or stated on this site, is the property of TransUnion Rental Screening Solutions, Inc. This content is for educational purposes and for convenience only. Trademarks used are the property of their respective owners, and no endorsement or affiliation is implied. The information presented in this content is "as is" without warranties of any kind, and specifically is not represented to be complete and does not constitute legal advice, and is subject to change without notice. You are encouraged to check these terms from time to time for changes, and by accessing this site you agree to these terms and all terms listed. Laws and regulations may vary by state and locality. Consult your own counsel if you have legal questions related to your rental property practices and processes.
Setting a good rent price for your property can sometimes feel like a shot in the dark. You have a general idea of what landlords are charging in your area, and you're keeping up with that.
But if you have a luxury two-bed, you don't want to charge the same as the dated garden-level two-bed down the street, right?
There may be factors you haven't considered that could allow you to charge more.
Apartment, building amenities, and location play a big part in determining rent price. But, so do market fluctuations.
When you're setting a price for a new property or reassessing how much you're charging on a place you've had for a while, you have to take all of the variables into consideration.
Here are some tips to help you set the best rent price for your property.
Avoid Basing Rent off of Your Property Value
One way that a landlord could start to think about how much rent to charge is to base it off of the current value of the property. One rule of thumb is to charge rent around 1% of the property value per month. This is a simple to understand way to set the price. While this heuristic is easy to understand, it isn't a good way to set the rent generally.
For instance, the neighborhood of University Heights is a suburb of San Diego, CA and three bedroom rentals are going for $3,187 on average.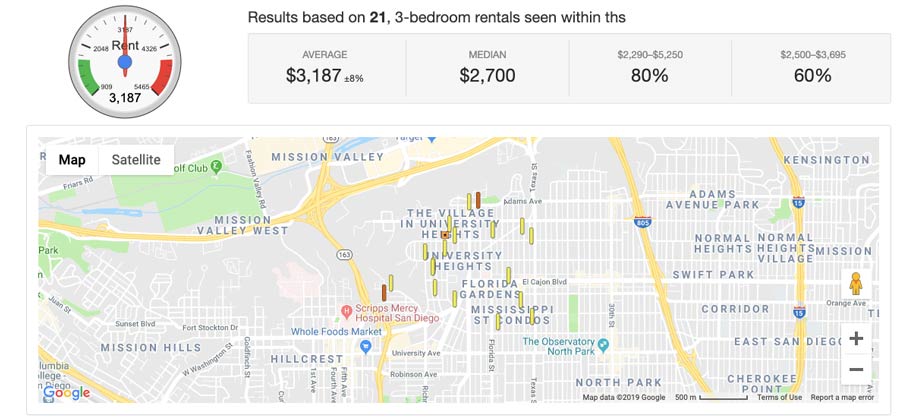 When examining recent sales of properties on Redfin® we see that 3 bedroom units and homes are selling in the $900K+ range. That would imply, using the 1% rule, that landlords in the area could charge $9,000 per month. But, clearly that isn't the case.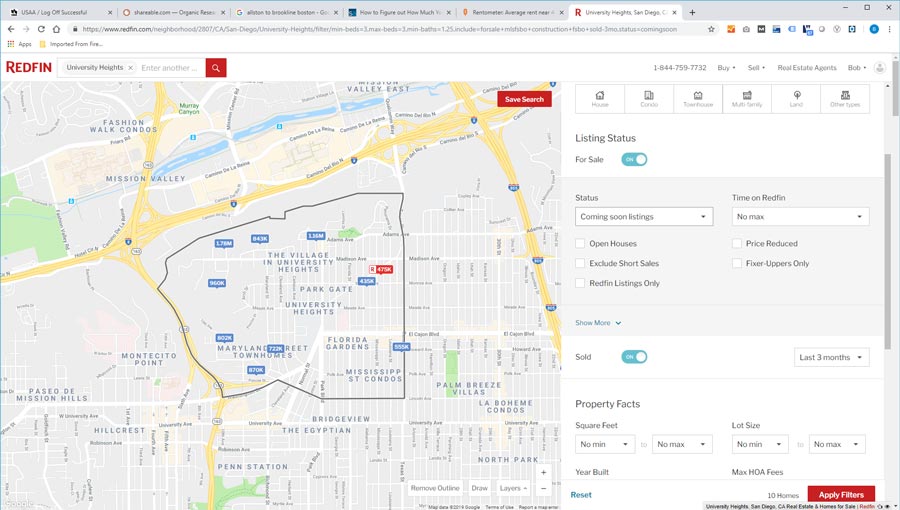 So, using the 1% rule, depending on where you live, may deliver results that could be unreliable. That's why factoring in your location is important and understanding your local market is crucial.
Let's take a look at some of the other factors you need to consider when setting your rent price.
Know Your Local Market
As mentioned above, where your rental property is located has a big influence on the kinds of rent charge. Your state and city are good indicators for the kind of rents being charged. But, it is more localized in terms of understanding how much rent that an independent landlord can reasonably charge. It is at the neighborhood level that really determines market value.
For example, San Francisco is famous for its high rents, and is often cited as one of the most expensive cities in the U.S. In 2018, rents in its Mission Bay neighborhood average $4,060, while rents in Hayes Valley, its least expensive neighborhood, tend to hover around $2,764.
But, even in markets where rents aren't even close to that level (think Kansas City or Boise), there are other elements of your neighborhood that could affect your rent price positively.
Is your neighborhood near a tech hub or a cluster of great hospitals? If there are good schools in your area, you could attract families. Tech and healthcare are both booming businesses, attracting lots of workers, allowing entire areas to charge more for rent.
Even similar properties within walking distance of each other can have dramatically different rents, depending on where they're situated.
Let's take a walk through the greater Boston area to illustrate.
The average rent for a one-bedroom in the Allston neighborhood of Boston is $1,910, according to Rentometer. (This neighborhood is mainly populated by students of the local schools and young professionals.)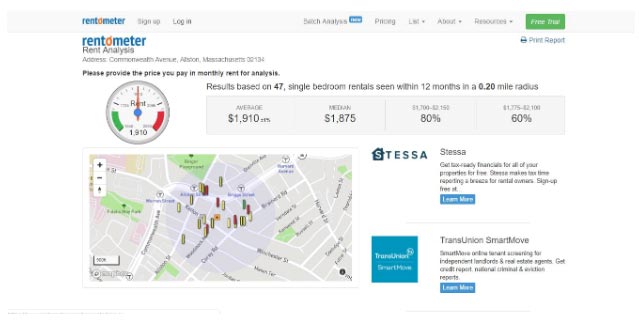 If you look at the map provided by Rentometer, units close to Commonwealth Ave., where the light rail train runs, average about $100 more, while apartments further back see rent drops of $100 to $200.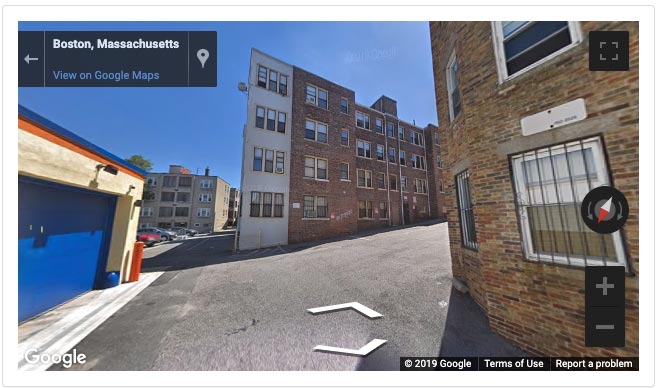 If you keep walking south through the Brighton neighborhood, rents stay about the same. But, stroll just a few blocks more and you're in Brookline. Now you are in an entirely different city and county, but still walking distance from where you started. Known for its excellent schools and large, beautiful homes, rents for a one-bedroom here average $2,106.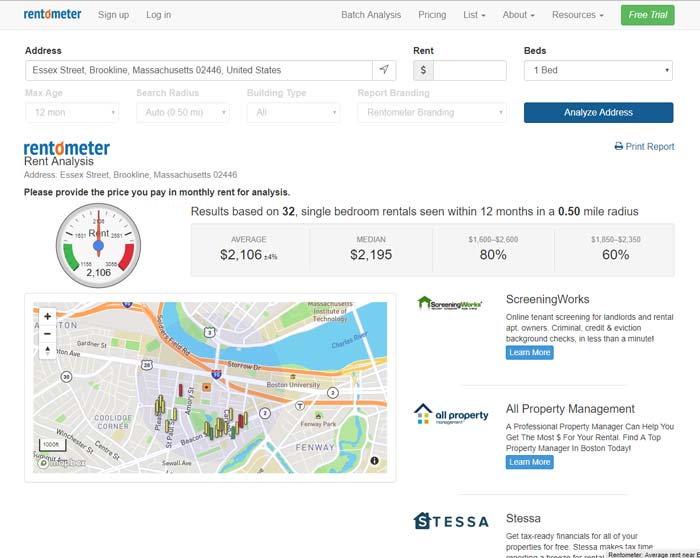 Even within neighborhoods, prices can vary, street by street. The Capitol Hill neighborhood, locally known as Cap Hill, is the most densely populated section of Denver, CO. It's known for its historic buildings, trendy restaurants and clubs, and a diverse population.
Needless to say, rents there are higher than in other parts of Denver. But, if you own a property in Cap Hill, you'll want to pay attention to what street you're on.
Three bedrooms on Lincoln St., located on the edge of Cap Hill, tend to be a few hundred dollars cheaper than those more toward the center, like on Pennsylvania St.
Being right in the middle of the hippest neighborhood, walking distance to all if offers and closer to Cheesman Park, gives your property more value.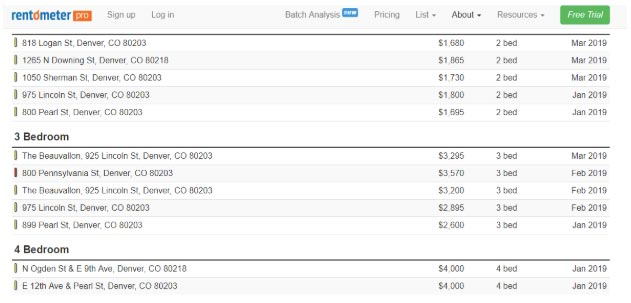 Of course, there is one outlier on Pearl St., which is also close to the center of the neighborhood. This unit could be less expensive because it's located at the garden level, it offers fewer amenities, or it faces and alley. There are a number of other factors that affect rent price, which we'll get to in a minute.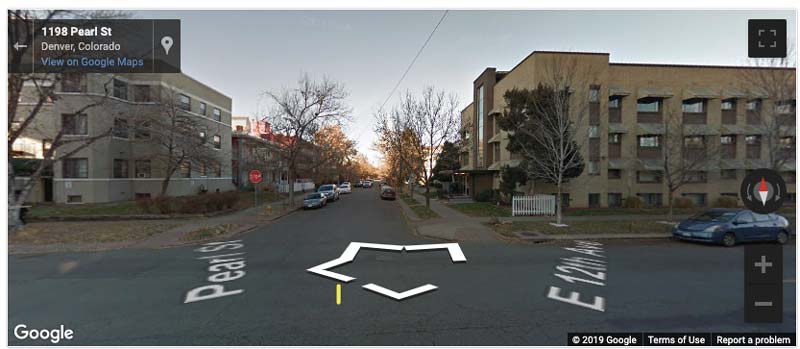 Knowing the value of your location, down to the street, and sometimes even the building, will help you set the right rent that will get you the most possible money without overcharging.
Pay Attention to Rent Fluctuations
Rent price is not a set-it-and-forget-it kind of thing. Average market rates can change from year to year.
Even if you've already set your rent price, taking a look at rents in your market every year can help you assess whether or not you need to raise or lower rates to meet market demand.
In some cases, you may even set your rent differently depending on the season. Some rent comparison tools like Rentometer will have data reflect each different renting season.
In the greater Boston area, for example, rent prices rise for leases that begin in September. That's when an influx of students to the area's 52 colleges and universities puts a greater demand on housing.
Analyze Prices for Similar Properties
Like we mentioned in the example above, rents can vary in neighborhoods, streets, and even buildings. To really understand what you should be charging, look at what other landlords in your area are charging. In short: Get the most accurate comps in your area in order to set a rent price that is competitive.
Make sure, though, that you're comparing apples to apples. If you have a two-bedroom with an updated kitchen and bath, look at other two-bedrooms with more modern features. If your apartment is garden level, again, look at places in the same situation.
You can even go deeper than that. Are you in a pet-friendly building, find another building that is similar that gives you a good comparison. In some areas, being pet-friendly (especially dog-friendly) can be a real asset, since there aren't too many around.
Understand the Value of Your Amenities
Once you've calculated your rent based on value, location and market, think about the amenities your property offers and how they make your apartment stand out. Within the apartment itself, that could be anything from a washer/dryer to a balcony to a smart lighting or heating system.
If your apartment is in a building or community, think about what it has to offer.
Parking
Fitness area
Concierge service
Laundry
Community events
All of these increase the value of your property in the eyes of renters, which means you can charge more for rent.
Compare your rental unit to those with similar amenities, such as a doorman, an onsite gym, or laundry in the unit. You'll probably find that units like these get to charge a little more.
On the flip side, your very basic apartment may be surrounded by luxury buildings full of state-of-the-art apartments that cost a pretty penny. In that case, your strategy is simple: sell your place as an affordable, no-frills alternative that will attract renters who can't afford a high rent.
Remember, it's better to price yourself right and attract tenants who can pay than try to upsell and get in tenants who fail to pay rent or break their lease.
Analyze Rent Comparison Data
To set a good rent price for your property, you'll have to do your homework. And you'll have to take everything into consideration: location, size, amenities, and market data. It's really an art and a science. There's an element of subjectivity when trying to price for differentiated amenities that you have, and there is real data that you can use to ground your thinking. For the best results, pay attention to the market and similar properties, set your price and adjust and tweak on a regular basis.
Rent comparison tools pull all of the variables we've talked about together to help you set the best price for your properties. A good rent comparison tool will give you a good picture of the rental market in your area. You'll get average and median rent prices for a variety of properties, so you can compare pricing across size and location.
If you own several properties, you can do a portfolio check to get average prices for everything in your dossier. Other helpful information includes the square footage, number of bedrooms and last listing date for properties.
In conclusion: Find a good rent comparison tool, use neighborhood comps to set your rent price, keep up-to-date on rent pricing in your area, and keep your property competitive and profitable.

This article was contributed by Rentometer
Rentometer provides essential tools for the rental housing industry. Everyone from landlords, property managers, owners, and renters can research and compare rental rates for free on Rentometer.com. In addition to the rent comparison tools exclusively found on Rentometer, the company offers landlords and property managers information and access to products, services, and technology used in rental housing operations and maintenance.
Additional Disclosure:
Remember that this material is intended to provide you with helpful information and is not to be relied upon to make decisions, nor is this material intended to be or construed as legal advice. You are encouraged to consult your legal counsel for advice on your specific business operations and responsibilities under applicable law. Trademarks used in this material are the property of their respective owners and no affiliation or endorsement is implied.