As a landlord, you're often expected to know it all, whether you manage properties and rentals full-time or rent out a single property as a supplemental form of income. Whatever the case, there is often one point of confusion for many: what is the difference between a lease and a rental agreement?
Often, the terms "lease agreement" and "rental agreement" are used interchangeably to mean the same thing. But the terms can refer to two distinct types of agreements. Both leases and rental agreements are contracts that are legally binding. But each serves a very different purpose. Below we will go over the key differences between a lease and a rental agreement.
What is a Lease Agreement?
Before moving into a rental property, many landlords require their tenants to sign lease agreements. A lease is a contract between a tenant and landlord that gives a tenant the right to live in a property for a fixed period of time, typically covering a 6- or 12-month rental period. A contract between the landlord and tenant binds the parties to the lease.
Residential leases are tenant contracts that define in clear, thorough terms the expectations between landlord and tenant, including rent, rules regarding pets, and duration of agreement. A strong, well thought out, and well-worded lease contract can help ensure both parties' best interests are protected, as neither can alter the agreement without written consent from the other.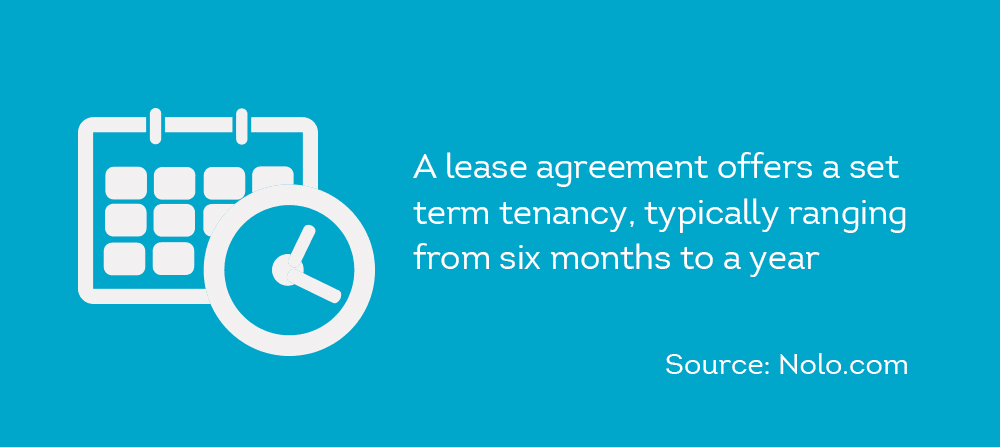 What is a Rental Agreement?
Rental agreements are very similar to lease agreements. The biggest difference between lease agreements and rental agreements lies in the length of the contract.
Unlike a long-term lease agreement, a rental agreement provides tenancy for a shorter period of time—usually 30 days.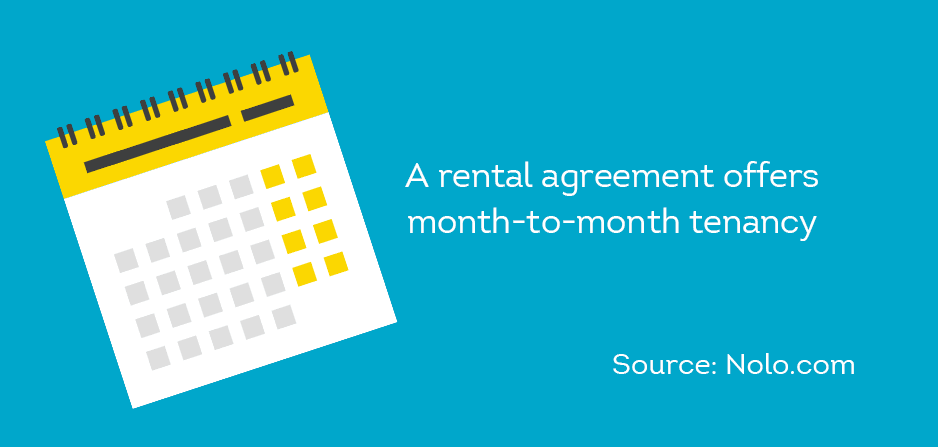 In most cases, rental agreements are considered "month-to-month," and automatically renew at the end of each term period (month), unless otherwise noted by tenant or landlord. With a rental agreement, the landlord and tenant are free to change the terms of the agreement at the end of each month-to-month period (so long as appropriate notice procedures are followed).
Typical Items in Leases and Rental Agreements
Both lease and rental agreements may vary in terms of structure and flexibility. For instance, some contracts may include a rental unit pet policy, while others might include an additional addendum regarding rules or regulations, such as excessive noise.
That said, rental contracts typically contain a standard number of items. Here are a few of the typical provisions as laid out by NOLO.com: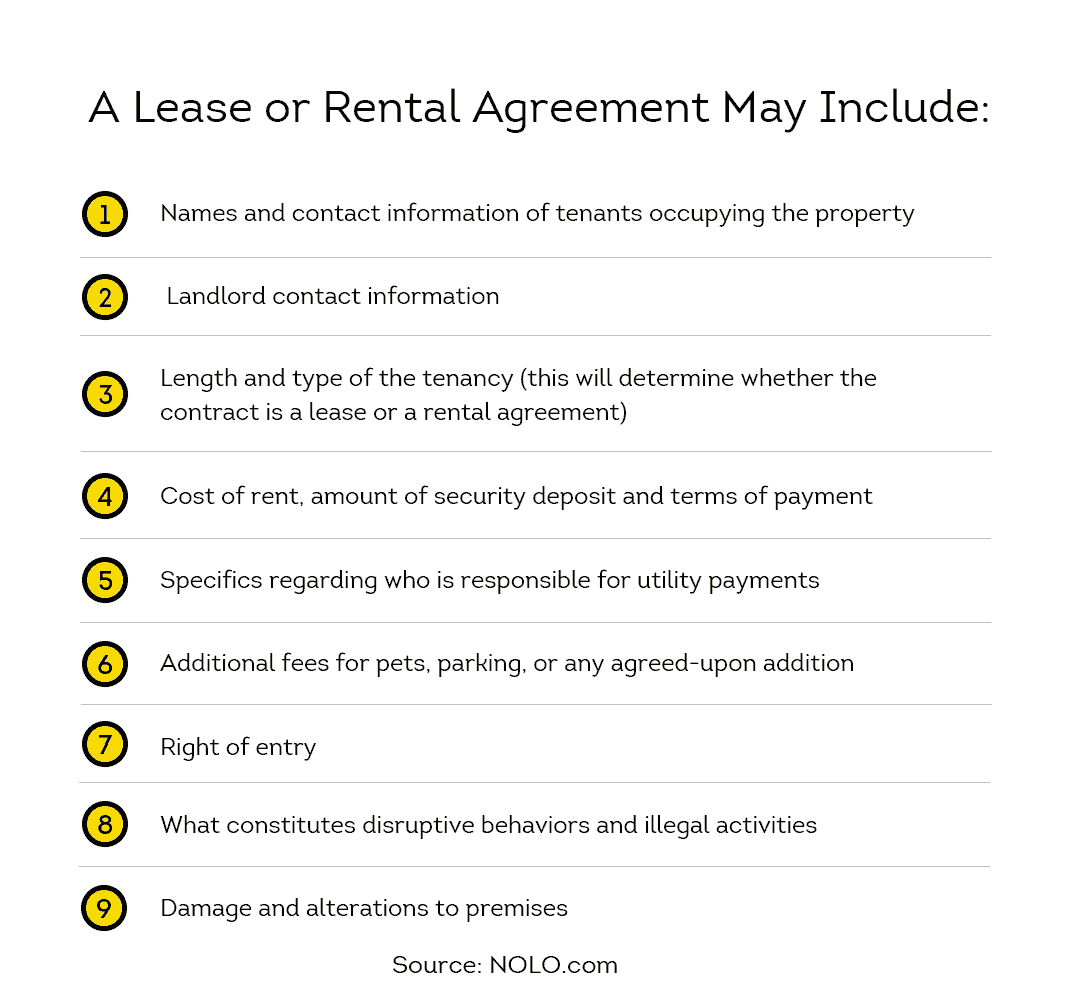 This list points out many items that are commonplace, but is by no means exhaustive.
Depending on the state, landlords may be required to include certain disclosures on their lease or rental agreements such as asbestos, mold, and registered sex offender information. When drafting your lease or rental agreement, always be sure to comply with your state and federal laws.
Lease Agreement vs. Rental Agreement: Pros and Cons
The pros and cons of each specific contract fall into a few different categories and depend on the landlord-tenant relationship you're looking for.
Let's start with the pros and cons of a lease: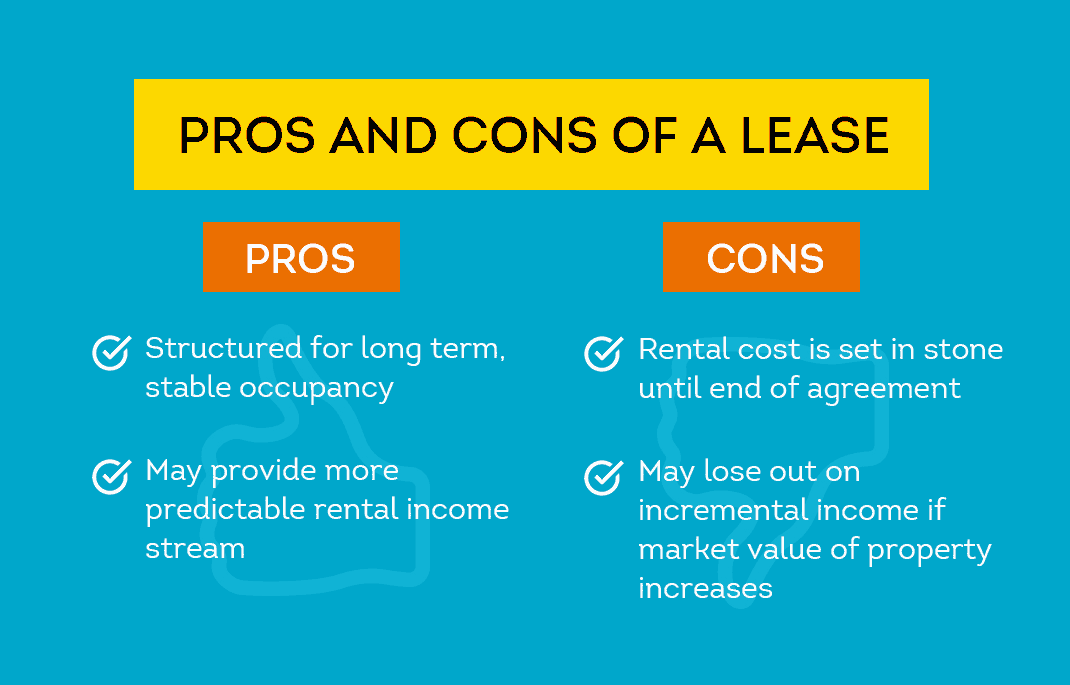 Pros of a Lease:
If stability is your main priority, a lease may be the right option. Many landlords prefer leases to rental agreements because they are structured for stable, long-term occupancy. Placing a tenant in a property for at least a year may offer a more predictable rental income stream and cut down on turnover costs.
Cons of a Lease:
That said, once a lease agreement is signed, the rental cost is set in stone until the end of the agreement. In an up-and-coming area with consistently growing property values, 12 months of a fixed rental cost could mean you miss out on substantial incremental income from market increases. According to Home Buying Institute, the median home price in the U.S. rose by 8.1% over the past year and is predicted that prices would rise by 6.5% in the next 12 months. This forecast was issued in July 2018 and extends into the summer of 2019.
Bottom line on Leases: A lease is a great option for landlords looking to make stable income, but may negatively impact profitability should property value grow within that year span.
Now, let's examine the pros and cons of a rental agreement:
Pros of a Rental Agreement:
Due to the short term of a rental agreement, they allow much more flexibility when it comes to rent increases. Technically speaking, rent may be revised each month with a rental agreement to stay in-line with the current fair market rent so long as rent increases comply with local law and the notice provisions that govern the month-to-month rental.
Using a tool such as Rentometer is useful for searching rental price comparisons in your area. It's important your tenant understands with a rental agreement the landlord has the ability to increase the rent rate month to month.
A rental agreement is ideal for a renter who can't commit to a 12-month lease period. It may open the door to many qualified tenants looking for a short-term rental, which may be in high demand near college campuses or major hospitals.

Cons of a Rental Agreement:
A tenant looking for a long-term lease may be scared away by the flexibility of a month-to-month lease, which may leave them subject to frequent rent raises or indeterminate rental periods. For landlords, the costs of more frequent tenant turnover should also be kept in mind, including advertising, screening, and cleaning costs. Additionally, if your rental is located in an area with lower occupancy rates, you may have trouble keeping your unit rented for long periods of time.
Bottom Line on Rental Agreements:
A rental agreement may be a good option for landlords that are focused on flexibility, particularly in areas that see quick tenant turnover, such as college towns.
Conclusion
Whether you choose to offer a lease agreement or rental agreement, it is vitally important that you know who your tenant is. Thoroughly vetting your rental applicants can help to give you confidence that you're placing the right person in your rental property.
With TransUnion SmartMove, you can increase your chances of identifying financially and personally responsible tenants. Landlords receive a rental credit report, a criminal report, eviction report, Income Insights report, and a ResidentScore to help them make a well-informed leasing decision – long or short term.